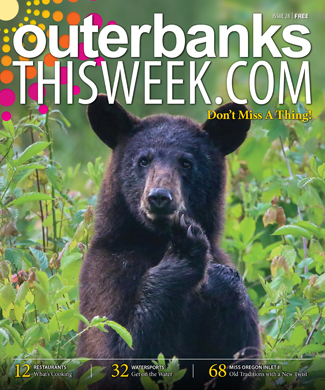 How many of you remember that song "Hot Fun in the Summertime" by Sly and the Family Stone? First stanza went like this:
End of the spring. And here she comes back.
Hi, hi, hi, hi, hi there. Them summer days. Those summer days.
As soon as I started thinking about this Publisher's Letter, that song popped into my brain. We're back to it, people! Back to those summer days, the hot fun in the summertime, and warm(ish) ocean. Doesn't it seem like this season came around at record speed? For us locals, that could be because we didn't really experience an off-season this year. Even in March there were waits in our restaurants … unheard of heretofore. We didn't really have that off time where we got bored and were eagerly awaiting the return of the in-season. Yes, that's both a blessing and a curse.
As more and more people discover the Outer Banks, we're beginning to see the impacts. On the one hand, many businesses are switching from the mindset of a seasonal schedule to a year-round one. That means more income as well as more challenges in staffing and timing. Our natural environment, the very reason most people either vacation or live here, is also being challenged, as you can reasonably assume.
For everyone who loves the Outer Banks and appreciates the sacred nature of this place (which I assume is everyone reading this, otherwise you would have chosen to vacation or live somewhere else), it's time for us to take a stand. Having our visitors here is welcomed, don't get me wrong! Most of us depend on you for our livelihoods, so there's definitely a symbiotic relationship at play.
But it's up to all of us, locals and visitors, to protect this amazing place. We need to conserve water, leave no trash on the beach (or anywhere else), be conscious of our use of air conditioning and open doors or windows, preserve our dunes by not walking on them and put nothing in our sounds or oceans that doesn't naturally belong there. If we all can become stewards of this environment and understand its fragility, we'll have the Outer Banks that we know and love to enjoy for decades to come.
Let's adopt a new slogan: The Outer Banks – Protect and Enjoy.
Beth
VIEW A DIGITAL VERSION OF THIS ISSUE