Cobia in the Surf!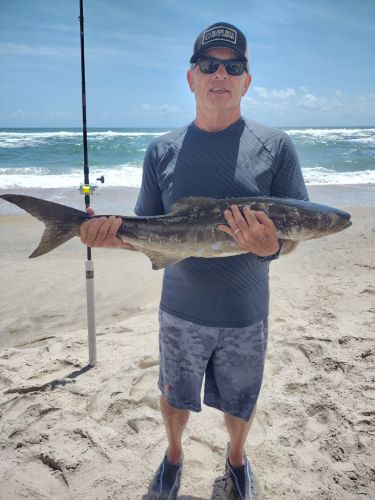 Offshore from Hatteras Inlet
Inshore from Hatteras Inlet
Hatteras Piers
Hatteras Surf
Hatteras Sound
Still rough on the ocean side but the waters do seem to be calming a bit. Lots of activity on the sound side today with reports of puppy drum and speckled trout being caught on popping corks and curly tail soft plastics. Avon Dale's son, Kevin, caught a nice 27 inch puppy drum at the reef, also with a popping cork and curly tail.
Mike Walton of Salem, Va caught a beautiful 35" Cobia on ramp 32 in Avon today on cut mullet. The cobia was caught and released!
We also heard of a few puppy drum, blues and sea mullet scattered up and down the island.
Bloodworms, Lug Worms, Night Crawlers, Fresh Mullet, Shrimp all in stock as well as a huge assortment of rigs, weight, soft plastics and more all available to get you on the fish!
Come in and see us or shop online at www.hatteras-island.com and get #hookedonfandf #fishingreport