Great Offshore, Sound, and Inland Fishing With Some Fish Off the Surf Too!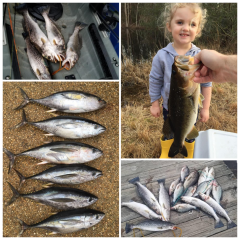 Thursday, February 13, 2020
Offshore from Oregon Inlet
Inshore from Oregon Inlet
Corolla to Nags Head Piers
Corolla to Nags Head Surf
Corolla to Nags Head Sound
Offshore from Hatteras Inlet
Inshore from Hatteras Inlet
Hatteras Piers
Hatteras Surf
Hatteras Sound
The offshore bite continues to have some amazing fishing, catching nice bluefin and yellowfin!
The sound has had some nice keeper Speckled trout.
Inland fishing has been amazing with bass, perch, and crappie being caught.
Not much off the surf, except for a few sea mullet and puppy drum down south!
Thank you @reel_dedication and @radar.252 for the awesome pics! And congratulations to miss Jenna on her nice bass!