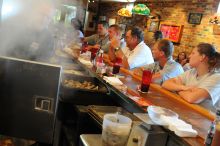 "It's oyster season somewhere...always." Jo Whitehead, proprietor of Awful Arthur's Oyster Bar is talking about eating oysters 365 days a year.
"We have good oysters all year round. The local crab sloughs come in first, and as the water warms, we move to cooler water." With advances in transportation, refrigeration and technology oyster lovers don't have to wait for the "R" months anymore. Even though oysters can now be shipped from around the globe, Whitehead keeps it as close to home as possible.
Although famous for their raw bar offerings and award-winning seafood corn chowder, the menu at Awful Arthur's has something for every diner from signature appetizers like fresh tuna bites with a kick, Wings of Fire, Awful's famous hush puppies and house-breaded calamari to sandwiches, steaks, chicken, seafood Alfredo and the most "Awful" burger you will ever eat. In this case that means awesome.

Family friendly, kids are always welcome and have their very own menu. Known for good prices and large portions, you'll never go home hungry and you'll always have some extra change in your pocket to spend next door in the Awful Arthur's Beach Shop. It's where you will find all of your beach necessities, fun souvenirs and the famous Awful Arthur's T-shirt that has had a new design every year for three decades.
This year Awful Arthur's celebrates 30 years of business. A quintessential Outer Banks experience, Awful Arthur's Oyster Bar has been satisfying residents and visitors with a consistency that is rare in an ever-changing marketplace.
As soon as you walk in the door you are greeted by a big welcome sign featuring the smiling, signature happy oyster. It feels immediately cozy and inviting. An abundance of nautical-themed art and photography covers the walls. The main dining room is a long, narrow space with a copper-topped oyster bar the entire length of the north side of the room. Across from the bar, rows of simple wooden tables hug a weathered red brick wall. Signs on each table announce the day's fresh catch. Above every table hangs a real Tiffany lamp. (Look for the signature stained-glass heart underneath). Wooden chairs and bar stools with comfortable backs to lean back into invite you to sit and stay.

Upstairs, The Ocean View Bar awaits. Perched on the second story of Awful's, it is a perfect place to wait for a table or just spend time relaxing with friends. Offering a full service raw bar, appetizers and cool drinks, the Ocean View Bar has one of the best views in town -- the Avalon Fishing Pier is right across the street, and you've got a panoramic view of the Atlantic and the Beach Road that, in that location, is mostly lined with simple old Outer Banks-style cottages. Not much has changed over the past three decades on this little stretch of Highway 12 surrounding Awful's, and not much has changed inside the restaurant either.
"I haven't changed it much." Whitehead muses. There are nautical artifacts, deep sea diving relics and an old ships bell arranged throughout. "We had the most fun collecting them...right when he opened." Jo is talking about her late husband, Jay, who opened the doors of Awful Arthur's in 1984.
"We went that first winter to the Eastern Shore. Oh my goodness, we looked like a bunch of gypsies. You should have seen us coming down the road. He had a blazer with ski racks on top. That truck was so packed full of stuff. You could barely see our dog in the back."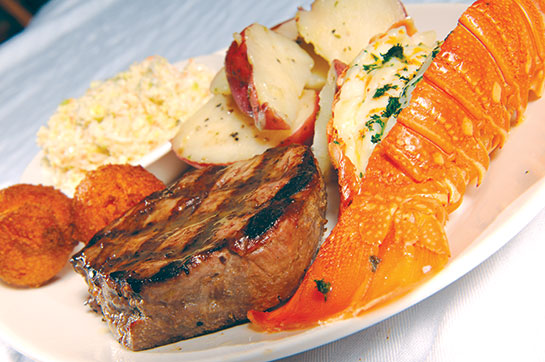 Jo started coming down in 1963 every summer. Her parents eventually bought a place, and she started contemplating what it would be like to live here year round. "Then I met Jay in college, and he ends up with this restaurant, and we end up getting together, and here I am. I think about when I was young, how I thought in the back of my mind how I would love to live here."
After Jay died, leaving Whitehead with two young children to raise, people assumed she would pack up and move back to Virginia Beach, closer to family. But that's not Jo's nature. "I wouldn't leave here for anything. I love living here."
Whitehead's love for the Outer Banks community shines through everything she does. In the spirit of her husband Jay's legacy, she constantly gives back to the community in myriad ways, and with Awful Arthur's she continues to preserve the integrity of the commitment to service, hospitality and community that the two of them embarked upon 30 years ago.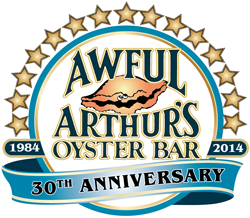 (252) 441-5955
MP 6 - Beach Road - Kill Devil Hills