Local businesses are vital to the Outer Banks experience. People might be drawn to these islands for the ocean, sounds and natural beauty, but it's the hotels, vacation rentals, restaurants, stores, outfitters and service providers that make living and visiting here a pleasant experience. In the 120 miles from Corolla to Ocracoke there are thousands of businesses that make the Outer Banks a better place to be.
What makes the Outer Banks business community special is that the vast majority of businesses are locally owned and in most cases operated by the owners themselves. This gives the local businesses individual character that you just won't find anywhere else. From motels and campgrounds to dive bars and burger joints, pet boutiques and swimsuit stores to charter fishing boats and kayak tour operators – and everything in between – the local businesses and their owners are worth getting to know a little better. Our Spotlight Videos shine a light on some of the Outer Banks' most loved businesses. We hope you enjoy learning the stories behind these Outer Banks businesses, and be sure to tell them you saw them on OuterBanksThisWeek.com.
There's a reason people in Avon say "you gotta do the Breeze Thru." This drive-thru convenience store makes shopping easy and fun. Stay in your car, drive into the building and the friendly cartenders will bring your beverages, t-shirts, firewood and more right to you. You can also walk into the convenience store for...
Read More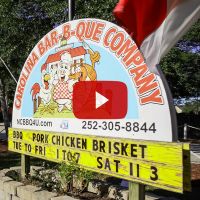 Carolina Bar-B-Que Company in Manteo is a must-visit restaurant for those looking for authentic North Carolina-style barbecue on the Outer Banks. Owner Mike Weaver has dedicated his life to learning the art of pit-smoked barbecue since the age of 16 and now has more than 30 years of experience in perfecting this...
Read More