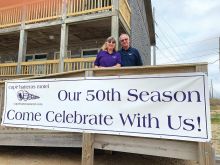 As owner of Cape Hatteras Motel in Buxton for the last 50 years, Dave Dawson has been through all the ups and downs that Cape Hatteras can dish out. He's cleaned up from nor'easters, rebuilt from hurricanes and shoveled enough sand to fill the Sahara, but he's also fished epic bluefish blitzes, met friends from all over the world and made a good living on an island he loves.

"It's not the end of the world but you can see it from here," he likes to say about Hatteras.

This year, he and his wife, Jan Dawson, and their staff are celebrating Dave's 50th season as owner of Cape Hatteras Motel. The motel is actually older than 50, dating back to the 1940s when it was known as Cape Hatteras Court, and it's changed over the years due to storm damage, the shifting nature of the island and Dave's continuous updates and rolling with the times.

Dave is a Hatteras transplant from Northern Virginia. When he was young, his family came to Cape Hatteras on vacation, staying in the same horseshoe-shaped cottage court every year. He and Jan met there as teenagers in 1971; her family had been enjoying Hatteras vacations from Pennsylvania since 1964.

In the winter of 1971, Dave's father came to Buxton with a friend who was raised on the island. The friend's brother was a Hatteras real estate agent, and he ended up selling Dave's father the Cape Hatteras Court. In 1972, when he was 18, Dave came down to his parents' motel for Memorial Day weekend, and the manager asked him to stay for the summer and do maintenance on the motel. Dave didn't hesitate to spend that summer at the beach before going off to college. 

In the spring of 1973 a horrific nor'easter, the President's Day Storm, wiped out 10 units. That was the end of beach motel ownership for Dave's parents, but Dave was willing to take over. He worked out a plan to buy the property from his father, hired a manager to work in the off-season while he was at Campbell College and spent his summers working at the motel. Even after he got his degree in business administration, Dave stayed on at the motel. 
"I didn't plan on making this a career," he says. "One year just rolled into the next and 50 years later, here I am."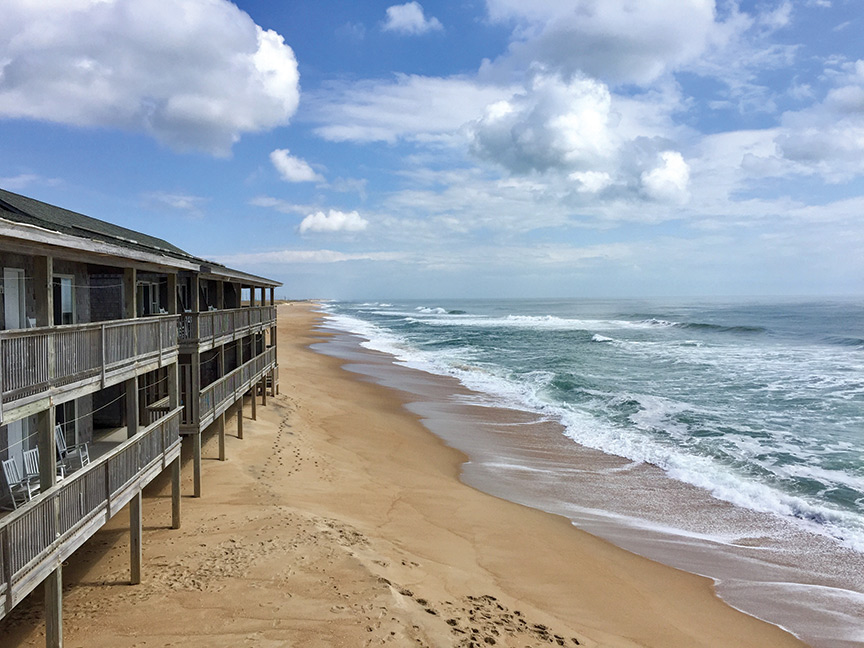 Dave met someone, got married and started a family, as did Jan, and they lived separate lives for many years. Jan's parents had retired to Buxton, so they kept her abreast of how Dave and the motel were doing. In 2015 Jan took early retirement from her job as CEO of a YMCA and moved to Buxton to take care of her mother. Her marital status had changed, and to her surprise, so had Dave's, and they picked up where they had left off four decades earlier.

"After all that time, we reconnected," Jan says. "We've been married five years this summer."

Little by little, Jan began helping Dave at his 37-room mom-and-pop motel, at first folding towels, then working the desk, then taking over the finances. 

"It's been quite enjoyable having a partner who's also a business partner," Dave says.

But while Dave was seasoned to the challenges on owning an oceanfront motel, for Jan, weathering the storms of Hatteras took some getting to.

"The first time we had ocean overwash, I cried," Jan says. "But Dave just said, 'Don't worry, we'll fix it.' He's been through much worse."

Dave remembers hurricanes Emily and Isabel as two of the worst storms to affect the island and the motel.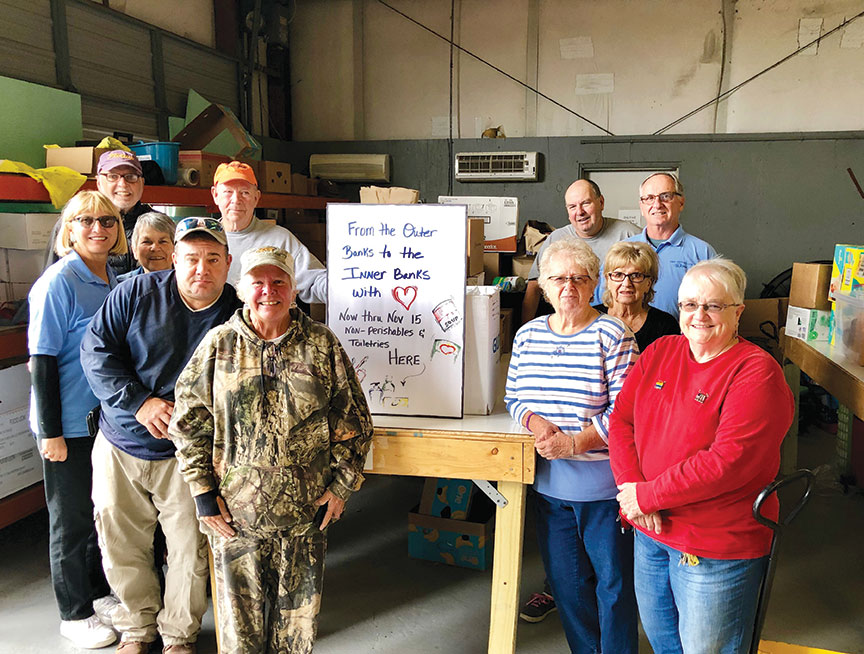 "It's been a double-edged sword," Dave says. "People like to stay here because it's right on the beach, but the flip side is that it's right on the beach and gets battered by hurricanes and nor'easters. But if it's your livelihood, you can't just walk away from it. You have to keep going forward because you have to make a living and pay the mortgage and keep paying the employees."

Now in their 60s, Dave and Jan have stepped back a bit, overseeing the big picture items of the motel while trusting their loyal year-round staff to handle the day-to-day tasks.

"We are very fortunate that we have fabulous employees who work here all year round," Jan says. "It creates a bond, they are like family."

For the 50th anniversary celebration, Jan designated the theme of Making Memories. She reached out to their former guests for help in creating a Memory Board in the motel lobby. She asked guests to send in photos from their vacations, and the response was overwhelming. People sent in postcards from the 1950s and '60s up to present times. They sent fishing photos, beach photos, wedding photos and so much more, all filled with happy, smiling faces.

"This motel is a big part of people's memories, and doing that photo project really brought it home," Jan says. "This is a special place for people, a place to get away. We think about all the memories people have made here, and it's nice to know we're a part of that."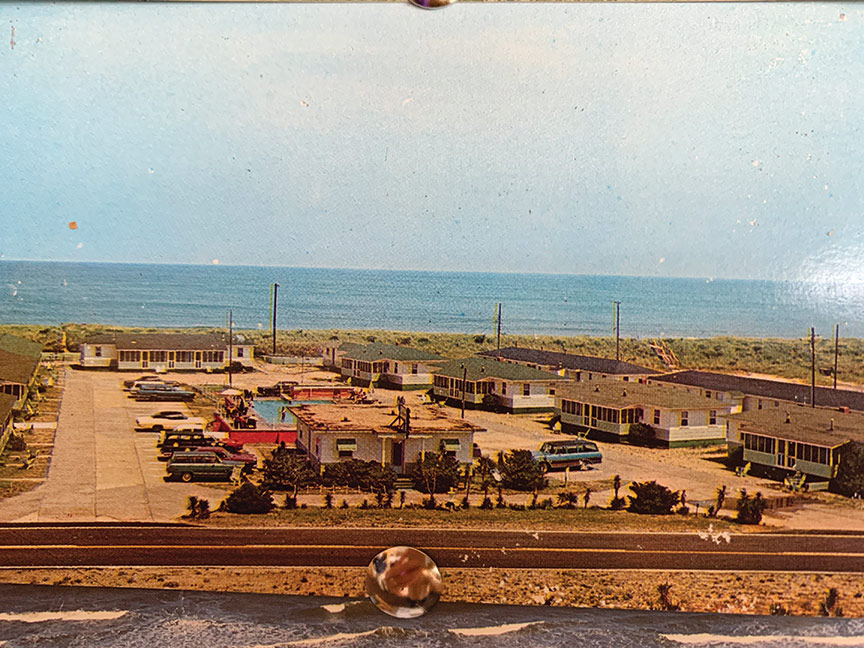 Jan also re-created the retro logo from the old Cape Hatteras Court for their t-shirts this year and additionally reached out to guests to ask about their 50 favorite things from the motel. That their number one responses were the rocking chairs, the views, the friendly owners and staff and the feeling of family shows that, to some degree, the more things change on Hatteras, the more they stay the same.

While Dave misses the old days of fall bluefish blitzes, no TVs and guests coming to stay for a week or more in the same unit year and year out, he enjoys meeting the second and third generations of the longtime guests as well as the improved food scene on the island (there was a time when you could only get fried fish). The biggest change over the years, he says, is everyone's dire need for WiFi.

All in all, the motel business has been good to him.

"It's a good business," he says. "We meet such good and interesting people. It's a life adventure. It really does become part of you. You live it and breathe it. There's never really a time when you're not thinking what's happening at the motel."

Cape Hatteras Motel is the northernmost accommodation in Buxton, and its 37 rooms are found on both sides of the highway. The motel office is on the west side of the property. Even if you're not staying in the motel this season, stop in to see the 50th anniversary photos and the retro logo t-shirts and to check out the goods in the motel gift shop known as CapeAttitude®.

And if you happen to see Dave Dawson, give him a pat on the back for 50 years of success in the Hatteras motel business … it's been quite the ride.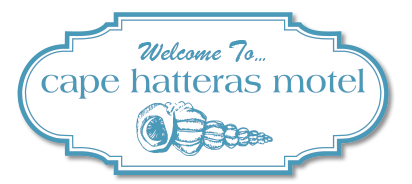 (252) 995-5611
46556 Highway 12, Buxton
capehatterasmotel.com