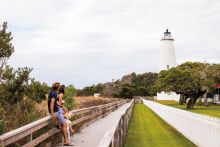 For all its 16 miles and remote locale, Ocracoke offers up every inch of its sandy seashore, maritime woods and artisan community to vacation fun. The end result supports three types of beach getaways. 
For starters, there's the Ocracoke with a milieu of outdoor adventures and watersports. It features family-friendly diversions and adrenaline rushes for the bold and brawny. Then there's the Ocracoke that's the island oasis to unplug and unwind, with nothing on the agenda except relaxing with a drink in hand and toes in the sand. Finally, there's the Ocracoke vacation that hovers between the active and laid-back ends of the spectrum. This type of island retreat keeps you on the go with epic bike rides throughout the village and swimming in the surf but includes the all-important time to unwind each day, perhaps with a beach bonfire or a yoga session. 
This variety of experiences brings visitors of all interests and ages to Ocracoke Island. For the young at heart or the old soul, these active, moderately active and laid-back things to do on Ocracoke can curate distinct experiences for every vacationer's speed.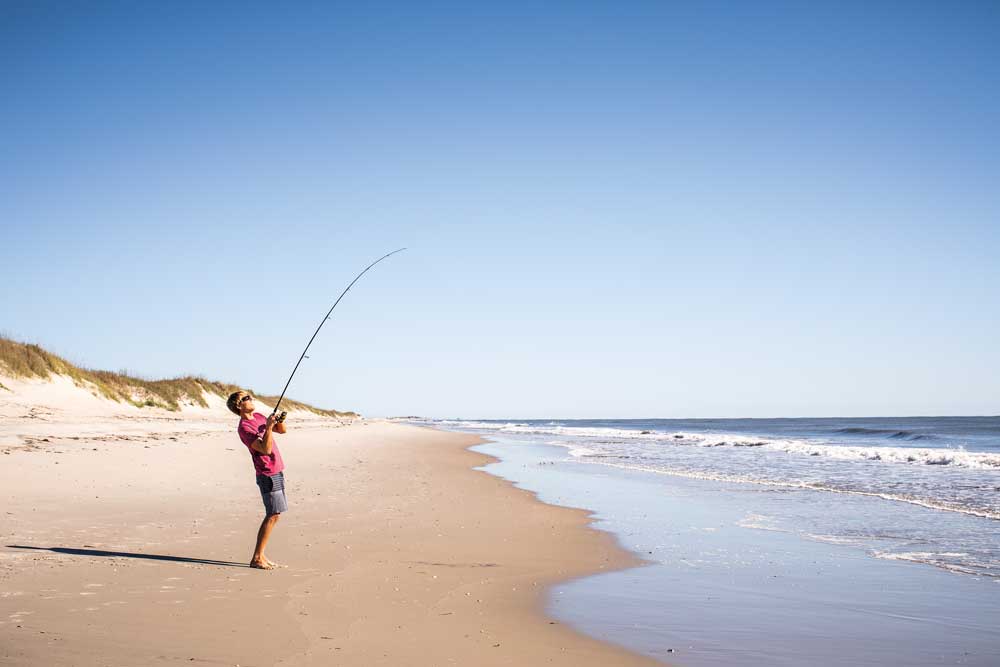 Active
The surf-and-turf landscape makes the island a haven for both outdoorsy types and watersports enthusiasts. Pitch a tent at the Ocracoke Campground (bonus points if you weather out a rainstorm in situ). Then make like a pirate and conduct your explorations from the water, using a kayak, paddleboard or boat. 
You can also cover major ground if you explore on foot or by bike. There's a bike path that connects to the village and runs parallel to N.C. Highway 12, so anyone looking to get in some steps can run, hike or bike the length of the island. 
If wave riding brings you to Ocracoke, be sure to take advantage of the assorted ways and vehicles for doing so. Surfing, of course, springs to mind. But what about standup paddleboarding, boating or pounding the sound waves on a Jet Ski? You may, in fact, leave wave riding altogether, opting to harness the wind with a parasail or kiteboard instead. 
Nothing brands you as the active, self-sufficient sort more than sourcing your own food. And on Ocracoke, seafood dominates as the protein of choice. You can drop a line from docks in the harbor, fish in the ocean surf or go big on an offshore fishing trip. If sitting back and waiting for bites feels too humdrum for you, you can try raking for clams in the shallow sound waters around the island. 

Moderately Active 
Not all things to do on Ocracoke involve pushing your body to its limits. Any beach vacation should allow for some time to unwind, after all. Get around island style by walking or biking between accommodations, shops and restaurants. Slowing down and exploring on foot or on two wheels gives you a chance to fully revel in the island's beautiful natural environment. Stroll through the village or check out 300-year-old live oaks on a gentle hike through Springer's Point Nature Preserve. For a little island history and an additional dose of excitement, go on a history and ghost story tour. 
Anyone who wants to cover more ground, though, may prefer sightseeing the Cape Hatteras National Seashore from their 4WD vehicle. Check the National Park Service website (nps.gov/caha) for information about beach driving permits and regulations. 
When the time comes to relax and soothe those muscles, stretch and restore with a yoga class in the local studio, on the beach or even on a standup paddleboard. A refreshing dip in the sound or ocean can also do the trick.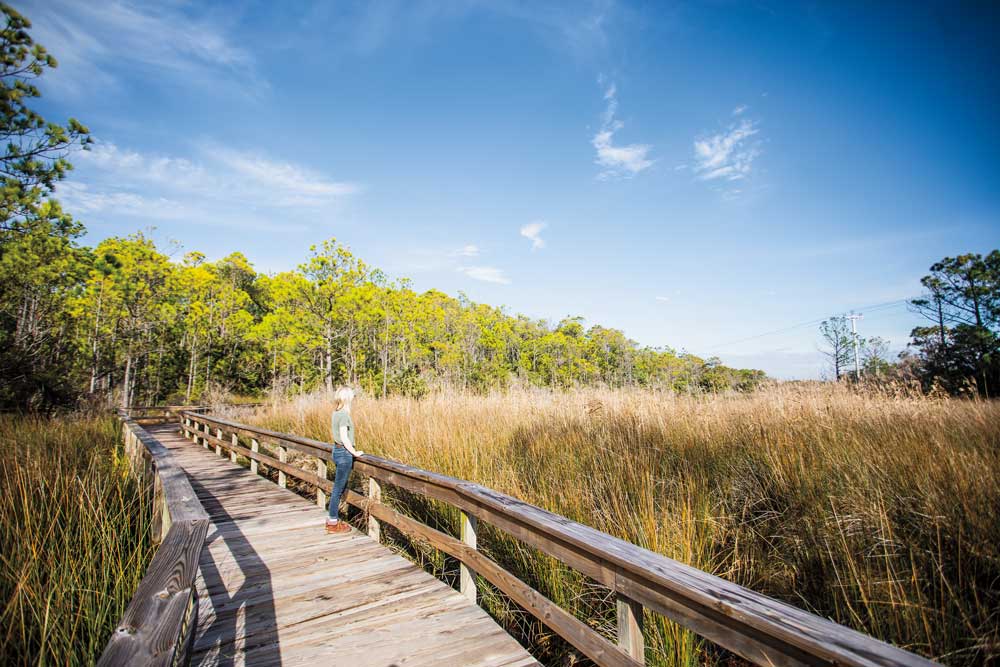 Chilled Out 
Whether you're 18 or 80, you need to find time to zone out, slow down and just be on a beach vacation. And Ocracoke is the ideal place for doing just this. Tune in to the whisper of Mother Nature throughout the island – you hear it from the crashing ocean waves during a beach walk or a hunt for seashells. Lay your head under a canopy of stars at night and listen to the crescendo of cricket chirps. Or pay attention to the island birds' calls and learn how to identify them. 
To get out and explore, driving a golf cart around the village covers plenty of territory while maintaining leisure levels. Cruise around to the art galleries, bookstores, restaurants, bars and lighthouse. Or ... don't! Ocracoke Island is the sort of place where there's no shame in settling in on your cottage's or inn's porch and whiling away the hours. It's true, Ocracoke offers plenty to see and do, but you won't miss any of it if you blink. 
If any casual activity were to be timed and tracked on the island, however, it'd be the sunrise and sunset. Position yourself to catch it rising over the ocean or sinking beneath the sound's surface. This ultimate soul soother is one item that active, moderately active and even sedentary visitors should include on their bucket list.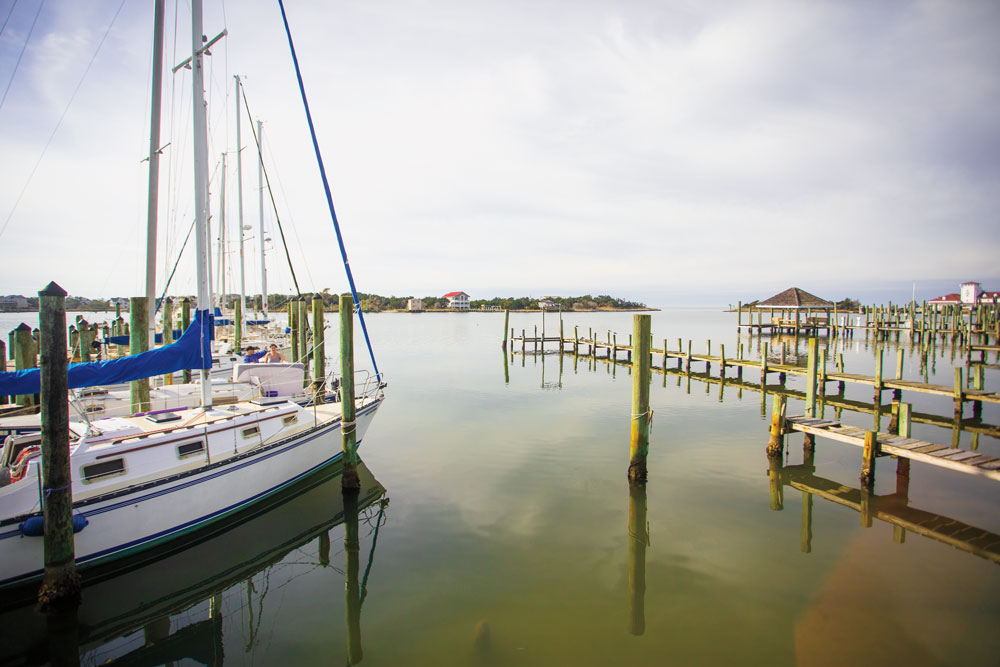 INSIDER'S GUIDE TO OCRACOKE 
GETTING TO THE ISLAND 
Access to the island is by car ferry or private plane. Three ferry routes serve the island. The Cedar Island and Swan Quarter ferries from the mainland dock in Silver Lake, letting passengers out in the heart of the village. The Hatteras Ferry Terminal is 13 miles north of the village, so you will need to bring your car or bike to get into town. For ferry schedules, go to ncferry.org. 
WHAT TO PACK 
Comfort drives the dress code – or lack of it – on Ocracoke, and you won't need fancy clothes. Wear casual clothes that make it easy for you to do your outdoor activities. Winters and springs are mild, and a good jacket will usually be enough to stay warm. Bring a rain jacket. There's no pharmacy on the island, so be sure to bring enough prescriptions to last you the duration of the trip. Bring your favorite beach gear, especially an umbrella, chairs and a cooler. If you forgot or don't have these items, they're available to rent. 
WHAT TO BUY 
The locally owned grocery store, hardware store, liquor store, gas station and small retail shops are the go-to spots for provisions. The grocery store has almost all major grocery items as well as household goods, toiletries and over-the-counter medicines. In addition to tools and supplies, the hardware store has camping gear and outdoor wear. An ATM is next to the liquor store. Of course, you can shop for beach apparel at the surf shops. 
WHAT YOU CAN RENT 
Bikes, surfboards, standup paddleboards, kayaks, kiteboarding gear, 4x4 beach driving vehicles, golf carts and LSVs and grills are available for rent. Some rental homes come with linens and towels, but be sure to verify this before you come. 
WHERE TO EAT 
Bistros, cozy coffee shops, deli counters, bakeries, take-out places, food trucks and even fine dining abound on Ocracoke. Many places provide outdoor seating. A few of the fast-casual restaurants are take-out only. 
---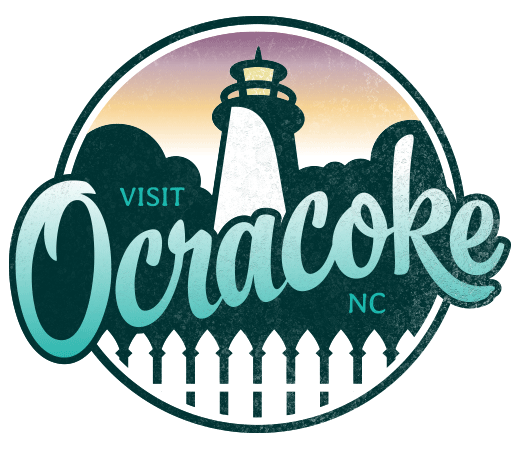 ---