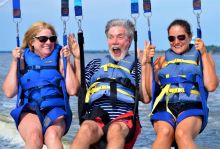 Parasailing is one of the favorite activities on the Outer Banks, and at some point your kids are going to ask you if they can go. But how can parents feel good about allowing their children to be harnessed to a parachute and released behind a boat to fly high in the sky? The answer is simple. They can fly with Corolla & Duck Parasail.
As Corolla's only parasail-exclusive operation and the largest parasail operation on the Outer Banks, Corolla & Duck Parasail is solely focused and does not have to divide its attention between several different watersports. Owner-operators Alex Winter, Jacquelin Winter and Ed Jordan prioritize safety and professionalism, and their captains, with 60 years of combined parasailing experience, have flown more than 60,000 customers! With Corolla & Duck Parasail, moms and dads don't stress – they join in the fun themselves.
In fact, Alex and Jacquelin plan to take their daughter, 3-year-old Chloe, on her first flight this summer. "If I wouldn't put her up there, I wouldn't put anyone up there," Alex says. 
Parasailing with Corolla & Duck Parasail is popular with families because it's thrilling and extreme but at the same time safe and appropriate for all ages – Alex says so far his youngest passenger was 3 and his oldest was 99. 
It was just such a family parasailing trip that inspired Jacquelin into her life as a year-round Outer Banks resident and parasailing business owner. Vacationing on the Outer Banks from New Jersey in 2005, her boating-oriented family took a parasailing trip. That day of high-flying adventure and laughter was eye-opening for Jacquelin. 
"I realized that day that there was a way to make a living on the water, and I couldn't think of anything I wanted to do more," she says. She got summer jobs as a mate with an Outer Banks parasailing outfitter and returned here for longer stretches after college. She settled in Duck full time to work on parasailing boats in 2012.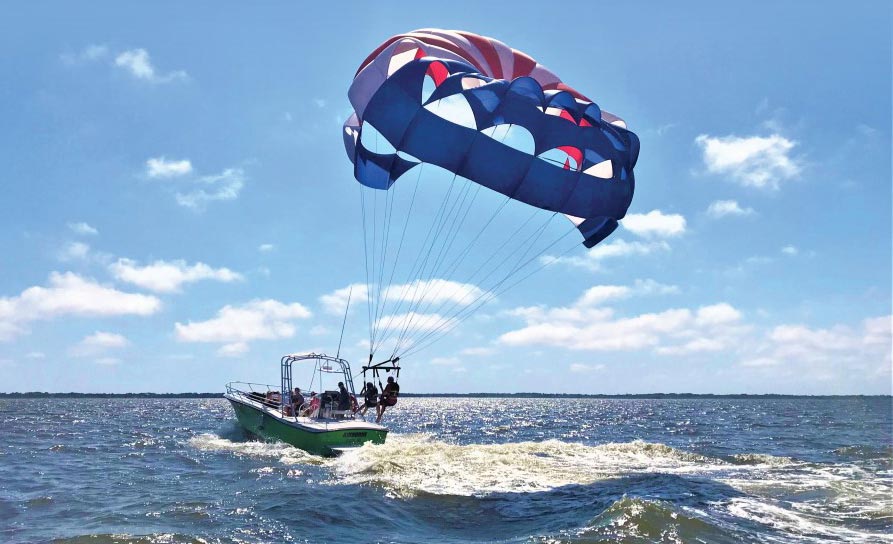 Alex, who grew up in Richmond, Virginia, and vacationed on Virginia's Eastern Shore and the Outer Banks, was also drawn to working on the water. His family loves watching their old family vacation movies of the wild horses roaming through Corolla – way back before all the major development in the area. Alex spent more than a decade in the parasailing industry on Florida's coasts, working summer seasons on the Outer Banks and the fall and winter seasons in Florida before becoming a full-time parasailing business owner on the Outer Banks. He and Jacquelin met while working on a parasailing boat in Duck.
Ed has been a parasailing captain for 24 years. He's an avid waterman and surfer and works as a commercial fisherman out of Virginia Beach in the off-season. His 10-year-old son, Jackson, is a frequent flier and an occasional celebrity deckhand who's been known to walk away with crew's tips at the end of the day.
The hands-on owners work on the boats themselves and hire only the most experienced captains and crew. Alex, Ed, Jacquelin and the other veteran captains are active Coast Guard-licensed, 100-ton master captains and have extensive knowledge of navigating and flying on the Outer Banks. Many of their staff members work on parasailing boats year round.
Alex is quick to point out that because they are a dedicated parasail company, they can concentrate on the finer details and safety equipment. 
"We do everything with safety in mind, and we follow all the safety regulations and use every piece of safety equipment available to us," he says. "We are affiliated and involved in the WSIA and ASTM, the only two industry organizations that regulate parasailing, and we follow all of their guidelines and protocols. These are optional organizations to join, but we attend their symposiums as often as possible, where we meet with fellow owners, equipment manufacturers and the U.S. Coast Guard to set the industry standards, making it safer than it's ever been."
In addition, they send their parachutes and harnesses off for inspection every year to make sure they're safe. "All of this is not required, but we do it anyway," Alex says.
"I think it's important for customers to know they're working with fellow moms and dads when they're booking with us and that we aim to give the type of experience we'd want provided to us while vacationing," Jacquelin adds. 
A big part of parasailing safety is knowing when it is and isn't safe to fly. Corolla & Duck Parasail captains follow WSIA guidelines about the weather conditions.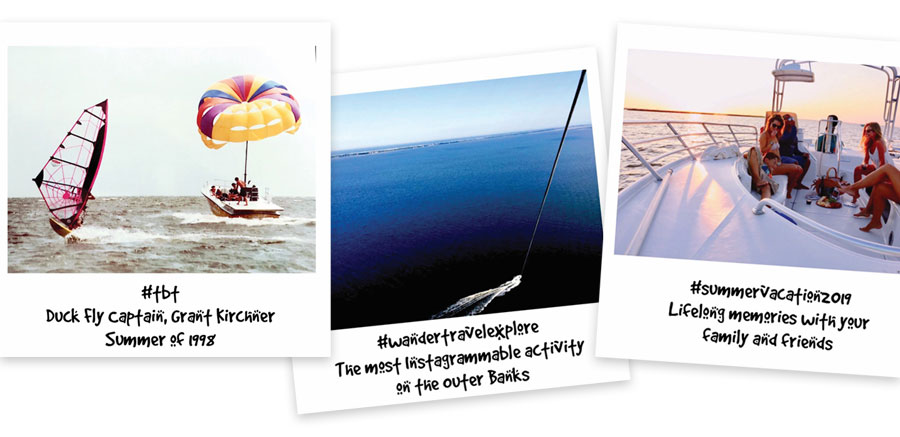 In the decades they've been in the parasailing business, Alex and Jacquelin say they have seen many industry changes. One change they were quick to invest in were the boats themselves. They own a fleet of three 12-passenger Ocean Pro vessels. Created and outfitted specifically for the sport of parasailing, these are the driest, most spacious and most comfortable boats in the industry. Their seating capacity allows Corolla & Duck Parasail to guarantee observers. "We are proud to be the only company in Corolla offering guaranteed observers and one of the only companies to do so in Duck," Alex says.
With the peace of mind that Corolla & Duck Parasail provides, fliers can relax and enjoy the exhilaration of flying. Corolla & Duck Parasail is equipped to handle single, double and triple fliers. Rising above Currituck Sound, they delight in the ocean-to-sound views and see just how narrow and stunningly beautiful the Outer Banks' sandbars are. With gentle take-offs and landings – and a quick dip in the sound if they so desire – they smile, squeal and ham it up for the photos and GoPro videos. The whole experience is so fun and surreal, it's kind of addictive. It's such a cool experience that even a few customers have gotten engaged under the parasail.
"My family still talks about the day we went parasailing on the Outer Banks, and it was literally 14 years ago!" Jacquelin says. "That's exactly what we want for our customers." 
The owners love the parasailing business so much that they are planning to expand, but whether that means offering more locations on the Outer Banks or expanding their off-season business farther south, they just aren't sure yet. For now they're just going to keep working hard and doing what they love to do: soar!
Three Places to Fly
Corolla Parasail at Coastal Explorations Corolla Village
1118 Corolla Village Road, Corolla (252) 722-3669
Corolla Parasail at Corolla Water Sports
798 Sunset Boulevard, Timbuck II, Corolla (252) 453-6900
Duck Parasail at North Duck Watersports, Duck
1446 Duck Road, Duck (252) 261-4200
ALL HOURS: (252) 722-3669
duckparasail.com • corollaparasail.com