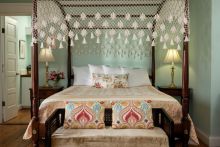 Reinvention of a historic property is a delicate balance of building on tradition and imagining future possibilities. That's the challenge Susan Beckwith faced when she bought a beloved bed and breakfast inn in Edenton. Her purchase of 2.7 acres in the historic district included a 1902 Victorian mansion, formerly the renowned Lords Proprietors' Inn, as well as four additional historic buildings. While the property was successfully operating as the Pack House Inn at the time, Susan came in with fresh ideas and funds for restoring the inn to the exceptional quality it had once known while at the same time updating the entire experience into that of a European-style accommodation with onsite dining.

Susan knew firsthand about the benefits and challenges of reinvention, and her ability to remake her own career, as well as her experience renovating a historic structure in nearby Hertford, gave her the insight and confidence she needed for the job. 
After working as a successful education entrepreneur with nonprofits and children in Hampton Roads (while raising four boys), she switched gears and became a partner in a software firm, a job that required extensive travel. Within days of selling the software company in 2014, she jumped into simultaneous roles of historic preservationist, innkeeper and restaurateur in Edenton. Joining her were two of her sons, Leland and Miles Oxenford.

In addition to structural and cosmetic improvements to the buildings, the team improved the grounds and connected the buildings with paved walkways. Susan renamed the property Inner Banks Inn and added an onsite farm-to-fork restaurant called The Table. The result is an impressively cohesive property.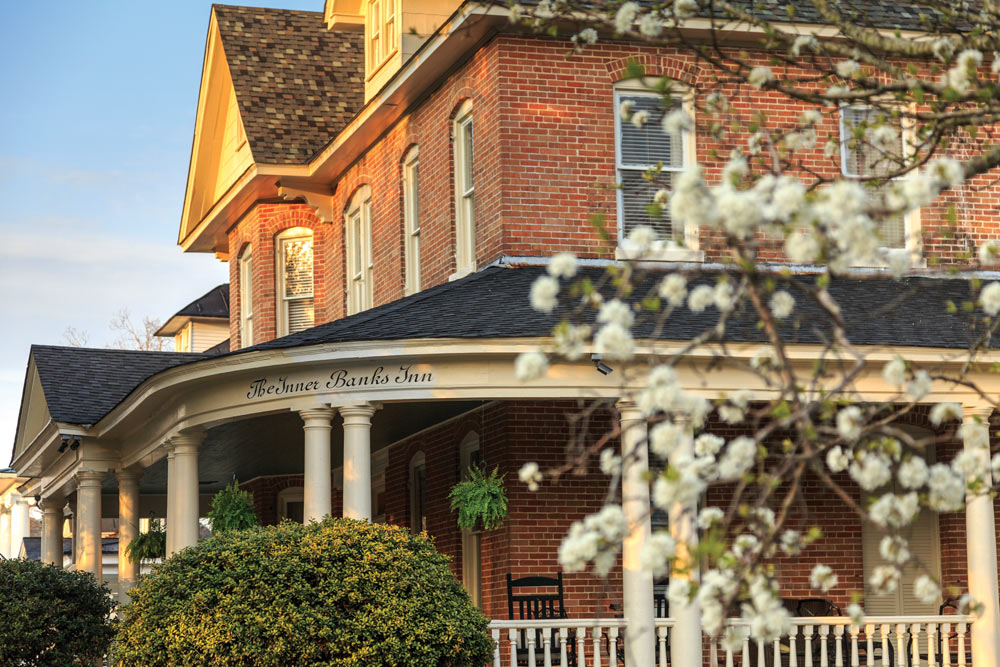 "It's a curated collection of 250 years of history, architecture and hospitality," Susan says. "We've tried to respect the history and move it forward with cuisine and services that are going to give our guests what we hope will be one of the best getaways of their life."

It all dovetails so well that it feels like something you would find in a larger historic Southern destination, somewhere like Charleston or Savannah. Yet it fits well in Edenton with its numerous historic sites, delightful waterfront, three golf courses and shops. 

"The vision was to create a retreat for couples and families to come enjoy one of the prettiest small towns in the South," Susan says. "Edenton has been a sleeper, but it's waking up quick. People have long known that this town is a great stopover to and from the Outer Banks, but now they are discovering that we're a very easy getaway from Raleigh and Norfolk too. Edenton is a very reachable and beautiful destination."
Fine Accommodations
An overnight getaway at Inner Banks Inn can include anything from a queen-size room to an entire suite to a family vacation rental. Part of Select Registry, Inner Banks Inn offers 20 rooms in four very different houses and can accommodate 55 overnight guests. 
The most prominent on the property is the stately eight-bedroom Victorian that's on the National Register of Historic Places. The brick exterior is a standout in this town where most historic homes have wood siding. The sophisticated rooms have 14-foot ceilings, projected bay windows and Victorian details and are furnished with period antiques, artwork and fireplaces.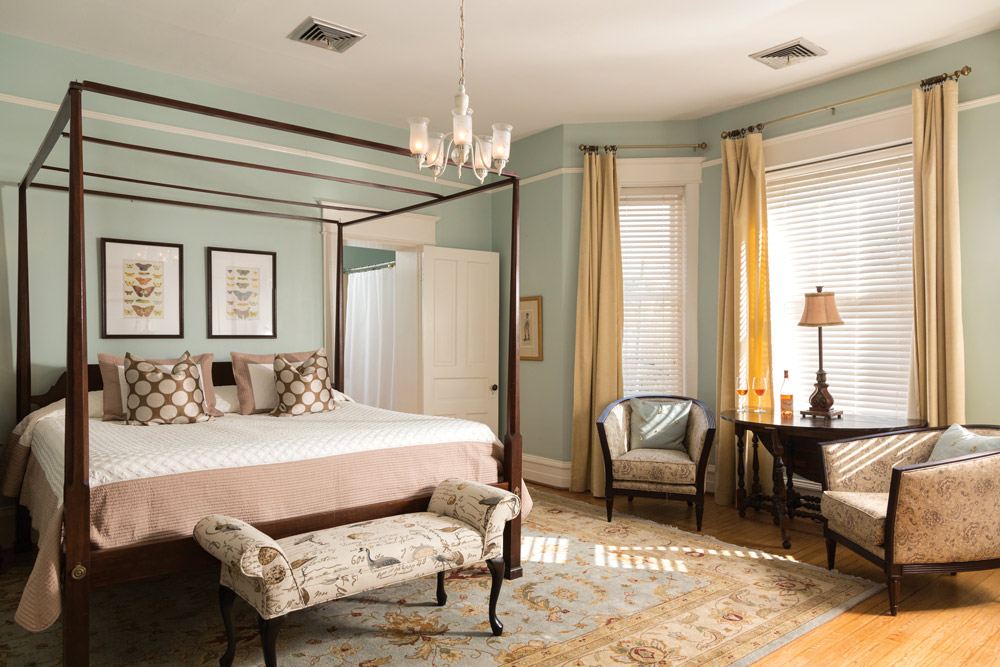 Also onsite is the 1915 Pack House, one of the few remaining tobacco packing houses in North Carolina. It was built at the 1785 Strawberry Hill Plantation, not too far from downtown Edenton, and moved to this location in 1987. The house offers eight individual guestrooms, two wood-burning fireplaces, a guest kitchen and an expansive front porch with a swing and rockers. The decor is more laid-back than in the main house, more down to earth and family friendly. 

Next to the Pack House is the charming 1879 Tillie Bond Cottage. The center hall Victorian coastal cottage has been moved three times and eventually came to rest here. It features two suites, each with a bedroom and sitting room, and is pet friendly. Finally, the Satterfield House, adjacent to the Victorian mansion, is an early 1900s house with two rooms on the second and third floors and a nice front porch with rockers. Any of the houses can be rented as a vacation rental. 

Susan is a meticulous owner – "I don't have to be right," she says, "but I have a burning passion to get it right" – and she is always looking for new touches to add for her guests, things like evening cocktails and wine, in-room chocolate-covered strawberries or charcuterie, cappuccino and espresso, and spa services.
Farm-to-Fork Dining
In the center of the property, just steps away from any of the accommodations, is The Table Restaurant. Tucked in the converted carriage house, the restaurant is quaint and intimate with exceptional fare. It's here that the guests gather for breakfast, indoors or on the patio in the warmer months. Breakfast is a three-course affair, starting with a smoothie or fresh fruit followed by home-baked goods and a choice of entrees. Guests are so enamored with some of the items – home-baked scones, lemon curd and tomato jam – that soon those items will be available for sale.
For fine dining in the evening, The Table offers what Susan calls Ocean/River/Farm-to-Fork dining along with craft beer, a carefully selected wine list and cocktails. The fare also could be called American regional fusion or upscale Southern, but either way it's all grown on regional farms or harvested from nearby waters. Selections might include rockfish, grouper, clams, oysters, blue crab, soft-shell crab, farm-raised antibiotic-free beef, pork, chicken and duck along with fruits and vegetables grown in the region year round.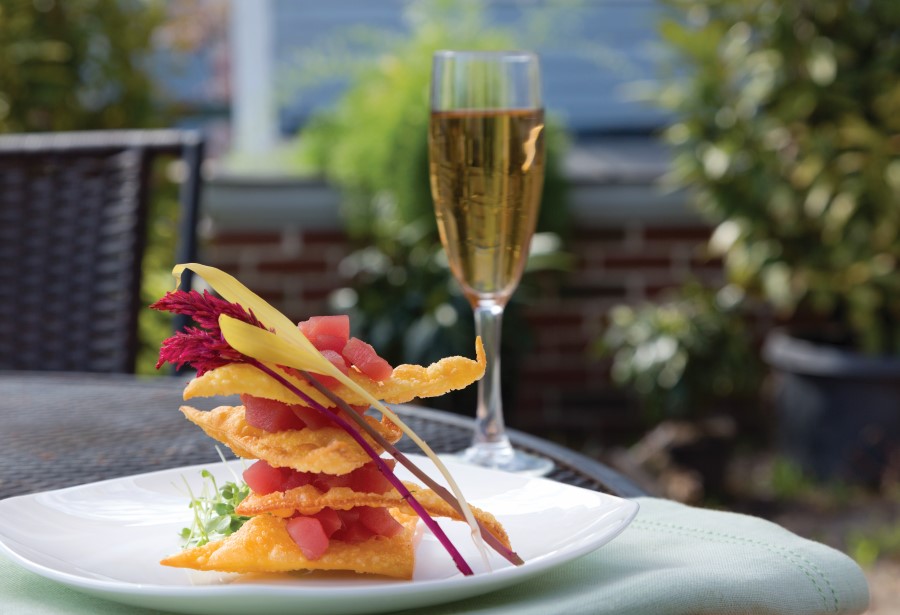 The restaurant is open to the public, but inn guests have first preference for dining times and reservations. Booking is available on Open Table. A highlight is a live jazz musician on weekend nights.
Stellar Events
Inner Banks Inn and The Table specialize in weddings and events, offering both onsite and catering services. "We can accommodate any type of event or corporate meeting," Susan says. "We have meeting and gathering spaces and areas where people can socialize right where they're staying." The site can accommodate up to 120 guests. The Table also has a 30-foot mobile catering trailer and can cater events for up to 250 people.

"We think of all of Edenton as our front yard," Susan says. They have catered events at the Barker House, Yeopim's Flower Farm, the Roanoke River Lighthouse and the 1767 Courthouse, among other locations.

Weddings are so popular at Inner Banks Inn that the 2018 season is almost completely booked and the staff is accepting reservations for events in 2019.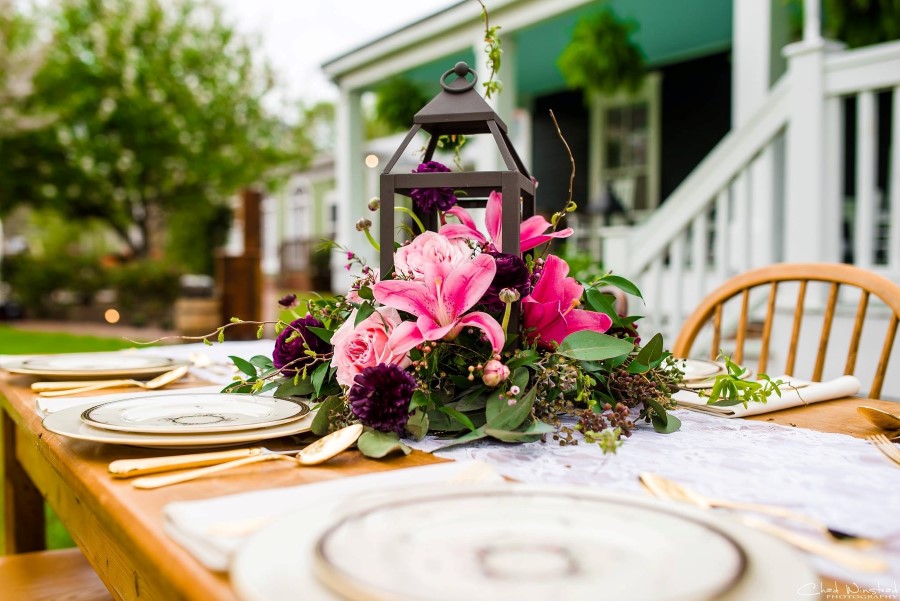 Susan is especially proud of her staff. Leland has since moved to Charlotte, but Miles, after graduating from Old Dominion University, is back as the general manager. Susan is committed to hiring local talent and creating a team that works together like family. "Our staff is on point," she says. "These are really talented and smart people. The team has really become a family, and everyone is as proud of the guest experience as I am." 

Susan's reimagining of the property that is Inner Banks Inn has brought a new level of upscale accommodations and service to the traditional yet up-and-coming Southern destination of Edenton. "The architecture on this property spans 250 years in a town that's celebrating 350 years this year," Susan says. "It doesn't get more diversified and sophisticated than to have all this come together in one place."
---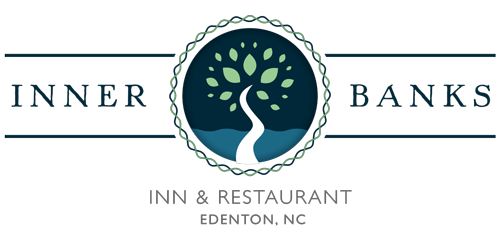 (252) 482-3641
innerbanksinn.com
thetablenc.com
103 East Albemarle St.
Edenton, NC 27932
---