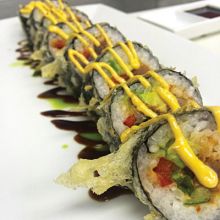 The Outer Banks may be a place where visitors come to get away from it all, but they don't have to sacrifice excitement, flavor or quality. BuddhaLicious fills a much needed Asian food niche in the Corolla restaurant scene. Chef Todd Bryant's prodigious skills in the kitchen, thoroughly schooled in Asian and Southern cuisines, offer a culinary experience that will make Buddhalicious your favorite restaurant in Corolla. Picture the distinctive flavors of Asia — from the tantalizing street food in Thailand to the freshest sushi in Japan — then combine them with elements of Southern cuisine for a delicious and unexpected dining experience that you can't get anywhere else.
BuddhaLicious opened in 2014 with a menu featuring skillfully made classic Asian dishes. But when Chef Bryant mixed in regionally inspired Southern flavors and ingredients the next year, the restaurant really came into its own. "Most people already have a preconceived notion of what Pad Thai or General Tso's Chicken is," Bryant said. "They come in expecting one thing, but they get something different. And people are pretty stoked about it." The shift to a Southern influence is a reflection of Chef Bryant's North Carolina roots. His passion and skill for marrying the flavors of his youth with his love of Asian cuisine has produced an array of unique dishes you won't soon forget.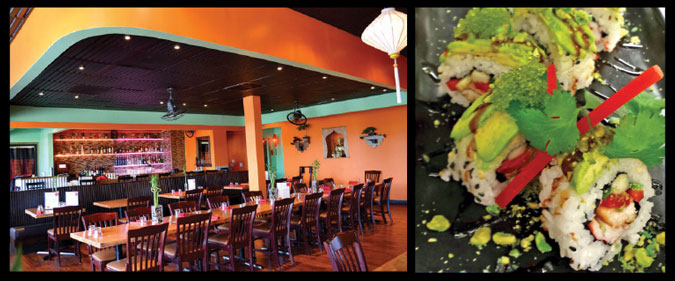 Because Bryant understands that visitors to the Outer Banks are coming from various communities and all walks of life, he strives to offer all his guests an approachable and deeply satisfying experience. "I have dishes here that you can't get anywhere else," Bryant said. "The Southern influence helps walk people through a dish that they may not have been comfortable with before." But don't assume he is toning down the Asian flavors. Rather, Bryant is elevating them to a level that won't fail to impress clientele with refined tastes. In fact, he experimented with Asian dishes for a full year before opening BuddhaLicious' doors, and that came after working extensively in some of the finest restaurants on the Outer Banks and across the country. 
This isn't a restaurant where you can pick up your number 13 take-out special. Chef Bryant continuously breathes intelligence and creativity into his cooking. Prepare for Bangkok Corn Fritters made with local sweet corn, panang curry and homemade pimiento cheese. Or try Buddha's Drunken Noodles, a delectable combination of lemongrass pork, shrimp, roasted tomatoes, green beans, red peppers and Thai basil topped with a sunny side up egg. 
You can also find your favorite sushi rolls at BuddhaLicious. But for those who feel hesitant about eating raw fish or for those who crave something new, Bryant uses his love of all things Southern to create some truly inspired sushi, like the barbecue roll with pulled pork, pimento cheese and Alabama white sauce. The pulled pork may sound traditional, but it's made in-house with fish sauce and palm sugar. The result is intensely flavorful and satisfying.
Chef Bryant is also committed to using fresh ingredients. At BuddhaLicious, you won't be served anything prepackaged. Everything is made from scratch, even the soy sauce. As Bryant explains, "We're trying to do everything the right way and to offer something that hasn't been on the beach ever." Vegetarian, vegan and gluten-free options are available at BuddhaLicious along with a kids' menu.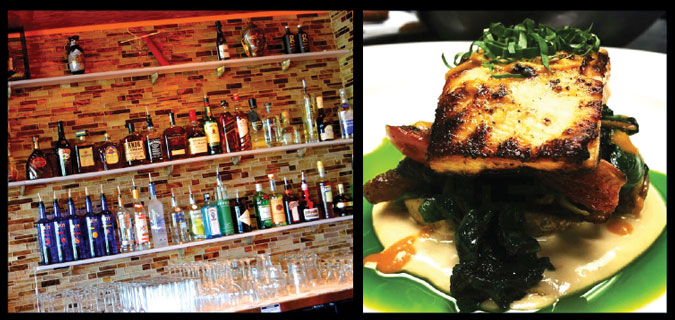 In addition to beer and wine, the bar offers handcrafted cocktails, Japanese whisky and an impressive selection of sake. Not only does BuddhaLicious feature the largest sake collection on the Outer Banks, but it is also the fifth largest in the state, including premium Japanese and domestic sake. And whether you are a connoisseur or a sake newbie, make sure to chat with bartender and general manager, Jeff Miller, whose enthusiasm about sake is infectious.
Vibrant and fun Asian décor blended with the Southern hospitality of the restaurant's staff makes BuddhaLicious both sophisticated and comfortable. It's a place where you can enjoy a casual night out with friends or celebrate a special occasion. And because Bryant is always playing with new combinations and rotating the menu regularly, you can try something new every time you visit. 
This winter, Bryant plans to travel to Southeast Asia to explore new territory in Myanmar (also known as Burma). He spent much of his youth overseas and has always been attracted to travel and the complex flavors found in other countries. While you can bet this life-long surfer will be paddling out and catching some waves, we're certain he is going to be spending plenty of time with the local cuisine and bringing his inspirations home to Corolla. 
---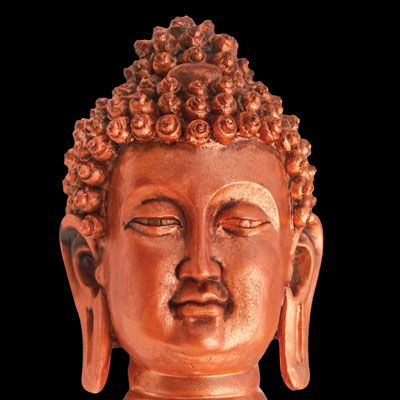 BuddhaLicious Asian Food in Corolla
Monteray Plaza, 887 Albacore Street
(252) 453-4503 
buddhaliciousobx.com