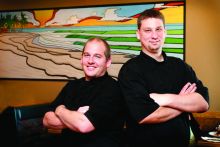 Meet Chef and owner Rob Robinson and Chef Matt Payne, the visionaries behind one of this area's best restaurants, Bad Bean Baja Grill.
For the past several years now they've been taking the Outer Banks by storm with their fresh, fun and creatively delicious take on menu items that fuse the flavors of Mexico, Latin America and southern California with a twist that's all their own. Next up on their list? To make things even more interesting. "We don't believe in cooking inside a box," Rob says. "We're not necessarily traditional; that's just not what we're going for. We want to keep the spirit of all these influences in our food, but we also want to feature local produce and seafood and mix up all these tastes to do something different. It's an ever-evolving process."
When you hear Rob and Matt talk you can tell just how passionate they are on this subject, but there's also an easy banter between them that speaks volumes about the near decade they've spent working in kitchens together. Rob, who spent years developing his culinary skills at some of the top restaurants in California before deciding to move back to the East Coast with his wife to settle down and raise a family, chose the Outer Banks for its casual, family-friendly atmosphere and to be by the water. When Sanderling Resort hired Rob as the chef de cuisine at the Left Bank (now Kimball's Kitchen), Rob jumped at the chance, and that's where he met Matt.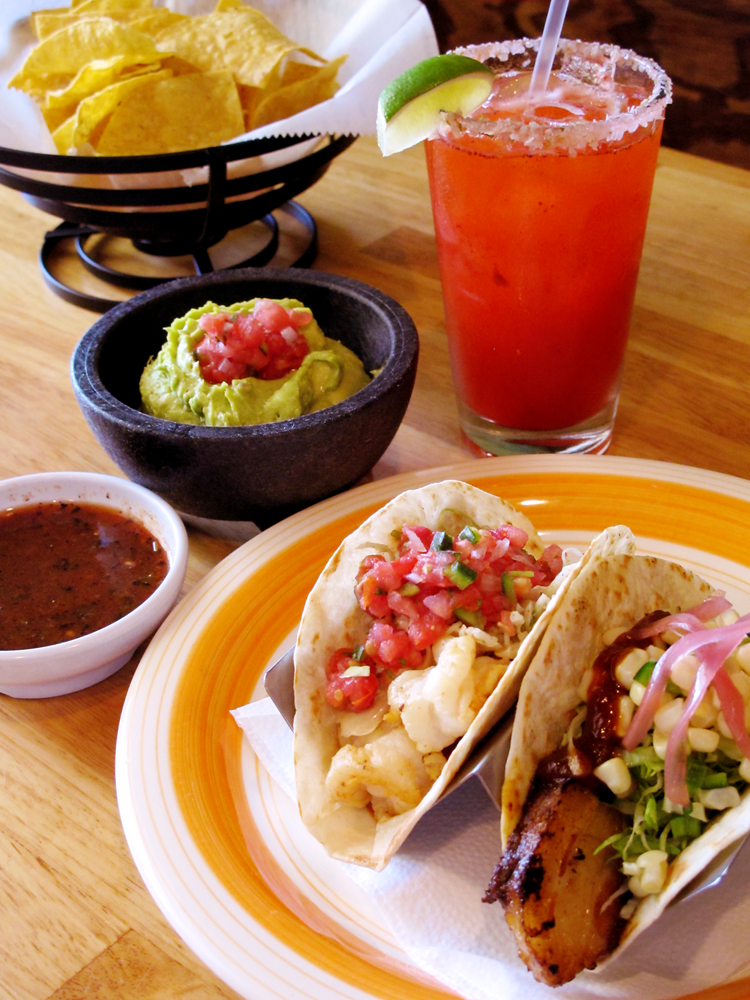 Initially Matt was only at Left Bank for an internship while he finished up his degree from The Culinary Institute of America in New York, but once he graduated he came back to the beach and worked there with Rob for three years. Both left around the same time — Matt to work at The Blue Point and Rob to open his own taqueria in Corolla.  

There's a picture of the taqueria's grand opening where Rob's wearing a chef's jacket and rolling a giant burrito. Matt is his first customer.

"I remember that!" Rob says, laughing when Matt mentions the photograph. "I was wearing that chef's jacket because it was the only thing I had ever worn in the kitchen after doing fine dining for so long. It didn't even occur to me not to wear it."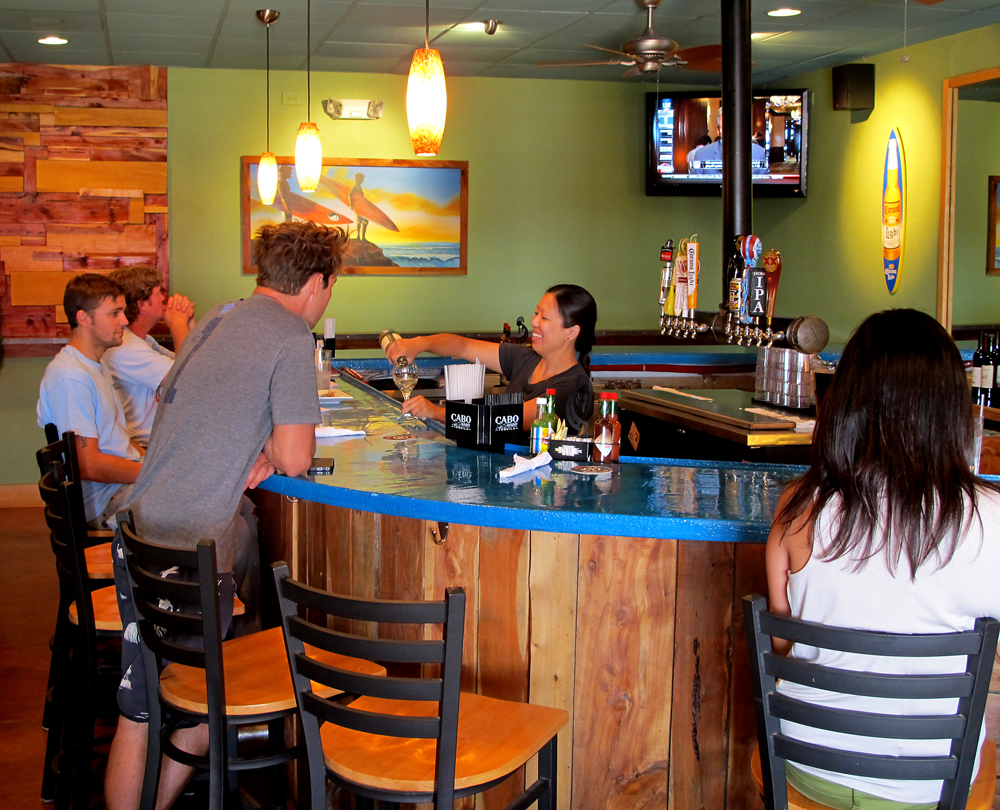 Which of course begs the question: Why the switch from fine dining to a more casual affair? "When I lived in California I ate this kind of food all the time," Rob explains. "The fresh simplicity of Latin cuisine can be amazing, and I saw a real opportunity to introduce those techniques to people here on the Outer Banks. Bottom line is, it's all about great food." "It's good to take yourself a little less seriously sometimes too," Matt adds. "It might not be the same level of intensity, but there is definitely the same passion."

Things were going great, but after four years at the taqueria Rob found himself looking for another challenge. He approached Matt with the idea of opening something bigger on the beach where they could both flex more of their culinary muscles. Matt jumped at the chance, and in 2010 they opened Bad Bean in Kill Devil Hills. "If Matt hadn't agreed to come on board, we wouldn't be here today," Rob says. "Our work together is the driving force behind everything."

That quickly became clear when they started out by modeling Bad Bean on the taqueria and found that it wasn't working as well farther south. "We just weren't using our talents the way we should have been," Rob reflects. "So we added 'Baja Grill' to the name and loosened the reigns. That was really when things started to take off."

Bad Bean Baja Grill was well and truly born, to the point that Rob closed the Corolla taqueria in order to concentrate on the Grill full time. Now Rob and Matt work together in the kitchen almost every day, collaborating on all kinds of new creations and bouncing ideas off each other with a speed that's truly astounding. They keep their regular menu on the small side, but that belies the fact that you'll find many tasty menu items that go above and beyond your more standard Mexican-inspired fare. Think roasted mushroom and goat cheese quesadillas, ancho-braised beef brisket burritos and a Baja Caesar salad with tortilla strips, Manchego cheese and crispy jalapeno rings. And, as Matt jokes, they can also put almost anything in a taco! From shredded pork barbacoa, grilled tofu, fresh Mahi Mahi and shrimp tacos to more unusual (and yet just as delicious) specials such as calamari, clam strips, pork belly and soft shell crab tacos, the list does indeed seem endless.

Rob and Matt are always pushing themselves and each other to come up with new ideas in the kitchen. Pulling from their culinary backgrounds and all the different kinds of food they personally love to eat, they offer daily lunch and dinner specials that you honestly won't find anywhere else. "We just decided that we would experiment with whatever we wanted to do," Matt says. "The point is to have variety, creativity and fun." 

Try, for instance (at least the next time they offer it!) specials such as their flat iron steak with local grilled asparagus, spring onions and horseradish chimichurri, their roasted tomato and chorizo soup or their jalapeño popper eggrolls. Is your mouth watering yet? Thought so! Then top everything off with a specialty drink, such as their fresh fruit margaritas, mojitos and their original Bad Bean Bloody Marys, or choose from one of their 10 rotating craft beers. Put it all together, and you have the perfect place to kick back for lunch or relax for dinner after a long day. Bad Bean Baja Grill can now even come to you with off-site catering and party packs available for pickup that feed groups as large as 20. 

"None of this happened overnight," Rob says in closing. "Every year we make small changes that add up. There's going to be a lot more still to come, and we can't wait to discover what's next." Neither can we, guys!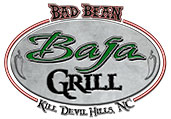 3105 N. Croatan Highway, Seagate North Shopping Center
MP 5, Kill Devil Hills
(252) 261-1300 • www.badbeanobx.com