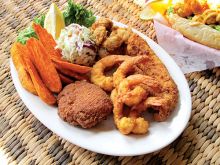 Imagine your favorite diner – the aroma of coffee wafting in as you open the front door, cozy booths tucked into corners, friendly staff who greet you by name. Maybe there are crispy hash browns. Juicy cheeseburgers. Creamy mac and cheese. Now transport that diner to the beach. Picture high ceilings, surfboards as decor and outdoor seating on the deck. Add in local seafood, icy smoothies, stuffed grilled wraps, beer and wine and one of the biggest breakfast menus on Hatteras Island and you've got Atlantic Coast Café.
"What we offer is beach comfort food," says owner Jodie Kamins. "We took a diner mentality and inserted it into a beach format."
Comfort and passion – this is the recipe the Kamins and the ACC staff follow for a thriving restaurant enjoyed by visitors and locals alike. Jodie and her husband, Matt, opened Atlantic Coast Café in 2005, but the story begins long before that. In 1980 the Kaminses were coaxed by good friends to visit Hatteras for the first time, bringing their 4-year-old and 11-month-old sons to a beachfront cottage on then sparsely populated Colony Drive. Though they had both been raised near the shore –New York for Matt and New Jersey for Jodie – the Outer Banks "blew us away," says Jodie. "Hatteras Island was an entirely different experience – it was unique and immediately very special." Matt points out that back in 1980, Hatteras was much less developed than it is now, and the rental houses were truly cottages, with no air conditioning and no cable TV. "You came down with your own food, your own booze, your own VCR and lots of board games," Jodie adds. But that was all part of the charm. The open beaches, the tranquil atmosphere – it all bestowed a restorative balm to the Kaminses' busy lives.
They haven't missed a summer in 34 years. It became a special time to share with family, long-time friends from college and their families as well. In 1999 Matt and Jodie built a vacation home in Rodanthe, where one son later would wed and where they now bring their grandchildren, the magic of Hatteras reaching to a third generation. "Hatteras is a very special place for our family," Jodie says. "We know it's a special place for other families as well." With that in mind, Matt and Jodie decided to do something to give back to the community.
The Kaminses have full-time jobs but they've always operated a business of their own at the same time. They'd previously run a learning center for children with special needs and then a kids' day camp for nearly 20 years. So when it was time for something new, they decided to focus on their other passion – Hatteras. The building of rental homes had exploded, but there weren't many casual restaurants in the Tri-Villages in those days. "What we had in mind was a place where you'd feel comfortable blowing in off the beach to have great coffee or grab a bite to eat and a cold beer," Jodie says.
But they knew they couldn't do it alone – especially long distance. That's where General Manager, Sheila Colli came in. The Kaminses knew Sheila well from earlier vacations when she and her husband ran the original Down Under restaurant at the Rodanthe Pier – a hands-down family favorite. Matt and Jodie shared their ideas for a beach-eats place serving great food with friendly service, and Sheila helped bring it to fruition. Later, Jacob Wright, who started as a grill man, joined the management team. Living and raising their families on Hatteras Island, their local presence and personal investment in the ACC, along with the contributions of several loyal staff members, turned the Kaminses' dream of a Hatteras restaurant into reality.

But no restaurant will be a success without serving delicious food. Atlantic Coast Café has a crab cake sandwich so good it was featured in Taste of the South magazine (read the full review on ACC's website). Jodie says ACC was one of the only restaurants in the Tri-Villages (Rodanthe, Waves, Salvo) to offer a full, big breakfast after The Down Under left Rodanthe Pier and Emily's closed. And no surprise – much of the breakfast menu is available all day long, diner-style. On the lunch and dinner side, the ACC offers items such as a Cajun-spiced tuna steak sandwich, grilled fresh fish tacos, classic Reuben and coastal Reuben (made with a crab cake and coleslaw instead of corned beef and cabbage) sandwiches, housemade salads and a stand-out shrimp and grits dish. While the atmosphere is casual, Atlantic Coast Café uses quality ingredients and local seafood. To put it simply, they just serve good food.
The food and the friendly, attentive service are why customers return year after year. "We want everybody to have a good vacation vibe because they feel comfortable here," Matt says, and he feels they are mostly getting it right because folks now make a visit to ACC a planned part of their yearly trip. "Folks are here to have an experience at the beach, and we're just very happy to be part of it," agrees Sheila. Indoor and outdoor seating accommodates family members both human and canine, and they're happy to pack up anything on the menu to take out for a low-key dinner at your rental house.
Passion and comfort may seem like two opposing concepts-one fires and excites while the other gentles and calms. But it's these two principles Matt and Jodie brought into play at the ACC. The passion they feel for Hatteras brought the restaurant into existence and drives them, Sheila, Jacob and the entire staff to fulfill and exceed their customer's expectations. And yet this drive also fuels a desire to create a comfortable, beachy, relaxed dining experience for vacationers and locals. From their very first trip to Hatteras, the Kamins recognized the beauty and magic of the island. Now Atlantic Coast Cafe is part of that landscape, a go-to spot vacationers return to year after year for a comforting taste of the beach.
25150 NC Highway 12 • Waves, NC 27982 • (252) 987-1200
mail@atlanticcoastcafe.com • atlanticcoastcafe.com