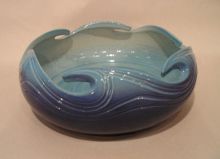 People fall in love with Ocracoke Island for so many reasons — the ocean waves, calm sound waters, weather, history, people, wildlife and on and on. Another element of the island that stirs people's hearts is the trees.

"The wind-sculpted trees are a striking sight," says lifelong resident Amy Howard, whose home and family business, Village Craftsmen, sit beneath the sprawling limbs of some of the island's oldest live oaks on Howard Street. "They're part of the fabric of Ocracoke."

Ocracoke is densely populated with stately, gnarled Southern live oaks and wild, scrubby Eastern red cedars. Wind resistant, salt-tolerant and able to withstand heat, cold, drought and inundation, both species of hardy trees adapt well to the harsh island elements. They take root in the sandy soil and then acclimate to mercurial environmental conditions — not unlike the island's residents. Indeed, many a soul searcher has contemplated the similarities of the island's trees and people.
The islanders hold their trees in such regard that they protect them and even name them. Six of the island's oldest live oaks are named and documented on the Live Oak Registry, including William Howard Oak, Howard Street Sentinel and Mary Ruth Oak on Howard Street, Old Hammock Oak on National Park Service property and Pilot Town Oak and Blackbeard's Oak in the Springers Point Nature Preserve.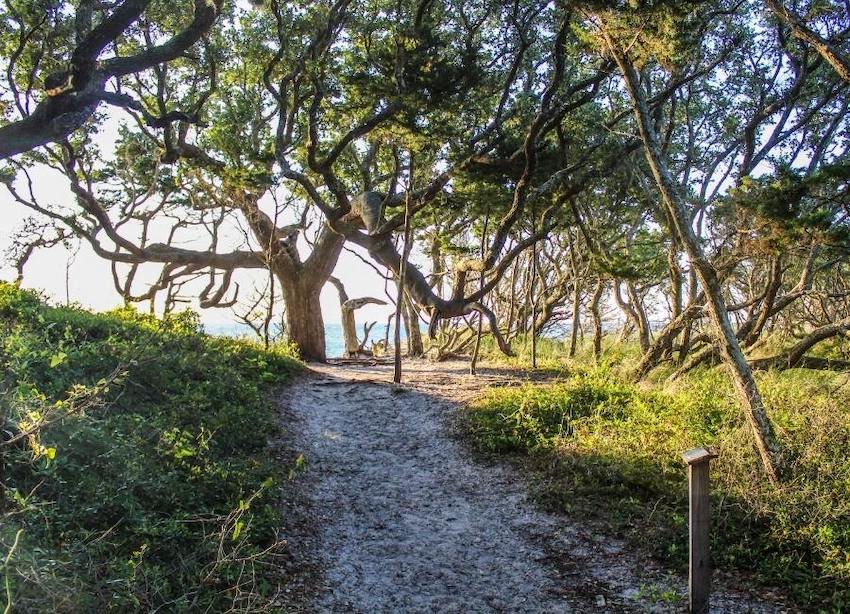 But it was a beautifully contorted, old, smooth cedar that inspired Philip Howard when he was designing the logo for Village Craftsmen in the early 1970s. He sketched a silhouette of a well-known windswept tree that people called The Dancing Lady and The Driftwood Tree, its branches habituated into a southwest direction from the prevailing northeast winds. The tree is dead now, but it still stands, partially shrouded by pines, near the NPS campground outside of the village. It's been the logo for Village Craftsmen ever since. Whether or not people know that particular cedar, the logo resonates with them as an island icon.

"People often say it looks like a tree they know," Amy says. "It speaks to them in some way."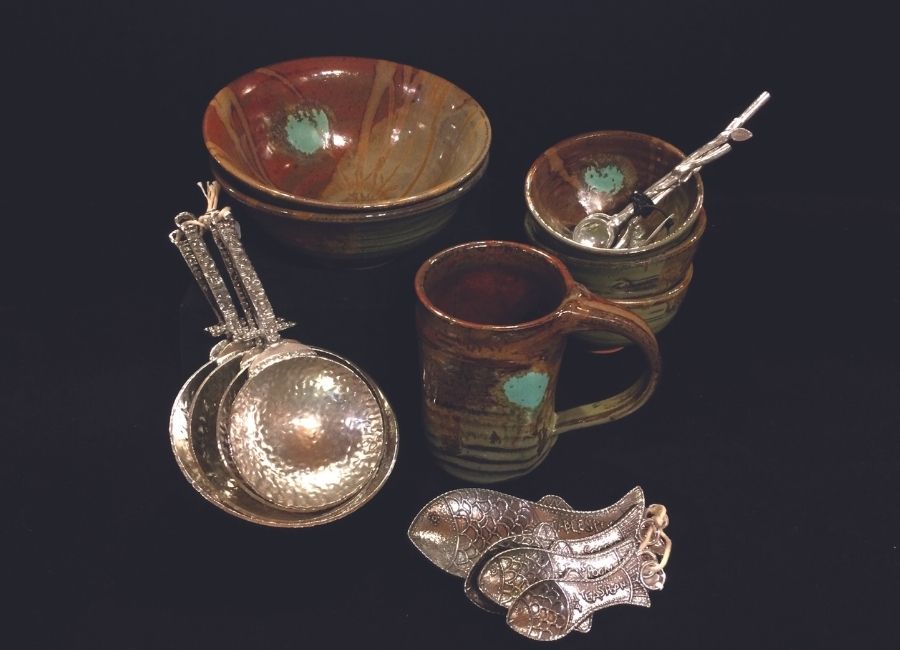 To the Howards, the logo represents the shared creativity, individuality, beauty and resiliency of the island's trees and people, making it the perfect representation of Village Craftsmen. Founded by Philip and his former wife and now run by Amy, their daughter, the store is a physical expression of the Howards' love for Ocracoke, and many of the items they sell pay homage to the island's unique natural elements and qualities. Shoppers who love Ocracoke as much as the Howards come to Village Craftsmen to find things that remind them of the island, and everything in the store is handcrafted in the United States.
For those who feel a connection to the island's trees and other parts of Ocracoke's natural environment, there are mugs and ornaments with the windswept tree logo as well as ornaments, art, pottery and jewelry featuring sea turtles, pelicans, herons, dolphins, jellyfish, whales, crabs and fish.
Some products speak to the island's resilience, such as the drinking glasses etched with the tideline marks of Ocracoke's most infamous hurricanes, similar to the marks by the steps up to the porch of the Village Craftsmen. The island has endured many storm tides, and to the islanders those marks represent survival skills and Phoenix-like strength.
For everything someone loves about Ocracoke, there is something at Village Craftsmen to represent it. Bud vases and thumb pianos made of cedar offer the smell of the island's trees, bringing to mind, perhaps, a walk in Springers Point. Pirate-themed pottery and books of stories recall the island's history. Peggy Clark's Clarkware ceramics evoke images of the ocean and waves. Lighthouse ornaments and keepsakes represent the Ocracoke Lighthouse's history of guiding mariners through adversity.
Paintings, prints and photographs allow people to bring island scenes and landscapes into their homes to appreciate the island from afar. Yaupon tea, made from dried yaupon leaves like those that are abundant on the island, is an aromatic, drinkable reminder of Ocracoke.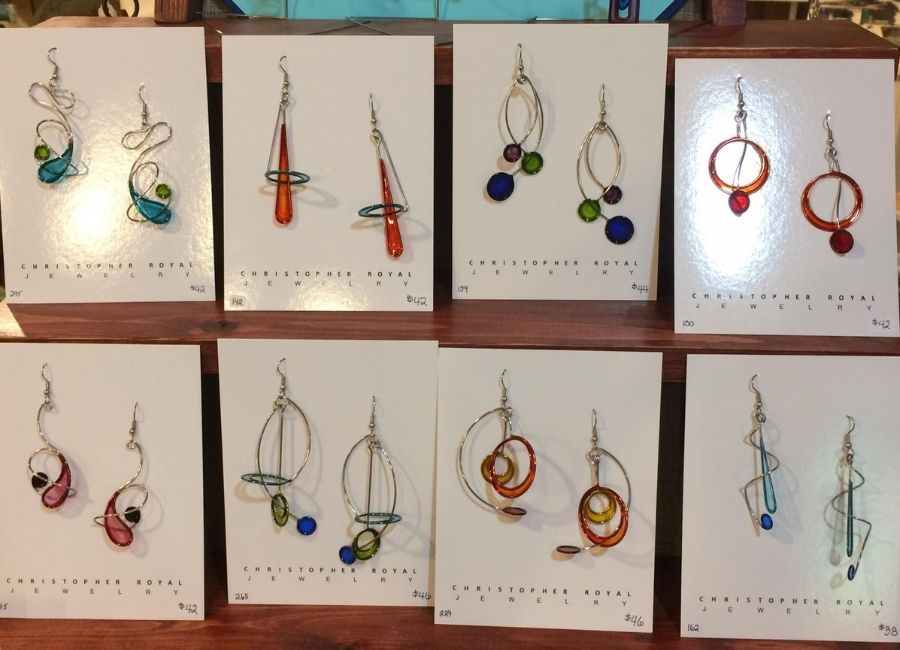 The jewelry selection at Village Craftsmen, from simple sterling silver rings to more elaborate pieces, offers wearable mementos of the island. One such piece, a hand-cut necklace in the shape of the island, reminds wearers of how narrow, special and vulnerable the island is. Other pieces bring to mind sand dollars, sea life, sunsets and other island elements.
The Howard family's affinity for the island and their dedication to its well-being go beyond their gallery. The Howards are deeply involved in the community and its history. Amy and Philip and now Philip's son-in-law, David (aka Fiddler Dave of Molasses Creek), educate visitors with their Ocracoke Ghost & History Tours, taking people around village and making sure the island's rich history is not forgotten in time. Philip, a writer and historian, keeps Ocracoke lovers informed and educated through his online Ocracoke newsletter and Ocracoke Island Journal (a journal of island history and culture). If there's anything you want to know about Ocracoke, Philip has likely written about it and you can find it in his archives.
Whether you live on the island or visit once a year, whatever it is you've come to love about Ocracoke, you'll find something to help you keep it close to your heart at Village Craftsmen.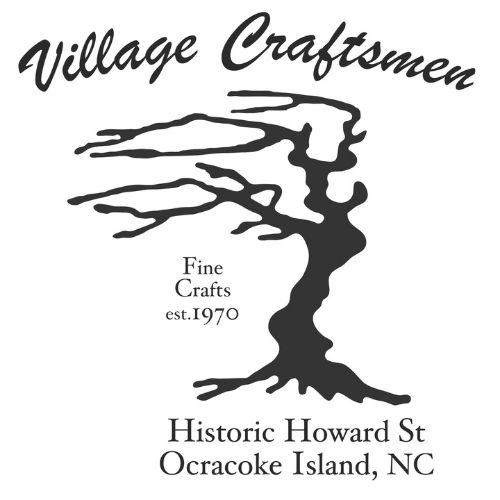 (252) 928-5541
170 Howard Street, Ocracoke
villagecraftsmen.com
---