Alicia Arranz moved from New York City for a new way of life and has ended up transforming more than only hers. The petite and smiling young woman might not seem like your typical Transformer, but she is, and the power tools she uses to create such change include scissors, combs, dryers and dyes. But her real secret power is an innate ability to make a woman's outer beauty represent her inner state. Or, maybe, it's more the ability to help women let their light shine because they feel good about how they look. Both are true, and both are transformations that make lasting impressions.
Sure, there are plenty of hair stylists out there. But Alicia is different for a few obvious reasons: She is New York City-trained and, most interesting, her salon is your own house. She earned her reputation in the Big Apple, working as a stylist and then an educator for John Allan's Grooming Lounge, a high end salon that catered to a male Wall Street type of clientele who expected impeccable service and talent. On the weekends, she freelanced as a wedding hair designer as well as a traveling, in-home stylist. It was hustle bustle, high energy, inspiring, tiring...and she loved it. She saw that her clients felt loved and taken care of, which in turn made them happy, which in turn helped them spread the love. It was a fulfilling circle.
But something started tapping her on the shoulder to get her attention...and this woman listens to those subtle messages. Part of the tap involved wanting a new challenge, to go somewhere, to have a clean canvas again. As it happens, around this same time she met and fell in love with a fellow from the Outer Banks. And then she fell in love with the Outer Banks and decided to make this place home.
Alicia told me that her career has felt the most touching here on these islands. When asked why, she explained that it was the type of connections she makes here with the community. Though she's often experienced her clients sharing personal, meaningful information with her, here, she says, it just feels more connected than she's ever experienced. You should see the look in her eyes when she explains this.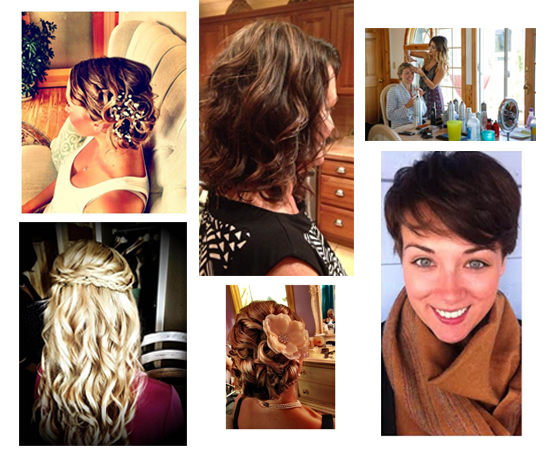 Now, about that "her salon is your own house" part. Alicia comes to you, in the comfort of your own space. Most of her clients are women who've learned about her from their friends. When she first got here, Alicia offered a few women free sessions, and from there the word spread...and quickly. In less than a year, she has gathered in more than 60 clients! And, often, once she's been in the home a few times to do the woman's hair, she ends up styling the children's and man's hair too. Often, the hair appointments end up being fun family nights where a meal is shared too. "I've had women start crying when they see themselves after I do their hair. It's like they're viewing themselves in a new magic mirror where they like what they see. They feel a prettiness that they might have forgotten or given up on. It makes my heart sing, it really does."
Alicia's heart must sing quite often. That's a nice state for someone to be in when they hold your hair in their hands.
Contact Alicia
to schedule a consultation
cut . color . styling
973.580.4142