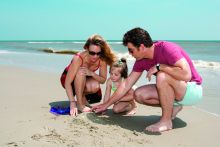 There's no anticipation quite like that of a 7-year-old kid, crouched on a dock on Currituck Sound, watching her several crab lines for the tiniest flicker of movement. She's waiting for the moment when one skitters right or left or pulls taut because that means a crab is tugging at the bait below.  
Finally, a line twitches left. With hoots of pure joy, the girl springs into action. She grabs her line — "Gently, gently," her dad coaches — and teases that crab to the surface. Her brother, ready with a big scoop net, snatches up the crab before it can escape. They plop it into a paint bucket with two inches of water. Success!
Hand-line crabbing is a quintessential Currituck family tradition. It's the best kind: simple, easy, cheap and loads of fun. All you need is water access, about 20 feet of kite string and a package of discarded chicken necks for bait (they're tough and heavy enough to sink). For expert guidance, the Outer Banks Center for Wildlife Education in Corolla offers free Learn to Crab classes.
Here are 12 more great family traditions in Currituck County, for just about any time of year:
1) Farm Markets: Along much of Caratoke Highway (U.S. Highway 168) between the Virginia-North Carolina state border and the Wright Memorial Bridge, farmland sweeps away from the road to a line of woods or straight to the water's edge. Several farm markets dot the route, echoing an earlier America. Stop for fresh peaches, strawberries and watermelon in the summer or a hay ride to the pumpkin patch in the fall. Besides vegetables and fruits, the shelves are lined with homemade preserves, salsas, ciders and sweets. Beware, samples abound!

2) Mackay Island and Currituck National Wildlife Refuges (NWR): We're lucky to live close to rich and varied wildlife all over the Outer Banks. But for a real sense of wilderness, nothing compares to a protected area. At the Mackay Island and Currituck refuges, you can go birding, hiking, boating, fishing and, subject to special regulations, sport hunting. See impressive concentrations of snow and Canada geese, ducks, osprey, wading birds, shorebirds and more. Cars in the Currituck NWR are limited to the beach, but there are gravel roads in Mackay Island NWR for driving and bicycling.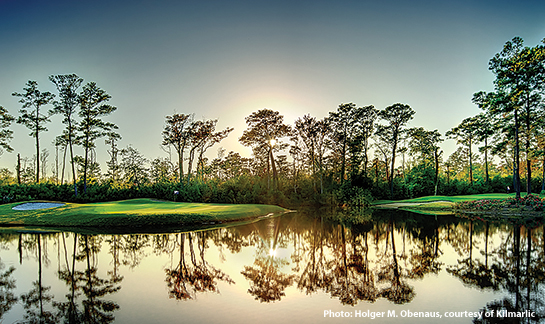 3) Golf: Boasting nearly a dozen golf courses, Currituck County is a golfer's dream. Several courses are laid out in maritime forest and wetlands while others stretch along the coastline, creating an unusual and unforgettable setting.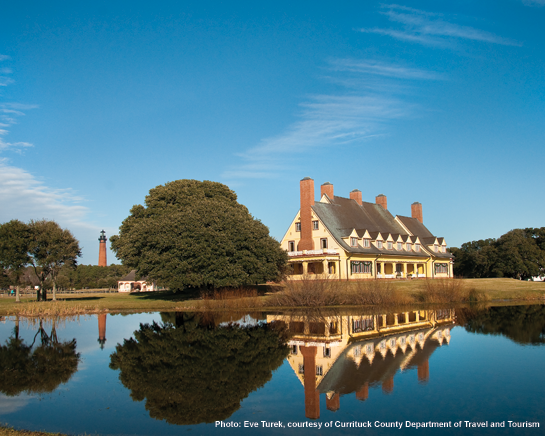 4) Sense of History: To imagine living on the Outer Banks in the late 1800s, when these shores still claimed countless ships and lives, climb to the top of the Currituck Beach Lighthouse. Climb for the gorgeous view too. It will give you an entirely different perspective on the fragility of the Outer Banks. Then head across the street to visit Whalehead, an historic, 21,000-square-foot home completed in 1925. Whalehead still stands as a remarkable illustration of the Art Nouveau style of architecture.  

5) Weeping Radish Farm Brewery: Before "farm to table" was a recognized concept in these parts, Weeping Radish was doing it. This farm-butchery-brewery-restaurant on Caratoke Highway in Jarvisburg sits on the cutting edge of the local and organic food movement. They grow vegetables, eggs and herbs for retail and chefs; craft unfiltered beer; make hormone-free meat products from local farms; and host festivals and educational events. Weeping Radish also works with 20 North Carolina farmers, turning otherwise unprofitable meat cuts into sausages with the farmer's label, which the farmer then sells at local farmers' markets. Take a brewery tour for $5 (every Wednesday at 11 a.m.), which of course includes beer samples.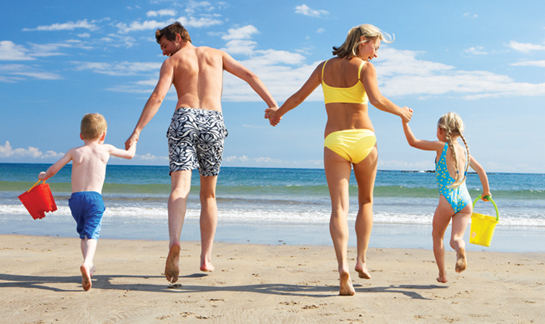 6) Sun and Stars: Wake up the kids just before dawn. Ignore their grumblings; go to the beach. This early, it's a different place from the one they know at midday. See who's first to glimpse the sun rise out of the ocean. Hunt for sea glass and smooth shells. The kids won't be grumbling anymore — they'll be telling this story for years. You might do the same at sunset, staying at the beach after dark. Or well into the night, lie on your backs almost anywhere in the county. Currituck's minimal light pollution makes it spectacular star-gazing country. 

7) Monster Truck Rides: At Grave Digger on Caratoke Highway in Poplar Branch, the highlight is an exhilarating ride in a monster truck. But there's also a diner, petting zoo, go-carts and souvenir shop. Both the young and young-at-heart can easily spend a few giddy hours here.

8) Hang-gliding: What tradition could be more fitting here, where the Wright brothers first lifted off the dunes and discovered powered flight, than strapping on wings and soaring over those same dunes? Kitty Hawk Kites offers tandem hang-gliding lessons at flight parks at both the Cotton Gin and Currituck County airport. Whether it's 15 or 30 minutes in the sky or three hours on the dunes, that awesome feeling of free flight --  safe but unrestricted by seats or enclosures — will be unforgettable.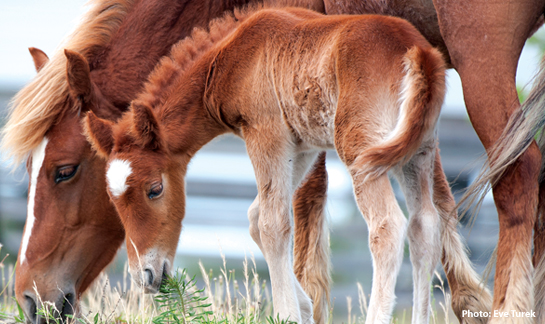 9) Corolla's Wild Horses: The beautiful Colonial Spanish mustangs, which are critically endangered and nearly extinct, roam freely along the northernmost 7,544 acres of the Outer Banks. Visitors can see them but should do so respectfully. (Never touch or feed the horses, as they have different diets than domesticated horses, and can become sick or die from inappropriate foods.) The not-for-profit Corolla Wild Horse Fund is geared toward education and exists "to protect, conserve, and responsibly manage the herd." They offer tours to see the horses, children's summer programs and volunteer opportunities.  
10) Local Wine: Just off Caratoke Highway in Jarvisburg at Sanctuary Vineyards you'll find free wine tastings every day and free tours on Wednesday. You may see migratory snow geese wandering amid the Cabernet or hear family-friendly, live music (yes, free!) every Thursday evening from Memorial Day through September and every Friday in the winter. Bands range from country to reggae to classic rock and always hail from the Outer Banks. Join the Runamuck in Currituck 5K race set for May 23, complete with music festival.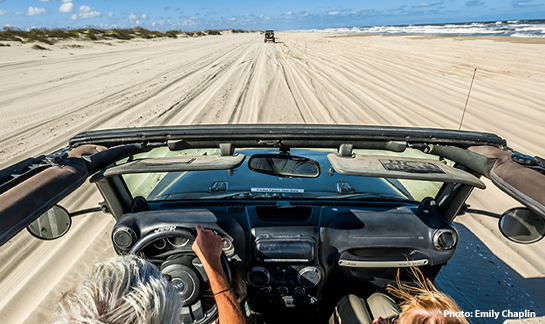 11) Hunt for Ghost Crabs: Just like hand-line crabbing, here's a tradition that cannot be beat for its simplicity — and price! Maybe you're on that sunrise or sunset trip to the beach. After dark, aim a flashlight well ahead and walk, as quietly as possible, between the high and low tide lines. Watch for the small holes in the sand made by crabs burrowing under. Near these, you're sure to see the tiny, roughly two-inch ghost crabs skittering across the beach. As when hand-line crabbing with children, you'll enjoy the precious moments of silence punctuated by cries of utter delight.

12) Pick Your Own Fruit: Have you ever picked scuppernong grapes, a type of muscadine and the state fruit of North Carolina? At Martin Vineyard & Orchard on Knotts Island, you can pluck them from the vine for about $1.50 per pound. From June through November, there are fruit trees and vines to be emptied. Take your pick, so to speak, from apples, peaches, grapes, pumpkins and veggies. The vineyard also sells its own quality wines. 
Currituck Outer Banks Visitor's Center:
(252) 453-9612  |  500 Hunt Club Drive, Corolla
Currituck County Tourism Department & Welcome Center:
(252) 453-2947, (877) 287-7488  |  106 Caratoke Highway, Moyock
visitcurrituck.com