With an abundance of birdlife and public lands, the Outer Banks is a bird-watching hotspot.
Sandpipers in the surf scurrying from approaching waves, cormorants on dock posts drying their wings in a breeze, a stock-still snowy egret fishing in a mucky creek along the bypass. Gulls cackling over restaurants and grocery stores, killdeer screeching frantically in parking lots, red-winged blackbirds trilling in the marshes.
Birds are one of the most prominent features of the Outer Banks landscape, adding bursts of color, sound and activity all around us, from our streetscapes and backyards to our woods, beaches and sounds. Stop and notice: No matter where you are on these barrier islands, there are likely birds in your line of vision or within earshot.
Feathered creatures are an integral part of Outer Banks life. They contribute to the health of the ecosystem by dispersing seeds, pollinating plants, scavenging carcasses, eating insects, controlling pests and recycling nutrients back to the earth. They also contribute to livelihoods – fishermen watch them to know where to fish, biologists have jobs to protect them, visitors come here to find them, guides take people to hunt them and photographers make a living off their images.
Birdlife also offers value that we sometimes overlook: a simple connection to the natural world. Paying attention to birds helps us feel more deeply connected to a place. Birds are something ever-present that we can tune into no matter where we are. And on the Outer Banks, people pay attention to birds.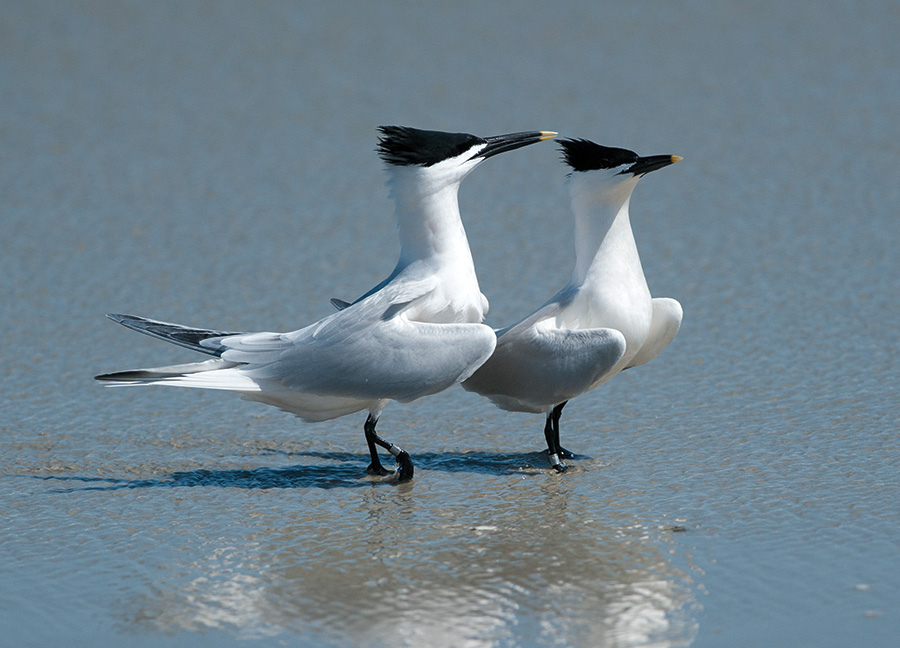 This is a place where a group of people on the beach will stop a conversation to silently watch a flock of pelicans soar overhead, where people feel lucky if a heron lands on their roof and where a rare bird's arrival in town — like the snowy owls who came to Ocracoke —  is front-page news. It's a place where the spectators at high school and kids' sports games watch the osprey who nest in the light posts almost as much as they watch the game. It's a place where birds are strictly protected in refuges and sanctuaries.
According to the New York Times, bird-watching surged in popularity in 2020 due to the pandemic. People with not much else to do began to slow down and notice the birds around them in their own yards and neighborhoods, and they also traveled to natural areas to enjoy them. Novices were asking more questions on birding sites, and more families headed out to open space with binoculars. Bird apps saw huge jumps in user downloads and interaction, and Global Bird Day saw a 50% increase in participation.
Whether you're newly interested in birds or a lifelong bird lover, the Outer Banks is a renowned location for observing them, and there are a lot of public places here to do so. Cape Hatteras National Seashore, Pea Island National Wildlife Refuge, Alligator River National Wildlife Refuge, The Nature Conservancy's Nags Head Woods, Jockeys Ridge State Park, Run Hill State Natural Area, Kitty Hawk Woods, Currituck Banks Reserve, Currituck National Wildlife Refuge, Pine Island Audubon, Buxton Woods, Springers Point Preserve and several others parks, preserves and attractions offer a few hundred thousand acres of land to explore, all of it open to the public. Within close proximity to the Outer Banks are seven more wildlife refuges, Cape Lookout National Seashore and numerous state parks and public lands.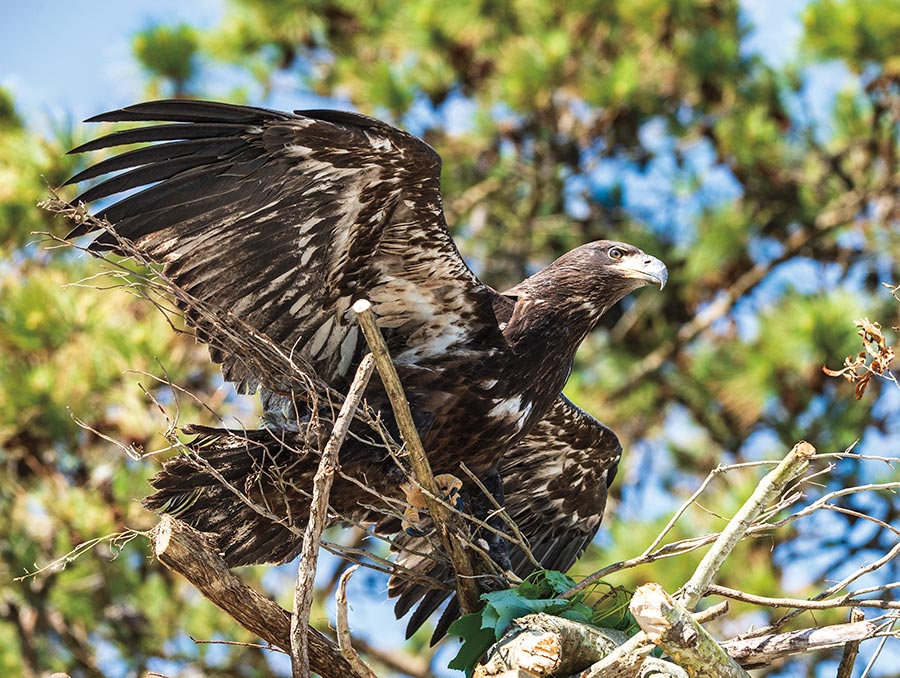 The Residents, The Migrants & The Rare
More than 400 types of birds have been counted on the Outer Banks.
"The Outer Banks has the largest bird diversity in the state," says Jeff Lewis, one the area's most well-known birders and wildlife photographers. "For as small an area as it is geographically, we have a lot of diversity, and there is always something to see here."
There's a high population of birds here for a couple of reasons, one of which is a strong presence of migratory birds. The Outer Banks is positioned midway along the Atlantic Flyway, a major bird migration route, so in addition to the year-round avian residents, a great deal of birds visit here for part of the year. Diversity of habitat, plentiful food and open water make this a perfect resting or wintering spots for waterfowl, water birds, raptors and songbirds.
Pea Island National Wildlife Refuge is one of the most well-known Outer Banks sites for migratory birds. With thousands of tundra swan, snow geese and a huge variety of ducks wintering here and an amazing variety of birds all year long, it's the kind of place that inspires people to take more of an interest in our feathered friends.
The Outer Banks' position at the edge of the continent, stuck farther out into the ocean than other mid-Atlantic states and at the confluence of the Atlantic's Labrador Current and Gulf Stream, also makes it a hotspot for pelagic birds (seabirds that live on the ocean). In birding circles, pelagic birding is North Carolina's claim to fame. The state has the highest seabird list in North America, and birders come from around the world to see black-capped petrels, band-rumped storm petrels, white-tailed tropicbirds and more. Boat trips to the Gulf Stream through an Outer Banks inlet are the best way to see these birds, but sometimes you can spot them from the end of piers or on the beach at Pea Island or Cape Point.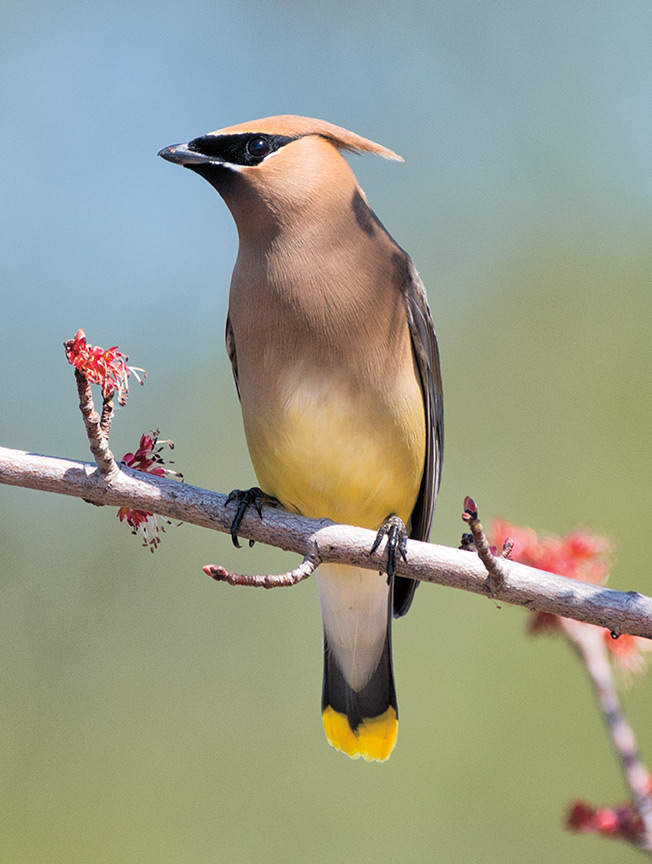 The Outer Banks also gets its fair share of rare birds. "On the Outer Banks, rarities are the norm rather than the exception," John O. Fussell III writes in A Birder's Guide to Coastal North Carolina.
Once a rare bird is spotted, word gets out quickly and birders flock to the area. In 2020 the star rarity was an Antillean night hawk at Cape Hatteras. "There are only three records of seeing this bird north of Florida, and they were all at Cape Point," Lewis says.
The summer of 2020 also saw a rare white-winged tern in Cape Hatteras National Seashore in Buxton. The small European bird has only been seen twice in North Carolina, with the other sighting in 1994 near Bodie Island Lighthouse. A 4-foot-tall sandhill crane, typically seen in Florida, Texas and out West, appeared around Bodie Island Lighthouse this summer as well.
"The bird diversity and the lack of predictability can be very exciting," says Becky Harrison, supervising wildlife biologist at Pea Island and Alligator River national wildlife refuges. "It can be different every day."
All of these varied birds couldn't live or rest here without the Outer Banks' diversity of habitat, such as ocean waters, ocean beach, dunes, sounds, woods, marsh, wetlands, freshwater ponds and backyards.  
Birders & Birdwatchers: There is a Difference
There are different ways to approach the observation of birds. If you simply notice birds around your town or while traveling for other purposes, you're a birdwatcher. If you specifically go out seeking birds or travel specifically to see birds, you're a birder.
Many birders keep a list, which is called a life list. The list requires that you can positively identify the bird with certainty and that you observe ethical birding practices. Lewis is this type of serious birder with a life list. In addition to 399 in Dare County, he has 421 in North Carolina and somewhere around 600 in the lower 48 states.
As a biologist by profession, Harrison works with documenting, studying and protecting birdlife and wildlife every day. But when it comes to her everyday life, she's more of a casual birdwatcher. She doesn't keep a list.
"I find comfort in the everyday birds," she says. "The everyday birds are just as fascinating to me as the rare ones. I love seeing my neighborhood birds. I find joy in hearing the same old field sparrow. There's so much magic in that for me."
Outer Banks birder and wildlife photographer Eve Turek calls herself an "immersive birder."
"A life list appealed to me in the beginning, but it wasn't enough," she says. "I wanted to understand more about the birds. I wanted more immersive experiences. I'm more interested in what this bird is doing right here, right now in the moment that our lives are intersecting."
As an example, she describes seeing a bird dive for a fish. "I slow down. I calm down. I can now notice exactly what I'm seeing. If I have my camera, I zoom in. A long camera lens helps me get a little closer. I see that the bird is a tern and that it's getting a fish and presenting it to another bird, and it's doing it again and again. I see that this isn't fishing, it's courtship! That's the joy of birding for me."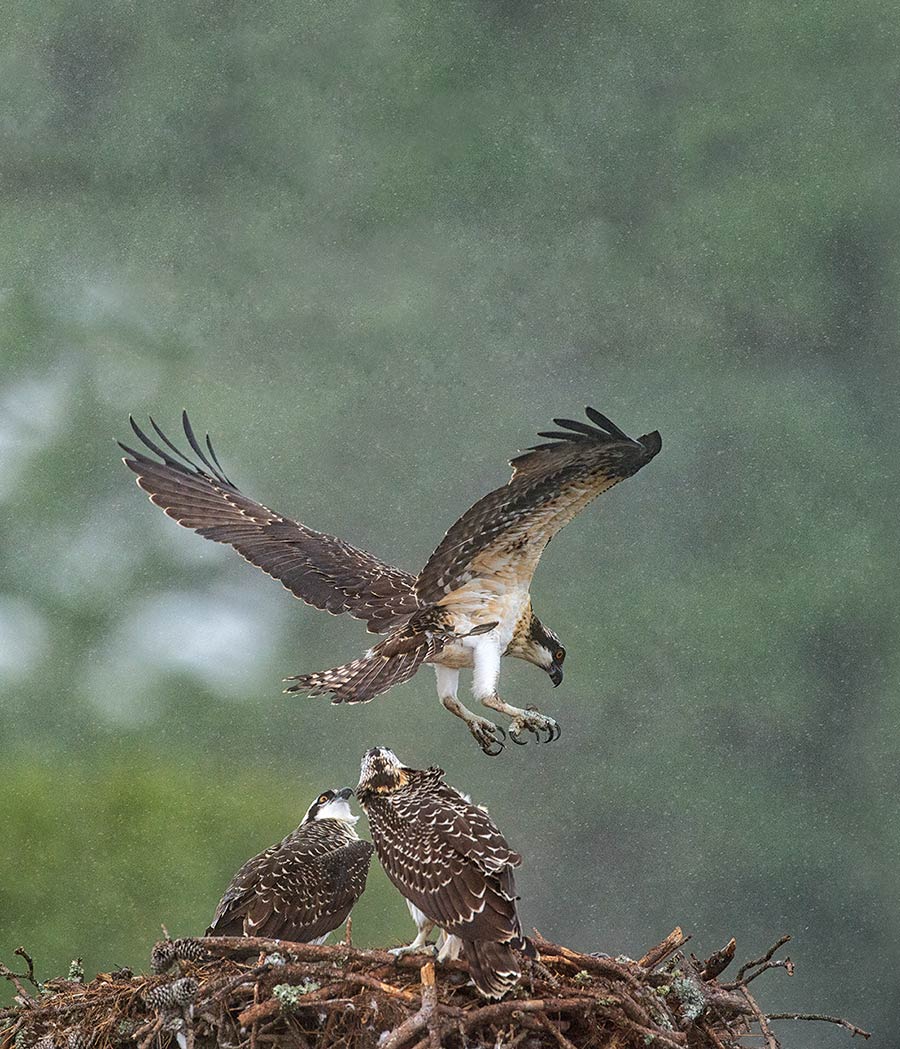 How to Bird (Yes, It's a Verb)
You don't have to be a serious birder to enjoy watching birds on the Outer Banks. You can incorporate casual bird-watching into your everyday life and Outer Banks adventures. Just be forewarned: One little tug into the world of birds and you can unravel a hugely complicated world.
"When I started really paying attention to birdlife here, I didn't understand in the beginning how much there is to learn," Turek says. "As I began to see how much there is to learn, at first I was intimidated and overwhelmed. I thought I'd never keep it straight and learn all the nuances." 
Allowing herself to just listen to and watch the birds at first without having to name them gave her the freedom to just enjoy them – and in the last 20 years she's learned a great deal about the birds she observes, from ospreys to eagles to pelicans to songbirds. For instance, Turek says she loved discovering on her own that brown pelicans have light blue eyes in the spring and darker, browner eyes in the fall.
Harrison says you don't need to make a big plan. "Just go outside," she says. "Birds are one of the most obvious things that connects us to nature. They invite so many senses. Just close your eyes and hear them no matter where you are. Look around. Use your sense of wonder."
If you find that appealing, you can start to get a little more serious.
Lewis recommends getting binoculars and good field guide. Books are available, but most birders these days use apps. Start in your backyard, then move to the parks and public lands around you. Meet up with other birders on bird walks or wildlife events. Read books about birding.
Pea Island National Wildlife Refuge's weekly Bird Walks and Alligator River National Wildlife Refuge's monthly Tram Tours will resume post-COVID. The refuges' popular Wings Over Water annual event includes dozens of birding field trips in parks and refuges all around the Outer Banks and northeastern North Carolina; it's cancelled for 2020 but will return in the fall of 2021.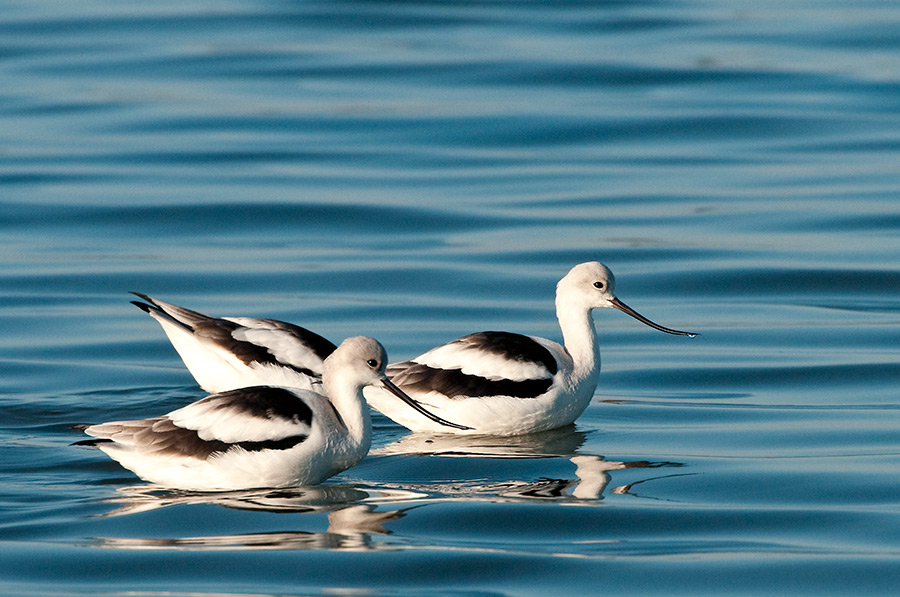 Popular Birding Apps
Merlin Bird ID

– Free. Cornell Lab of Ornithology's digital guide. Good for beginners as it helps you identify a bird by answering a few questions.

eBird – Free. Includes checklist for recording sightings.
Audubon Bird Guide: North America

– Free. Includes songs and calls. Allows you to report sightings and see others' spottings in your area.
Did you know? Playing audio recordings of birds in the field is a no-no. According to nature.org: "Playing a recording of a bird's call, especially in breeding season, may be harmful if done near the bird in question. And may be illegal in some National Parks. And is always illegal for endangered species. And it will annoy other birders."
A Few Birding Ethics
Support the conservation of birds and their habitats.
Avoid stressing birds.
Minimize habitat disturbance.
Share bird observations and knowledge with other birders freely.
Never enter a property without the owner's permission.
Top Outer Banks Birding Spots
If you want to read about all of the Outer Banks birding spots, the most definitive book is A Birder's Guide to Coastal North Carolina by John O. Fussell (University of North Carolina Press, 1994).
Below are a few of the top places and a few favorite times of year to go for specific species, but this is only the tip of a giant iceberg. There are birds to see here all year round in a huge variety of public locations.
"Every chance to be outside is good reminder of why I love this area and how much opportunity we have here," Harrison says. "We have so much space to explore here, and that's a privilege."
Pine Island Audubon Sanctuary – Fall for migrant songbirds, rails, bitterns and wading birds; winter for waterfowl.
Town of Duck Boardwalk – Fall for migrating warblers and songbirds; spring, summer and fall for osprey.
Nags Head Woods – Spring and autumn for warblers and songbirds.
Jockeys Ridge State Park – Spring and fall for raptors and hawks.
Pea Island National Wildlife Refuge – Winter for waterfowl, spring and fall for shorebirds, summer for terns and gulls, fall for hawks.
Bodie Island area of Cape Hatteras National Seashore – Summer for wading birds, winter for raptors and waterfowl, winter for terns and gulls and ocean birds, spring for breeding land birds.
Cape Point area of Cape Hatteras National Seashore – Late May for pelagic birds, winter for gulls, spring and summer for terns, skimmers and shorebirds.
Alligator River National Wildlife Refuge – Fall for warblers, winter for raptors and waterfowl, year-round for owls.
William B. Umstead Bridge "Old Manns Harbor Bridge" – Late July and early August for purple martins.
Gulf Stream (offshore) –May to September and January through March are the best seasons. Capt. Brian Patteson offers trips from Hatteras. patteson.com
Photos by Eve Turek