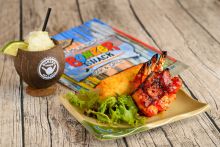 Locals don't get a pass on real life just because they live in a vacation destination. For every visitor out there perfecting the art of leisure, there's a local behind the scenes hustling to pay the bills. But the ol' 9 to 5 in a place like the Outer Banks isn't drudgery. The local working class still gets to have the fun – we just go to the beach, surf and fish before or after work and during the off-season. And we dine at places that make us feel like we're on vacation.

Which brings us to Bonzer Shack.

Right across the street from the beach in Kill Devil Hills, Bonzer Shack is a local surf hangout with surf decor, tropical drinks, a sunny outdoor space with yard games and friendly staff members who are always happy to see you. It feels like an escape from everyday life.

Most importantly, however, Bonzer has the fresh food and menu to please every possible diner.

Whether you're a local who's got 45 minutes for a healthy lunch, a family who wants an exceptional meal but needs distractions for the kids or a visitor who's got several hours to invest in drinks and dinner, Bonzer Shack makes it happen.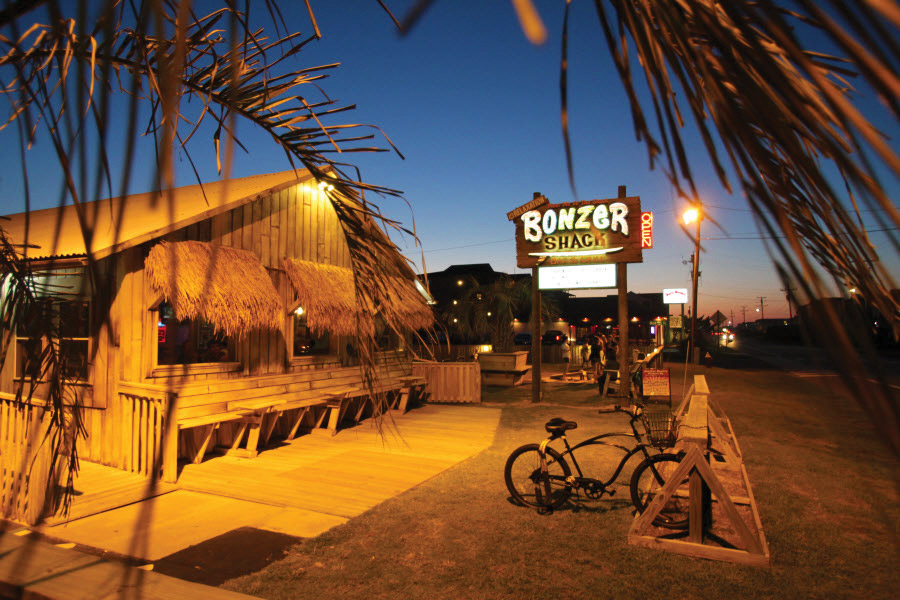 The quality of the food and variety of menu options are a priority for Bonzer's owner, John Kirchmier, and his entire staff. When John opened Bonzer in 2012 his vision for the food was to offer creative, crowd-pleasing options that are fun, eclectic and healthy. He and the staff achieve that and more with the regular menu and daily specials.

Bonzer's appetizers hit a high mark for creativity and all-around approval. They're perfect for starting off a meal, noshing on while enjoying beers or cocktails or ordering with a salad. The Bonzer Shrimp – wrapped in bacon, grilled and served over a smoked Gouda grit cake – is a highlight, as are the puff pastry-wrapped surry sausages known as Buxton Barrels. Chicken wings, stuffed jalapenos, fried green tomatoes, homemade black bean cakes and fried plantains are standouts as well. Everybody loves the Hippie Dip and Quag's Queso, both throwbacks to John's former restaurant, the legendary Quagmires.

The salads at Bonzer are fresh, and their dressings are homemade, with the house Cream Curry and Sweet Chili Vinaigrette as the most popular. You can top any salad with grilled shrimp, fish, chicken or a black bean cake.

Lunch features burgers, sandwiches, entrees and stellar sides. Bonzer's burgers and sandwiches are top notch, with the Bonzer Burger (topped with teriyaki glaze, pineapple and wasabi mayo) and Rasta Burger (a homemade black bean burger) being top choices. Fish and crab cake sandwiches, chicken or fish tacos, a BLT with fried green tomatoes – all of these are popular, though the lunch favorite is probably the Crab Mac 'N Cheese – creamy and packed with hunks of crabmeat.

The dinner menu adds in more entrees like a crab cake dinner, bacon-wrapped grilled shrimp, Veggie Curry Pasta and a skillet of sautéed sausage and shrimp over rice. The sides here are unexpected: that delicious Smoked Gouda Grit Cake, black beans, basmati rice, wok-charred veggies and a cool and spicy homemade cucumber salad.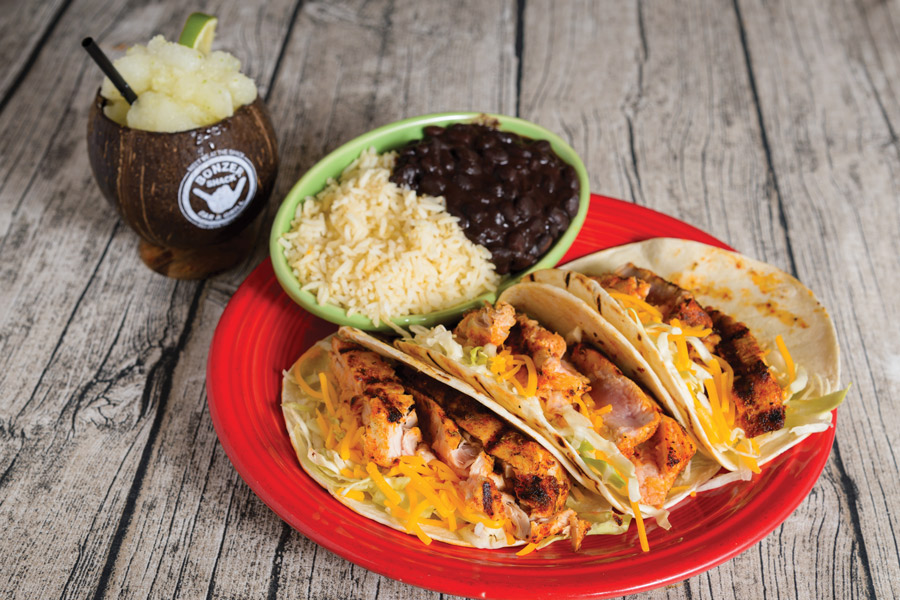 But as good as the regular menu is, locals know to give deep consideration to the specials. Every day features a special slider, fish platter, fish sandwich and fish taco, and this is where you can experience some of Chef Brett Owens' skill, which he cultivated in a variety of local kitchens, including It's Prime and Colington Café.

John notes that the seafood is fresh and that nearly everything on the menu is prepped and made in house. "We have a very small freezer and a large walk in," he says to emphasize their commitment to freshness.

A seasoned Outer Banks restaurateur, John knows the restaurant business well. He opened the original Quagmires (now Tortugas) in 1989, Horsefeathers in Corolla in 1991, Goombays in 1992, all of which he later sold, and the second Quagmires on the oceanfront in Kill Devil Hills in 1995. After closing Quags in 2006 and taking a little breather, he opened Bonzer Shack in 2012.

Bonzer is a multi-fin surfboard, considered the archetype of the modern board, and the term is Australian slang for something that's cool, excellent and fun. The name suits the place perfectly. "It's fun around here," John says, recognizing that his excellent staff is the reason for that. "It takes all of us working together to make the fun happen."

Escaping into the lively atmosphere of Bonzer Shack is definitely a merry diversion, but it's the excellent food, drinks and top-notch service that keep locals and visitors coming back for lunch, dinner and good times in the bar.

Lunch is served from 11:30 a.m. to 4 p.m., dinner is served from 4 to 10 p.m. and the bar is open from 11:30 a.m. until 2 a.m.
---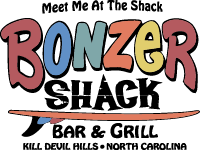 (252)480-1010 | 1200 S. Virginia Dare Trail, Kill Devil Hills | bonzershack.com