When four friends founded Outer Banks Brewing Station in 2000, their concept was to create a restaurant serving exceptional house-brewed beer alongside a chef-driven menu that went well beyond basic pub fare. But the owners also had something else in mind.
"The original idea was to be a pub in the sense of the European public house," says Eric Reece, one of the owners. "The tradition of a public house is as a place where the community gathers. Our business plan explicitly stated that we wanted to host events and be a part of the community." 
And that's exactly what they have done over the past 22 years. Their willingness to host literally hundreds of events and fundraisers of every sort — from cancer fundraisers to beach cleanup after-parties to starving artist markets to awards celebrations — has made "the Pub," as it's known, a bona fide community gathering spot and landed it squarely in the hearts of the Outer Banks locals.
Three of the four owners met in the Peace Corps after college. That experience instilled in them a service-oriented mindset and eco-conscious philosophy, which are reflected in their business. They installed a wind turbine in the backyard to partially power the restaurant, and they were one of the first local restaurants to sign up as an Ocean Friendly Establishment by reducing their use of single-use plastics and Stryrofoam. After screening the movie Straws in house, they were the first local establishment to stop passing out single-use plastic straws. The owners are always happy to contribute their time and space for a good cause, whether it's in the cavernous restaurant and bar area, private upstairs mezzanine or spacious backyard bar. Sometimes they organize the events themselves, like fundraisers for the earthquake victims in Haiti and the tsunami survivors in Thailand, and sometimes they open their doors to the people and organizations who a need place to make big things happen.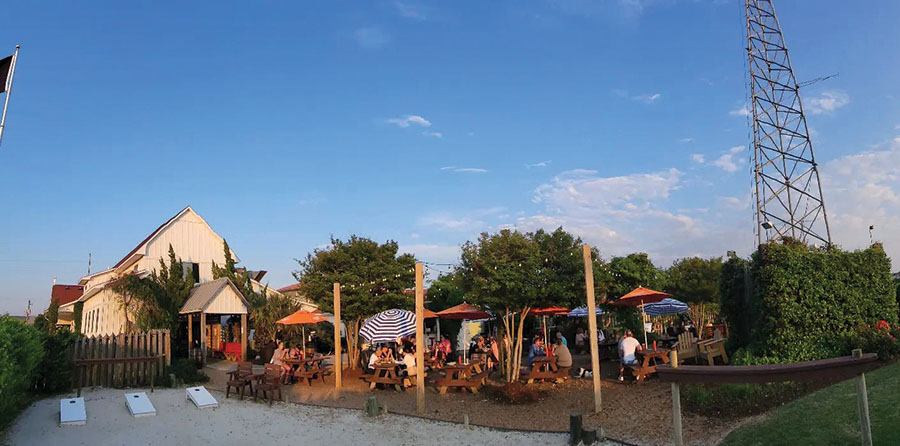 Outer Banks Community Foundation, the largest local nonprofit grantmaking organization, held its 40th anniversary Backyard Bash at the Brewing Station in October. CEO Chris Sawin says the location was a logical choice, as the team at the Pub is always willing to help out. "If you pick up the phone and ask for support, they always say yes, whether it's to send a food truck, sponsor an art show or host an event," Sawin says. "They are really giving people." 
Sawin says it's important to have businesses like the Brewing Station in the community. "The economy of the Outer Banks has always been built on small family businesses; it's in our DNA," he says. "When it comes to tackling the challenges that our community confronts, it's the family-run businesses that make it possible. They invariably give something back. Outer Banks Brewing Station definitely embodies these values." 
Ivy Ingram, who helps organize Earth Day events in the OBBS back yard, says, "I have always admired the owners of Outer Banks Brewing Station for not only running a business of the high caliber of the pub, but also doing it in a way that respects the environment and gives back to the community."
Laura Martier remembers that when literally no one else on the Outer Banks would host a production of The Vagina Monologues, Outer Banks Brewing Station welcomed them with open arms, had no qualms about putting the word "Vagina" on their marquee and helped make the event a rousing success. "They are so willing to open their space and work to better the community," Martier says.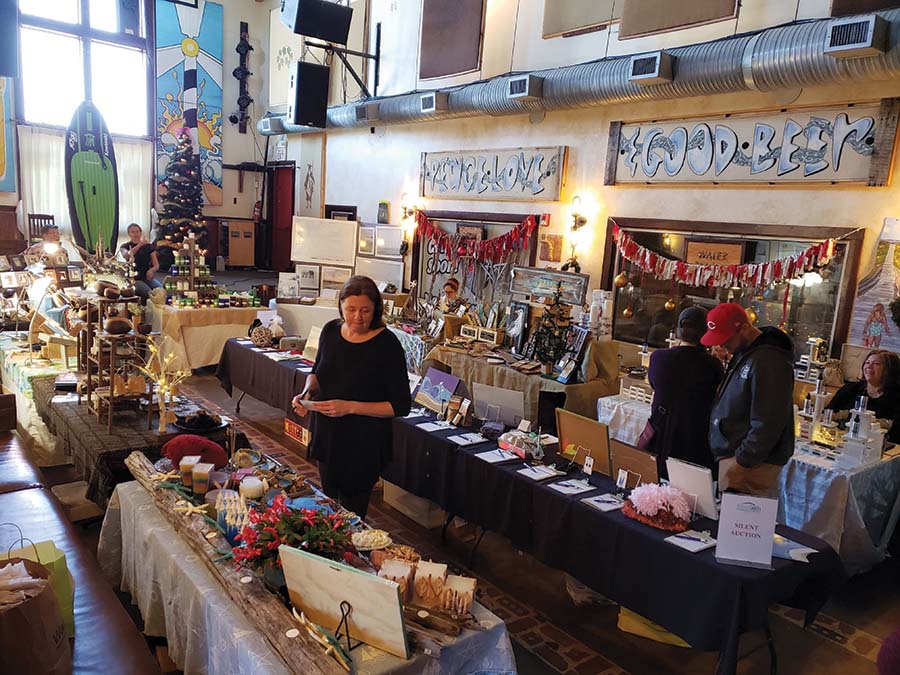 In their 20-plus years on the Outer Banks restaurant scene, this family-owned business has also employed hundreds of locals. They have given teenagers their first jobs, trained line cooks to be chefs and seen wait staff evolve into management material. And as much as they appreciate their loyal, long-term employees, they also love to see their staff members branch out to new ventures. Brewing Station employees have gone on to open some of the Outer Banks' most loved establishments, including Outer Banks Distilling/Kill Devil Rum, Greentails Seafood, Single Fin, Pok's Art, Slice Pizza and Proof Bakery.
For the owners of Outer Banks Brewing Station, being a vital part of the community is the best part of their business.
"It's not so much about us, the owners, as it is a philosophy that runs through the building and those who work here," Reece says. "It revolves around serving visitors while helping to build community, and I feel that this will always be true of the Brewing Station.
"We're just trying to build the love."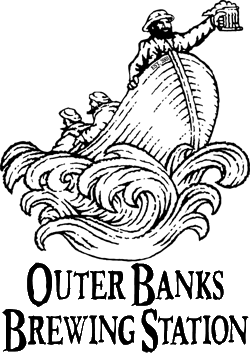 (252) 449-2739
600 S. Croatan Highway, Kill Devil Hills
---