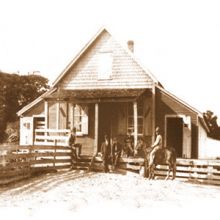 With today's excess of amenities, it can sometimes be hard to imagine our way back into the past. But history has always been part of the cultural lifeblood of the Outer Banks-from lore passed down about the earliest colonies to shipwrecks and pirate legends (oh my!). This narrative tradition is particularly important on Hatteras Village, and the tale of Burrus Red and White Market shares in this rich local custom. After weathering violent storms, depressions, wars and the transition from a fishing-based economy to one that's mostly dependent on tourism over nearly 150 years of continuous operation, Burrus Market is now the oldest shop on Hatteras Island. Most importantly, however, its story is one that centers on the unbreakable strength of the ties that bind family and community.
It all started when Caleb and Alonzo ("A.J.") Stowe, two former blockade runners, established the store in 1866 after they were released from a Union prison at the end of the Civil War. During a time when there was no direct connection to the mainland, and long before any of the first hardtop roads had been constructed, their original investment of $1,650 paid off, as they quickly became a center for local commerce.
Known for years simply as the "Stowe Store," in the beginning the family mostly sold (and often bartered with) pigs. Yes, pigs! Surviving ledgers from those early days record other popular items such as sugar, ammunition, kerosene oil, tobacco by the pound and bolts of calico, which was the most affordable type of fabric at the time. At first freight boats delivered their supplies from Washington, North Carolina, and when the freighters stopped running family members made the day-long journey themselves to Norfolk, Virginia, in order to purchase their goods directly from suppliers. It was definitely a vast difference from the speed and ease that it takes to travel parts of highways 12 and 168 today!
But whether it was modes of transportation or the conversion from a wooden structure to the current red brick building (a renovation that wasn't made until 1962), things evolved then much as they do now-although at quite a slower pace! Over time the family also expanded and developed alongside the business. This was most notable when Alonzo Stowe's daughter, Lucy Allen Stowe, married Adolphus Burrus and the market received its current name. And through the generations it went. The market was inherited next by William "Bill" Zachariah Burrus and later by the current owner, Allen Burrus. The third great grandson of Caleb Stowe, Allen Burrus remains a respected figure on the island, widely known not only for his warmth but also as a family historian with a natural love for storytelling.
As anyone might expect, there have been many other changes over the years, but evidence of the Stowe-Burrus family's long history of service to the Hatteras Village can always be found on the store's walls. A number of plaques, certificates and awards line the perimeter of the grocery displays in order to recognize the instrumental role the family has played in their community. It's an ongoing memorial to the support they've provided over the years in order to acquire the first local hook and ladder fire truck, their generous contributions toward nearby schools and the way they vocally championed the protection of wild horse herds both in Corolla and Ocracoke.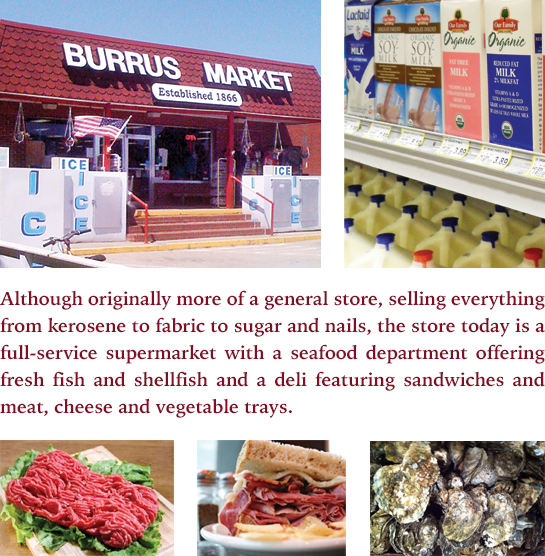 Yet while remaining as civically minded as ever, the Burrus family has definitely entered the 21st century. The market is now a full-service grocery store that's divided into various departments such as Deli, Meat, Dairy, Seafood, Produce and Souvenirs. They provide homemade salads, soups and cold-cut sandwiches, barbeque-ready beef, chicken and pork, and delicious cheese trays...not to mention a range of organic and dairy-free alternatives. But wait! Are you craving some island delicacies instead? There's also the option to order a seafood boil, along with an array of fresh shrimp, crabmeat, clams and oysters by the dozen. As if that's not enough, you can load up on crisp fruits and vegetables and even take home an assortment of souvenirs including hats, T-shirts, tumblers and drink huggies.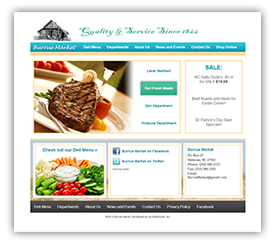 The innovations don't stop there, however! New technology is also a priority for the current Burrus generation. From a Facebook page that highlights daily lunch specials to the forthcoming option to do your grocery shopping online later in 2014 (be sure to keep an eye on that development through the "Online Shopping" portal on their webpage!), Burrus Market also hosts a webcam on their roof! No matter where you're located, you can now go to their website and not only see what they offer in the shop, but also witness a live feed of Hatteras Village life. Don't expect it to be action packed, but hey, that's why you come to an island after all...to relax and enjoy the simple things!
As many visitors and residents alike have observed, even with all the new conveniences, a trip to Burrus Market can seem like a trip back in time-in the best possible way! So go ahead. Grab a bowl of Mrs. Bunny's famous homemade chili, a bit of good old-fashioned North Carolina barbeque (but only when they're on the special menu!) or just treat yourself to a cold ice cream on a hot summer's day. The relaxed atmosphere on the front porch of Burrus' Red and White Market will always be waiting for you, with plenty of rocking chair space to share. Who knows? In the end you may find yourself creating some new family memories that are all your own.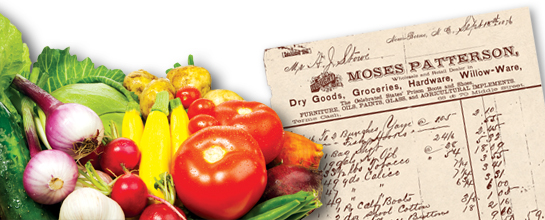 _____________________________________________________

57196 Kohler Drive • P.O. Box 27 • Hatteras, North Carolina 27943
(252) 986-2333 • E-mail: burrusmarket@gmail.com
Website: burrusmarket.com