"I have piles of half-read books waiting for me to get acute hepatitis or some other serious condition that would force me to rest so that I could read more." - Isabel Allende
Obviously, Isabel Allende needed a vacation. And if she'd only known to schedule a relaxing couple of weeks on Hatteras Island she could've reclined on a sparsely peopled, gloriously wide beach with a tote bag full of books recommended by Gee Gee Rosell of Buxton Village Books. Over the past 30 years many readers have benefited from Gee Gee's insightful, and sometimes inspired, recommendations.
"People come back year after year and buy their whole year's supply of reading at one time!" she exclaims somewhat incredulously. But just the briefest of conversations with the ever-enthusiastic bookseller instantly vaporizes the apparent mystery behind such customer loyalty. At the heart of the matter is the trust built up over customers' repeat visits and routinely positive experiences with Gee Gee's recommendations. She has become accomplished at recommending books based on her own extensive reading and that of her fellow independent booksellers with whom she regularly compares notes. Simply provide a brief synopsis of what topics interest you and Gee Gee will quickly devise a list of new titles you're sure to enjoy.
"Summer," Gee Gee states matter-of-factly, "is a free-reading zone. The rest of the year you may have to read what is required to keep up with the demands of your job, the reading list of your book club or just the social pressure of being able to converse with friends about what THEY are reading. But, come summer, you can indulge yourself."
It's similar with kids and young adults, Gee Gee notes, with much of their reading geared toward the school's reading list. "I love it when the young ones show up after school lets out," she says. "Their interests are so varied and I learn so much from them!"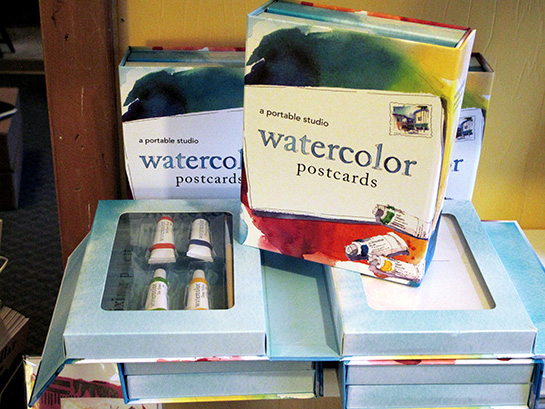 Gee Gee offers more than just great books. When you're at Buxton Village Books, just around the corner from your next enthralling on-the-beach read is a set of blank watercolor postcards and paints. Create your own direct-from-the continent's-edge postcards to send to family and friends back home! If they turn out great? Wonderful! If they're disastrous, who has to know? In the meantime, you've chalked up a new experience you'd likely never have tried at home. Or, grab a journal and spend a little time committing your thoughts to the page. Few things provide clarity like putting words down on paper. And, at the end of a serene day on the beach, remember, you're enjoying an Outer Banks vacation, with easy access to fresh, right-off-the-boat seafood - the perfect opportunity for a little kitchen
experimentation. And, you guessed it, whatever new dish strikes your fancy, Buxton Village Books likely has the right cookbook to help guide you.
Whether you're vacationing on Hatteras, daytripping from points north, or a Hatteras Island local, indulge yourself with a visit to Buxton Village Books and let Gee Gee work her magic on your summertime reading list! You'll be glad you did.
---
Gee Gee's Picks for Summertime Reading
"There are SO many great books released this summer, there's no way I can list them all! So, here are a few to get started. Some for young readers and some for big people. And for more lists of great summer reads, check out the online newsletter Shelf Awareness, all book news all the time! And independently owned too! To find Shelf Awareness just visit www.buxtonvillagebooks.com and click the Shelf Awareness button." - Gee Gee Rosell
For Young Adults
Have you read all of John Green's work? Did you love The Fault in Our Stars? Want more? Gee Gee suggests these titles:
Love Letters to the Dead, Ava Dellaira
Ask the Passengers, A.S. King
Every Day, David Levithan
If I Stay, Gayle Forman
Me and Earl and the Dying Girl, Jesse Andrews
For Adults
Take time to treat yourself. Read your favorite cover to cover, or try something completely new.
Tibetan Peach Pie, Tom Robbins
Written in My Own Heart's Blood, Diana Gabaldon
One Summer: America, 1927, Bill Bryson
Capital in the Twenty-First Century, Thomas Piketty
Utopia or Bust: A Guide to the Present Crisis, Benjamin Kunkel
---
Buxton Village Books, Inc.
47918 Highway 12 • Buxton, NC 27920
www.buxtonvillagebooks.com • (252) 995-4240