When you catch your first Mako shark at age 9 mating on your Dad's 28' Jersey King Skiff up on Long Island, what in the world do you do for an encore? How about becoming a mate on head boats or going to work on a commercial trawler at age 14? How about running a 65' trawler with your Dad, just the two of you, while you're still a teenager? How about a stint in the Navy aboard the USS John F Kennedy during the Vietnam War? And working or fishing on whatever body of water he is close to.
Listening to Captain Lee Setkowsky share details of his background on the water feels like listening to a living legend, except it's clear he doesn't think of himself that way. Blessed, fortunate, grateful...those are the words that tumble out of his heart and mouth when he talks about his early years on the water, about his move to Hatteras Island, about his feelings for fish and fishing and the fisherman's life.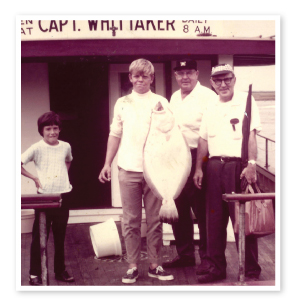 Captain Lee was born in 1950 to a fishing family; his grandfather used to hand-line for tuna off Long Island. Lee remembers treading clams in the bay, dredging for bay scallops and breaking ice to get out on the bay in the winter. His father started in construction, but the call of the water was too strong, and he bought a trawler of his own when Lee was a young teenager. After struggling to keep reliable crew, the father turned to his son. By then, Lee had logged many weekend, summer and vacation hours mating on charter fishing boats. "Whenever I was not in school, I was working on charter boats," he said.
After one season of running the trawler by themselves, catching flounder, squid and other -northern species, Lee went back to charter fishing, finishing high school and going to college in New York while fishing every chance he got. When he was 20, he enlisted in the Navy. Before he left, he had one more task to do -- a job that would foreshadow his future.
"A guy came up to me on the docks and said, 'I work for a stock brokerage. Could I learn how to mate on a fishing boat?' I told him I'd show him the ropes and maybe the captain would hire him when I left. He continued, got his captain's license, and when I got out in 1974, I went to work for him. He now owns three 90' boats in Greenport, Long Island. I feel grateful that my teaching provided him a living," Lee said.
"That runs through my core. I enjoy teaching, sharing what I know. I believe in a hands-on approach. I do my best not to teach people what they already know. I think I can help visitors better understand almost any topic related to the Outer Banks."
After his Naval service, Lee obtained a computer science degree from NYU and started a full-time computer career. Even then, he was never far away from the water. "I continued working on boats. That was how I spent my vacation time. I never actually took a vacation; I just went out working on boats."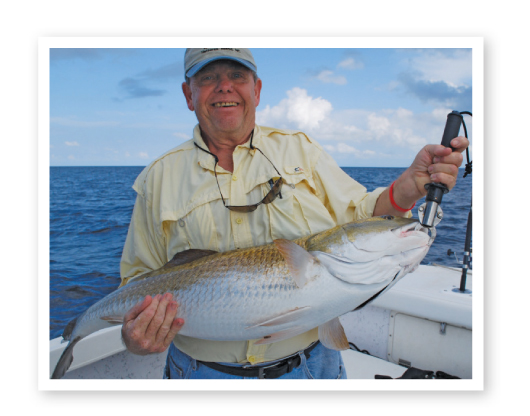 His computer career included corporate training, and he worked first for the Bank of VA and then for EDS/HP. He moved to a job with a small software company in the mid-1980s, right as the dot-com bust unraveled much of the corporate computer world. In 1999, he left Virginia and moved to Dare County. He still did computer work and he bought a 24' catamaran fishing boat that he fished for himself. When he had the chance to go fishing on a longline boat, he grabbed it. "Captain Murray Cudworth, he was an unbelievable captain, he took a chance on me, and i was 50 years old." His time on Captain Cudworth's boat is tied tight to two memories, woven together like a spliced line. They caught a swordfish, a big swordfish, nearly 800 lbs of huge. That would have been memorable enough. But it was September 2001.
"We were 360 miles off Cape Cod when the towers came down. It was surreal. We had no broadcast communications. One of the other captains called over VHF. We used a radio direction finder and tuned it to an AM station out of NY. Captain said, 'Nothing we can do about it now, let's go fishing.' We didn't get back to shore until later that month. It's a memory I will never forget."
After an injury in a 35-knot storm, he started a local computer company, fishing as often as he could. Five years later he got the opportunity to work back with EDS/HP and retired from there a year ago. So, what would he do next? Why, go fishing, of course!
Lee earned not just his captain's license but also his master's license, with a rating entitling him to run vessels up to 50 gross tons in size, given his years of sea time and experience in large vessels. Although his license qualifies him to run a large head boat, Lee opted to go smaller and offer a unique combination of services, 4x4 excursions and boat adventures through his new venture, Daybreak OBX Adventure.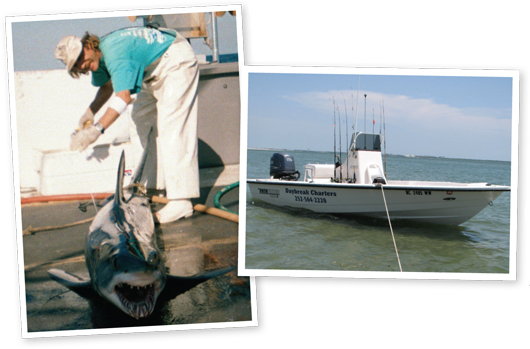 His boat, The Daybreak, is a 19-foot Pathfinder 1900 center console with a 115 hp Yamaha 4-stroke engine, and he trailers it easily behind his 4WD GMC Yukon SLT.
"Since I put my boat on a trailer, I can go where the fish are. If the fish are in Ocracoke, I can meet folks there. Hatteras and Ocracoke are possible boat trips, while Portsmouth Island is strictly a 4x4 trip. I think my biggest niche is in the 4x4 adventure stuff. I have a commercial use authorization (CUA), which allows me to take commercial customers on a 4x4, and I have it for both Cape Hatteras and Cape Lookout National Seashores. I can offer multi-day adventures and fishing trips to Portsmouth. The challenge of Portsmouth is, if I don't have reservations way ahead in season, we would be tent camping. If we get a cabin, everyone shares in the cabin cost. It is easier to get a cabin in May than it is in the fall." Tent camping is allowed anywhere beyond 100 yards from the cabins and off the dunes on Portsmouth, and Lee's truck has plenty of space for gear and a group of adventurers/anglers.
"I also offer transportation service to 4x4 accessible beach for visitors who might want to explore Hatteras Island for a family day. I have an Ocracoke priority permit for the ferry, so I can take folks to the head of the line, and we can either ride the beach or I can drop them off to do a self-guided tour in the village around the lunch hour."
Ron and Karen Smith of Bangor, PA, took one of Capt. Lee's 4x4 surf fishing trips with their young daughters. They received much more than transportation to a prime surf-fishing locale. After their trip, the Smiths wrote this testimonial.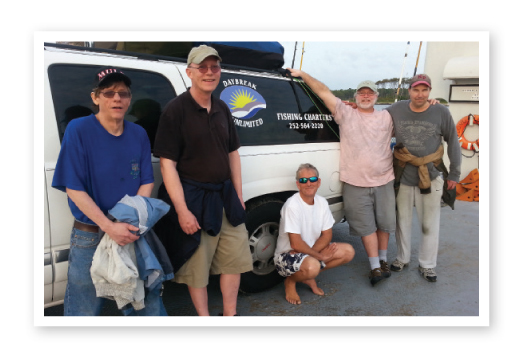 "Capt. Lee is an awesome source of information. He knows a great deal about the fishing industry in the Outer Banks, on both the sport side and the local's financial dependence on the industry. During our ride to go surf fishing, Capt Lee told us about the local ecology and the changes the island has seen since the most recent storm damage. He taught our children how to cast properly into the ocean and how to prepare bait. Our girls really enjoyed their time and learned a great deal in a short amount of time."
Although Lee has been on the water all of his life, he believes in order to be a successful teacher, you have to keep learning and growing yourself. "I am still learning about where the fish are down here and what kind of catch is available. You have to figure those things out for yourself. I'm working the water for myself all the time."
But Lee is no lone ranger. He's a member of both the NC Beach Buggy Association and the Hatteras Business Association. He volunteers for an organization, Little Pink Houses of Hope, which offers retreats for patients in the midst of cancer treatments. He has carried participants out to the beach in his 4x4, taken them clamming if the weather is good. He also volunteers with Hands of Hope on Hatteras Island. His wife passed away three years ago. He speaks of her with love, and he also expresses gratitude for finding a new life partner, about lessons learned in letting go and in opening to new chances for happiness and sharing with others. Several months ago, they opened their home for a week to a family looking for a way to enjoy a Hatteras vacation although the father was ill and taking chemo at the time.
So what did Lee do? He took them out fishing.
Daybreak OBX Adventures

(252) 564-2220