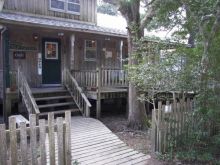 Over the last 51 years Village Craftsmen in Ocracoke has grown from a modest craft shop begun in a tipi into a multi-room gallery that's considered among the top craft galleries in coastal North Carolina. Filled with high-quality, American-made handcrafts, Village Craftsmen is known for its extensive selection of pottery as well as other functional works of art including jewelry, bells, wood crafts, glass and more. 
It's a cherished tradition to wander down Howard Street to visit Village Craftsmen. The inventory and displays change frequently, so there's always something fresh to see. Customers love to explore the space and admire new works by the up-and-coming craftspeople the gallery has discovered as well as to find a new, treasured piece by one of the longtime artists. Some of the artists have been represented in this gallery for so long that they've garnered a loyal following of customers.
The Howard family that owns and runs this gallery is 10 generations strong on Ocracoke, and their shop reflects their deep love of the island and the art it inspires. 
"Our artists are all incredibly talented and down to earth and are able to come up with clever, functional and beautiful designs," Manager Amy Howard says. "We represent about 150 artists, most of whom have some strong draw or connection to the island."
With such a wide-ranging representation, it would be impossible to tell you about the entire cast of creatives at Village Craftsmen in one article. But as a sample, here are a few of the many favorites.
---
Philip Howard, Author and Artist
An obvious starting place is Village Craftsmen Founder/Owner Philip Howard. Howard is the author of Digging Up Uncle Evans and Howard Street Hauntings, both of which include a wide selection of stories, history and ghost tales of the island. Customers also love his watercolor pen-and-ink drawings of island scenes, and his unique wrap-around t-shirt design is consistently sought after. Considered by many to be the island historian, Howard's Ocracoke Newsletter and Ocracoke Journal on the Village Craftsmen website keep people informed about everything Ocracoke, and his Ghost & History Tour, now run by Amy and her husband, David, is perennially popular.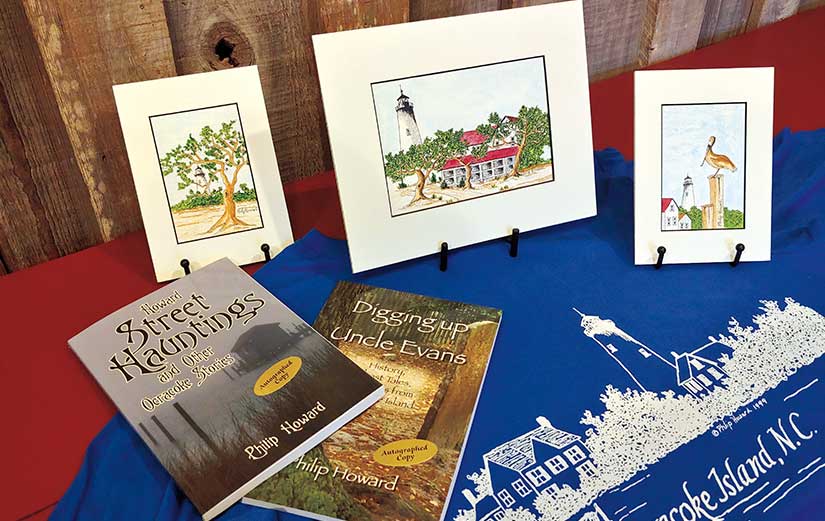 ---
John and Scottie Post, Hog Hill Pottery
Vale, N.C.-based Hog Hill Pottery's colorful, handcrafted pirate cups, based on a cup style pulled up off the ocean floor from the wreck of Blackbeard's ship, Queen Anne's Revenge, are one of the hot picks at Village Craftsmen. The cup style is authentic, but the artists took the liberty of adding pirate flag designs. The pirate cups were inspired by visits to the island, whose history is intertwined with the pirate known as Blackbeard. 
"Ocracoke is our favorite place on the Outer Banks," Scottie Post says. "We have been so intrigued and charmed by the history of the area. Like most landlubbers, we are ever drawn to the sea, sandy beaches and the friendly village that is Ocracoke."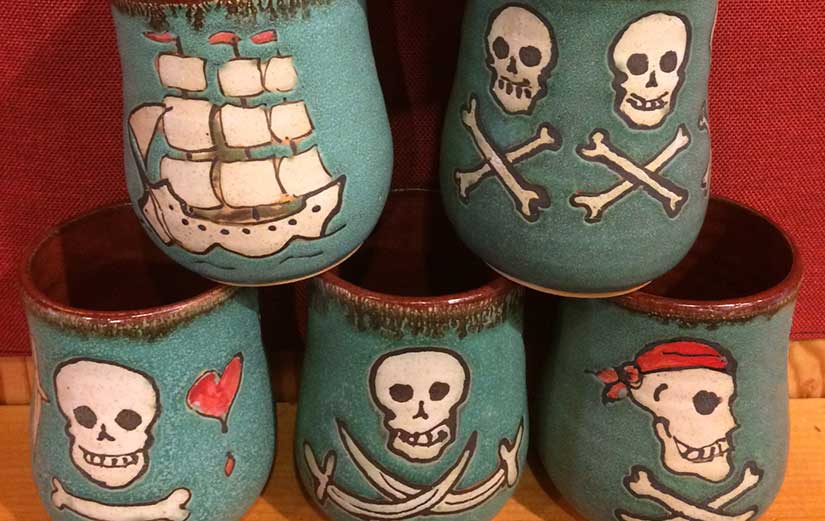 ---
Martha Hayes, Summer Haze Pottery
Village Craftsmen has been carrying Martha Hayes' traditional line of functional stoneware for 25 years. Based in Mathews County, VA, Hayes has been working in clay for more than 32 years, and her bowls, mugs and pitchers are eye-catching mainstays in the Ocracoke gallery.  
"Village Craftsmen has been my longest and most reliable and enjoyable shop to work with," Hayes says. "My work just clicked with the buyers down there from the beginning and continues to do so. I know that the display and the professionalism of the shop personnel make all the difference in the success of selling my work there."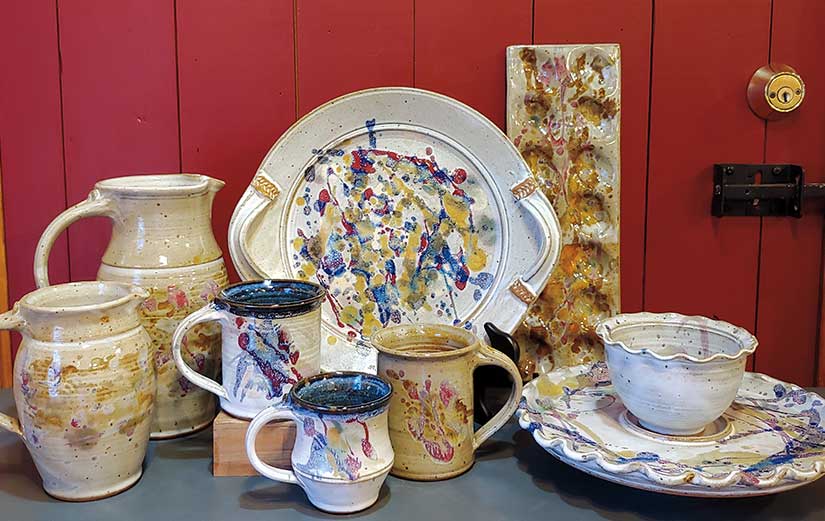 ---
Pat Garber, Ocracoke Yaupon Tea
Ocracoke resident Pat Garber provides loose, home-packaged tea at Village Craftsmen. Hers is pure, locally harvested and roasted yaupon tea. Yaupon tea is part of the history and culture of the Outer Banks. Originally called the black drink, yaupon tea was consumed, traded and used in ceremonies by indigenous people, and New World settlers drank it as well since it's the only plant in North America with naturally occurring caffeine. Garber says selling her tea at Village Craftsmen makes sense, since the gallery is such an Ocracoke tradition, just like the yaupon plant. You can see yaupon growing naturally all over the island as well as along the fence in front of the Village Craftsmen.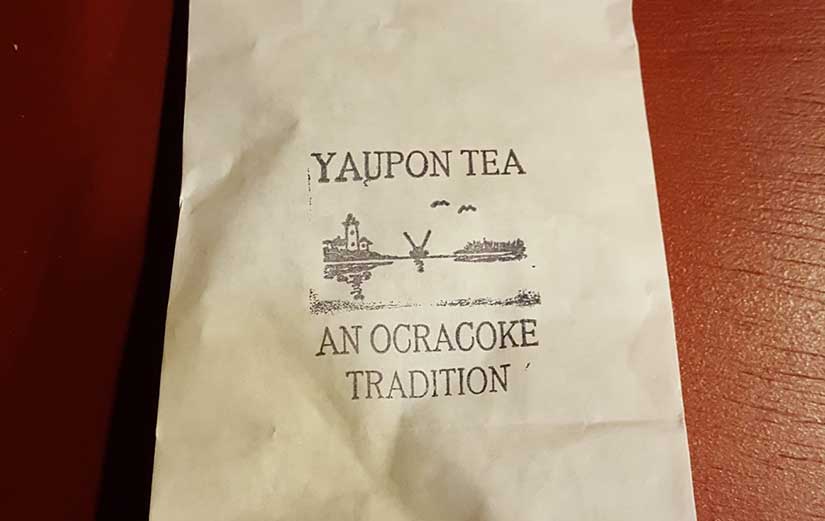 ---
Gretchen Miller, Tattered Armadillo
Gretchen Miller is a professional geologist, lace maker and jeweler who loves making jewelry and spending time on Ocracoke. At the request of Amy Howard, she combined those two loves into a necklace shaped like a silhouette of the island that has become a top seller at the gallery. Miller had no trouble coming up with the right materials for the necklace. "I use copper for the island because it is a warm metal, evoking sunshine and sand," she says. "The pendant is also reversible, so the wearer can choose how they want to showcase the island." Having her necklace creation shown at a gallery she has long loved means a great deal to her. "I have always been impressed with the artwork showcased at the Village Craftsmen, and it is humbling to see my work alongside items I have admired for years," she says.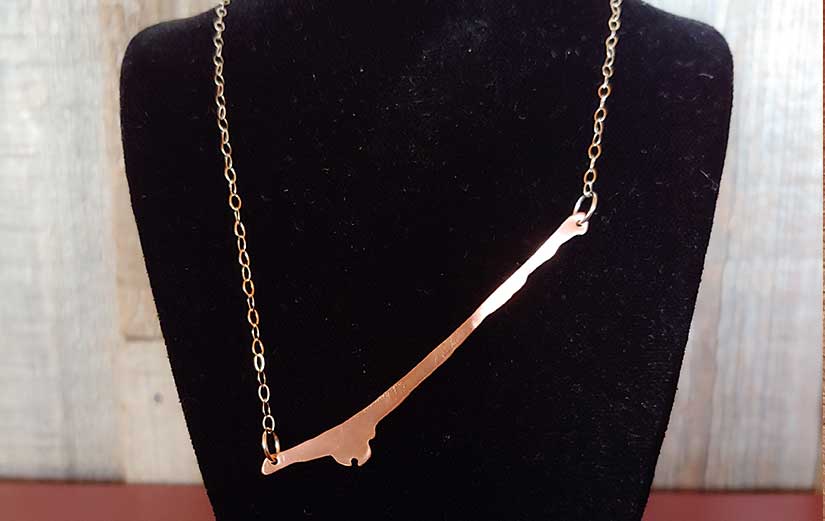 ---
Leanne E. Smith, Leaf Peeper Tea
Leanne E. Smith, a writer, dancer and tea enthusiast who splits her time between Greenville, the mountains and Ocracoke, also stocks her tea at the Village Craftsmen. Hers are popular tea blends that were island-inspired. At the 2016 Ocracoke Fig Festival she got the idea to combine her longtime interest in tea with the theme of the festival. She added figs and the spices often used in Ocracoke fig cakes to black, green and red teas to create the original Fig Cake Spice teas. Ocracoke's pirate lore prompted the Pirate Camp recipe based on smoky lapsang souchong black tea with other ingredients to hint at spiced rum by a campfire. She also makes several seasonal blends and is always brainstorming new combinations. Smith gathers leaves of yaupon and other plants on Ocracoke as well as grape leaves from backyard muscadine vines in eastern North Carolina.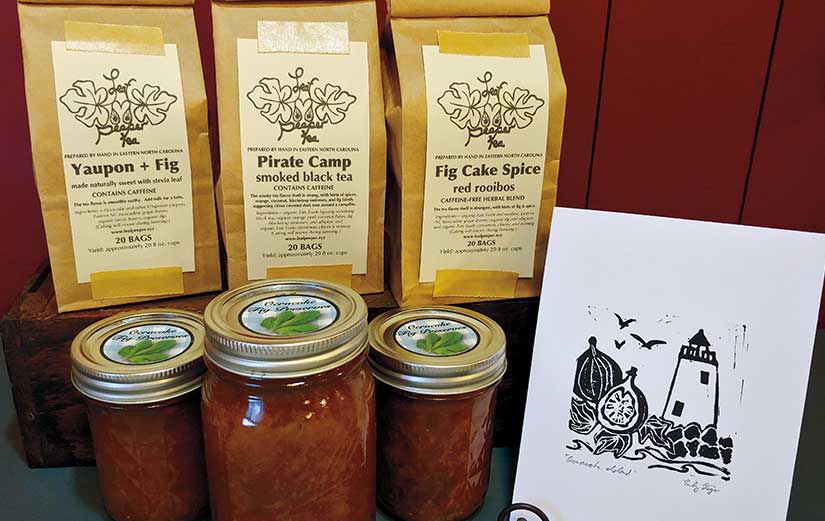 ---
Richard Fisher, U.S. Bells
Richard Fisher started his bell foundry business in 1970, the same year as Village Craftsmen opened its doors, and the gallery has been carrying his bells for at least the last 25 years. Fisher's foundry is in Prospect Harbor in Downeast Maine, a place not unlike Ocracoke. His hand-cast bronze bells, from windchimes to dinner bells, are best sellers at Village Crasftsmen, and his working philosophy reflects a common Ocracoke Island sentiment: "The deepest motivation for my work has always been to establish a connection with nature. My bells can remain outdoors year round, through winter blizzards and quiet summer breezes. As the weather changes, so too does their song, which, for me, becomes a vibrant reflection of our living world."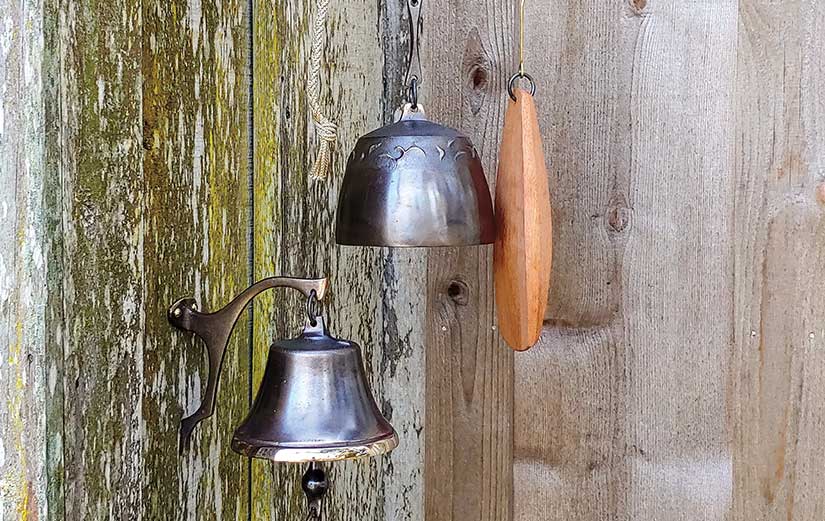 ---
Step off the beaten path to find Village Craftsmen tucked among  the cedars and live oaks on Ocracoke  and to discover the works of these  and so many other artists when you are on the Outer Banks this year.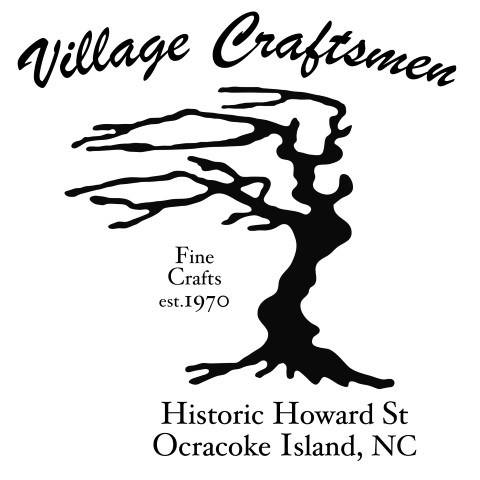 (252) 928-5541
villagecraftsmen.com
170 Howard Street, Ocracoke, NC