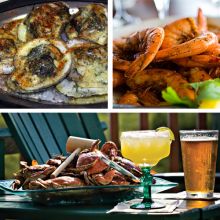 To say that a lot has changed on the Outer Banks since the 1970s would be a massive understatement, and one of the industries that has perhaps seen the most changes in the past 30-odd years is the restaurant business. Two of the most well-known restaurateurs who have had first-hand experience with these remarkable changes are business partners Mike Kelly and Frank Gajar. With four restaurants to their names that each tap into different themes and styles, it can be easy to see how they've been successfully serving up great food and free smiles for decades on the Outer Banks!
"We've seen a huge industry-wide shift in the Outer Banks hospitality industry," says Mike. "From the improved sophistication and quality of the food to diners who have higher expectations...it's been a healthy challenge for us to contemporize when and where we can. But we're still by no means 'new' restaurants. We're what we like to call classics."
And there's definitely something to be said for the classics! As Mike notes, back in the 70s staple menu items here were pretty much all fried food...a far cry from the wide array of menu options that can be found all over the islands today. One of the things Mike and Frank like to point out, however, is that while they've certainly enhanced and diversified their menus over the years, they've also made a conscious decision to keep offering a lot of the "throwback" items that first made them successful-and that people genuinely continue to enjoy!-such as fried shrimp and oysters.
"In some ways we're a product of our own success," Mike observes. "We've found we have to be patient and just do what we do best in order to develop over time. Our only real policy? To satisfy our customers."
In the end it's really the restaurants that Mike and Frank have created that speak for themselves. With their top-notch menus, friendly staff, spacious seating and utterly unique decors, these four time-honored classics should all be on your dining lists this season.
Port O' Call Restaurant
Talk about classic! Port O' Call turned 50 this year, and yet it's clear they're doing anything but slowing down. With an overall theme that owner Frank Gajar describes as "Victorian Western," the special flavor of Port O' Call is absolutely unlike anything you've ever experienced the Outer Banks.
In fact, Frank had a clear vision of the atmosphere he wanted to project at Port O' Call from the very beginning. With advanced degrees in Economics from Cornell and the University of North Carolina, Frank originally worked in finance for The Hotel Roanoke in Virginia where he fell in love with the luxurious Colonial era aesthetic that's been part of the hotel's fame since it was originally built in 1882.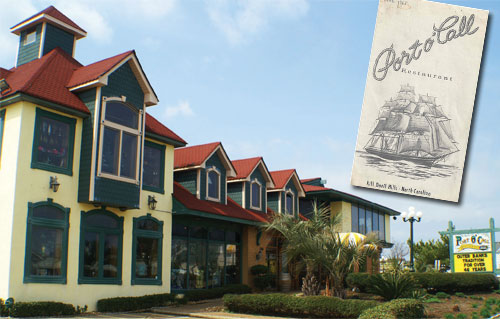 Making one of his characteristically bold moves, Frank left Roanoke and bought Port O' Call in 1977 (yes, that's 37 years with Frank at the helm!) and immediately began transforming the restaurant into the beautiful space it is today-with its antique chandeliers, wrought iron balcony areas and smoky stained-glass windows-ultimately creating a complementary look that pays homage to his beloved Hotel Roanoke. He even pioneered the idea of offering specialty gift shop items in Port O' Call (now a common sight in many other Outer Banks restaurants). Starting with only one glass case of antique jewelry in the 1970s, Port O' Call now boasts a two-story gift shop that features everything from jewelry to Tiffany glass artwork, paintings, memorabilia, handbags and fine cigars.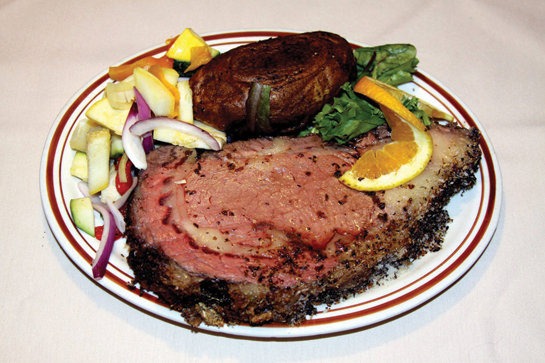 In addition to this, Port O' Call focuses on providing an extensive menu that includes local favorites such as she-crab bisque, baked woodland duck, veal or chicken parmesan, a full selection of steamer items, salads, sandwiches and an impressive array of daily specials that highlight fresh fish with contemporary sauces and exciting vegetable presentations... not to mention their prime rib, which is aged in-house for six weeks and then slow roasted for six to seven hours in order to ensure an almost unbelievable level of tenderness and flavor. With all these items served in a slightly casual yet still charmingly elegant dining atmosphere, Port O' Call is truly one of a kind.
And if you're looking for something after hours, Port O' Call is also renowned for its bevy of live nightly entertainment during the summer season that draws some of the best rock n' roll, blues and reggae bands from all over. From classic dining to antique shopping and latenight dancing, Port O' Call is simply an Outer Banks tradition you don't want to miss!
 
504 S Virginia Dare Trail

The Beach Road, MP 8.5 | Kill Devil Hills

www.obxportocall.com • (252) 441-7484
---
Kelly's Outer Banks Restaurant and Tavern
Kelly's is truly a legend on the Outer Banks-thanks in no small part to owner Mike Kelly. Though he is widely known today for his enthusiastic involvement in the Outer Banks hospitality industry and for his overwhelming generosity with all types of charity work benefiting Dare County, Mike actually began his career much more humbly as a waiter at the Seafare restaurant in the 1970s. After years of hard work and a large amount of management experience under his belt from his time at A Restaurant by George, Mike went out on a limb and opened Kelly's in 1985...a risky enterprise at the time that has certainly paid off.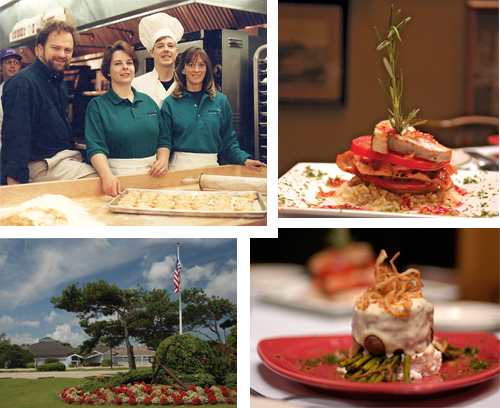 But Mike's hard work didn't stop there! He's just as involved in the day-to-day operations of Kelly's now as he was when he first opened it 30 years ago. "The restaurants in Dare County have typically been very owner-operated," Mike observes. "And that's a good thing. You can come in and get a real person."
The human aspect to the kind of hospitality you can rely on when dining at Kelly's is apparent everywhere. From the cheerful service you receive from every staff member to the comfortable and homey décor that invokes a multitude of stories (both past and present) that make up the things we all cherish about Northeastern North Carolina...every detail is ultimately very much a product of Mike's enduring passion for the Outer Banks' hospitality industry.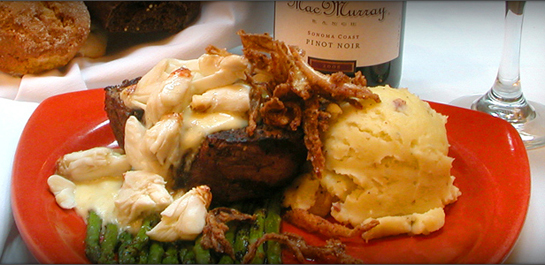 And whether you've never (gasp!) eaten at Kelly's or if it's been a while since you last sampled their menu, now's a good time to see what you might have been missing. With older favorites such as Hatteras style clam chowder, crispy oysters, honey-hickory BBQ ribs and their signature sweet potato biscuits (yes, they basically melt in your mouth), Kelly's is always adding nightly specials designed to please even the most discerning diners, and there's likely more menu offerings than you might have guessed. "Last night we served couscous with curry," Mike says with a laugh. "If you had told me even five years ago that we'd be cooking something like that, I wouldn't have believed it!"
With so many things to offer, from daily housemade deserts (which have won them Best Desserts at Taste of the Beach for five years running thanks to their incredible pastry chef, Becky Miller) to some of the freshest seafood around...plus their extraordinary service, fabulous catering options and rocking nightly entertainment in season, it's no wonder Kelly's is still going strong in their 30th year!
---
Pamlico Jack's: Pirate Hideaway, Restaurant & Bar
Looking for a little adventure with some stunning panoramic soundside views? Then you don't have to look any further than Pamlico Jack's. It's a pirate hideaway and a restaurant...that's rounded out with two full barrrs (just be sure to put your best pirate accent on to pronounce that last part!).
Known as Penguin Isle for 21 years, this summer marks its fifth season as Pamlico Jack's-a change that owner Mike Kelly decided on to indicate the restaurant's shift to a more casual vibe. "We just didn't feel as though we were maximizing diners' access to the views there," Mike says. "It's still a lot of the same food, though, and with the larger space it's really thriving."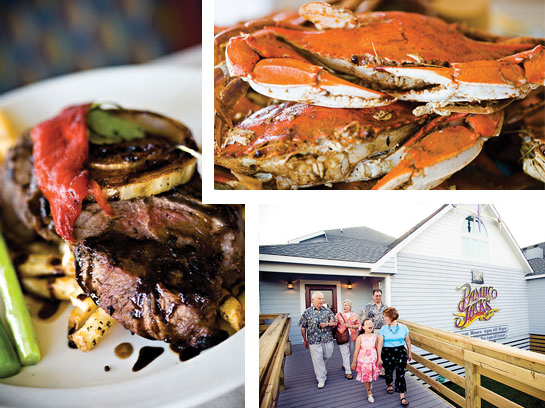 Larger space indeed! The renovations that went into creating Pamlico Jack's are truly impressive, and they now have two floors worth of indoor dining space (all with spectacular views of the Roanoke Sound) that are perfect for special events like weddings and all types of large and small parties, plus a huge soundside deck connected to the outdoor Rum Jumpers bar that's part of an authentically replicated pirate ship, The Pamlico Pearl. It's a great place for some of the best outdoor dining available on the Outer Banks, especially at sunset. There you can also find live entertainment seven nights a week and, on Mondays, Thursdays and Fridays, enjoy the company of Captain Darby the Pirate, who loves to regale the young and old with demonstrations and stories of his adventures in the Graveyard of the Atlantic!
But with all the fun to be had both indoors and out, don't forget that the food is truly world class! General Manager, Doug Tutwiler, proudly reports that they recently triple swept the 2014 Taste of the Beach competition where they took home awards for Best Outer Banks Catch, Best in Show and a win for Lee Miller as Best Chef. There's no real surprise to these accolades when you consider the fact that their menu features many delicious items such as Carolina fried green tomatoes, Caribbean-spiced jumbo shrimp with creamy white cheddar grits and beef seared over blazing hardwood coals. Their Little Pirates menu for the younger set is always a big hit, along with specialty cocktails for a more adult treat. With drink names like Blackbeard's Ghost, Calypso's Curse and Walk the Plank, you can easily start feeling a bit festively mutinous as you call for another round!
So set your course for Milepost 16 and be prepared to discover your inner pirate!
---
Mako Mike's
Of the four restaurants, Mako Mike's is the "baby" of the group...an 18-year-old baby that is! Known by locals and visitors alike for its "killer food," Mako Mike's is the brainchild of co-owners Mike Kelly and Frank Gajar, who decided together in 1996 that it was a good time for them to expand together.
"It was pretty simple," Mike says modestly about the origins of Mako Mike's. "Frank and I took a steak restaurant and gave it a colorful shark theme-from there it just evolved into a fun family restaurant."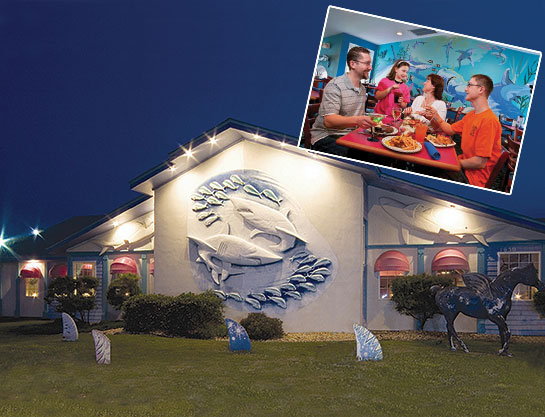 But Mike's description is certainly too modest, particularly when you walk into Mako Mike's and feel as though you've stepped through the front doors...and landed right on the bottom of the sea! Equipped with three dining levels to choose from that can accommodate parties both small and large, the walls feature vibrant murals done by local artists of sharks and other aquatic life, plus there's a real live shark tank, and for some adult relaxation you can always make your way down into the enchanting Octopus Lounge where they feature lighter fare and creative daily drink specials.
"We're very customer driven," says General Manager Bill Martin. "We keep our ears to the ground and respond to what people want...then we just go out and make sure everyone has a good time!"
This drive to provide a little something for everyone is particularly evident in Mako Mike's wide-ranging menu. They offer everything from more traditional seafood favorites such as crab cakes and Alaskan Snow crab legs to land lubber items such as pasta, slow-roasted prime rib and pizzas baked to perfection in a wood-fired oven plus an excellent special children's menu that comes with shark-inspired games and trivia to keep the whole family entertained!
As they often say at Makos-let the feeding frenzy begin!
 
---
What were they before they were...
Port O' Call
Surprise! It's always been Port O' Call. The restaurant opened in April of 1965. Neil Loy, the father-in-law of one of this issue's writers, was one of the original owners. Frank Gajar bought it in 1977. When it's a great thing, you just have to stick with it!
Kelly's
Before it was this iconic Nags Head restaurant, it was J. Fleming Munde's. The theme was based around a fictitious bon vivant whose family tree was recounted within the elaborate menu. Even then, the large lounge was hugely popular!
Pamlico Jack's
First it was the Schooner Restaurant. Then it was the Elegant Pelican. Next came Penguin Isle. And, saving the best for last - Pamlico Jack's. One note of interest is that the current chef, Lee Miller, has been with the restaurant since Penguin Isle days, and the current manager, Doug Tutwiler, managed back in those days too, took a stint away then came back home where he belongs!
Mako Mike's
Built as a Western Sizzler, the restaurant then became The Oyster Catcher for a brief period. But now, you can't even imagine it in another iteration. Mako Mike's styling is unforgettable.