Whether you're a first-time or a repeat visitor to the shores of Ocracoke, you probably know that there are plenty of places to eat, play and stay that will keep you occupied for days ... if not for an entire season. But you're on the clock, you say? No problem. Set your timers (but leave your office planners behind) — here's how to make a day (and night) of it on Ocracoke. Just consider yourself warned: The itinerary you're about to read is highly addicting. By the end you might not be able to drag yourself away!
First up: If you can manage it, be the first one off the ferry and head straight to Ride the Wind. Owned  by husband and wife team, Bob and Jane Chesnut, Ride the Wind is a full surf shop … and also a one-stop shop for checking out virtually any self-propelled watersport activity you can imagine. With some of the top brands in sports attire such as sunglasses, swimsuits, clothing, flip flops and handmade jewelry, you don't even have to bring luggage, and you can rent everything from high-quality kayaks, standup paddleboards, surfboards, skim and body boards for a day, week or even by the hour. And if you love your new board too much to part with it, you can buy one to bring home with you!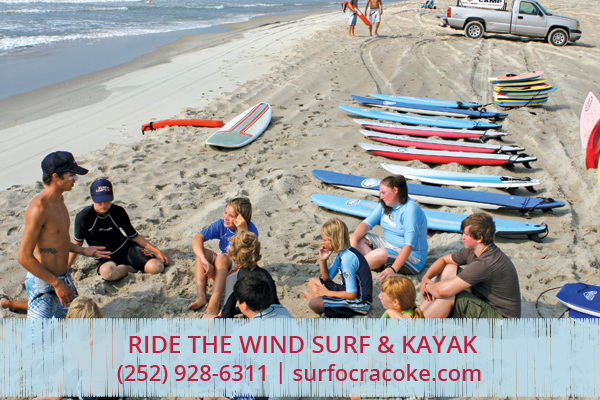 That's not all: Surrounded by the Cape Hatteras National Seashore, and located directly next to Silver Lake Harbor, Ride the Wind offers one of the most convenient launching spots for any outdoor activity. Whether you head out on your own for a spur of the moment adventure or prefer to plan a bit ahead so you can take advantage of one of their seasonal kayak tours, all-ages surf lessons or their three-day surf camps for kids, it's a guaranteed fun-filled way to experience the wonders of Ocracoke like you never have before.
At this point you've surely worked up quite an appetite; we understand, and Howard's Pub has you covered. Now in their 26th season as one of the premier go-to spots for locals and visitors alike, Howard's has an eclectic, laid back and family-friendly atmosphere that sure is hard to beat on the island … or anywhere else for that matter. With one of the largest menus around, Howard's fare features everything from fresh local seafood (including the island's only raw bar), burgers, steaks, pizzas and other sandwiches, plus a special kids' menu for the little ones. Do yourself a favor and try their hand-cut fries or their lightly battered conch fritters (or both) — you won't regret it!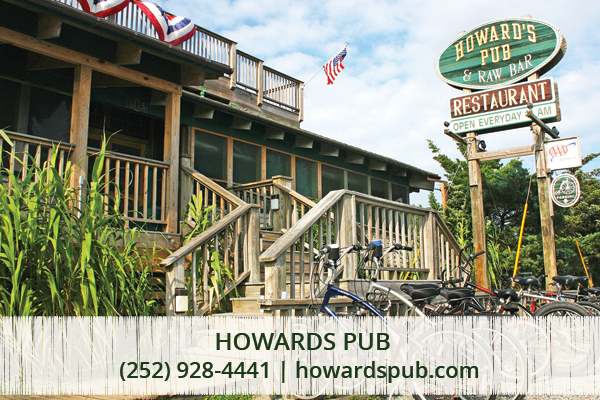 Open every day for lunch, dinner and late-night treats from mid-March to sometime in November, Howard's also boasts impressive wine and cocktail lists plus a truly extraordinary beer list, which includes nearly 200 bottled imports, microbrews and domestics with 24 other options on draft. Chow down sitting on their large screened-in porch or share a cozy booth indoors, and don't forget to stop by their gift shop to grab one (or several) of their Howard's Pub t-shirt designs to start your own collection, and save some time to settle in with a cold brew on their ocean-to-soundview deck at sunset. Ahhh, hear that? It's the sound of all your cares slipping away.
If you're not relaxed enough by now, get ready to cap the evening with a stay at Ocracoke Harbor Inn. As their name implies, the Inn is also centrally located on Silver Lake Harbor (mere yards from Ride the Wind, no less!), where you can take in some of the most scenic views on the island while you kick back on your balcony or stroll the waterside docks. From mid-March until December you can rest your head at one of the Inn's 16 rooms or one of their seven larger suites, most of which come complete with a Jacuzzi and a kitchenette area.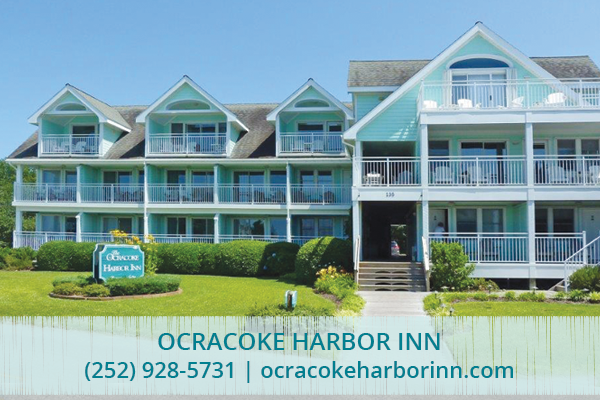 For larger parties, the Inn also offers an on-site two-bedroom apartment in-season, and they rent one-, two- and three-bedroom cottages at select locations on the island year round. No matter what time of year you visit, you'll love meeting the Miller family, who have owned the Inn since 1998, as you enjoy how easy it is to walk out your front door and explore the island by bike, golf cart or simply on foot.  
Now who's ready to wake up in the morning and do it all over again? You are!