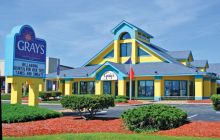 Gray's Outer Banks Lifestyle Clothing Co.'s five local stores are bright, colorful and filled with contemporary fashions. Their clothing combines the latest trends with classic, timeless styles. Such has been the case for 66 years. A business that's been around six decades must know a thing or two about what Outer Banks customers want, and Gray's could practically write the manual on it. Their customer loyalty is epic, and at this point they have a customer list a mile long. But what drew those people into Gray's to begin with and continues to bring new ones in? It's a compelling story of history, community and a family tradition that has a sixth sense when it comes to picking clothing and accessories that match a lifestyle.
The Gray family and their first business, Gray's Gifts and Beach Accessories, started out on the Outer Banks during an era when these islands were only beginning to draw visitors, so you could say that all of them - the family, the business and the Outer Banks - grew up together. It was 1948 when the business began, and it was around that time that the first child was born to Walter and Estelle Gray. As new life appeared in the family over the next 10 years, with four more children joining the clan (Walter, Larry, Tony, Julie and Ronnie), the same was happening with tourism - ever expanding. Nags Head was the epicenter for these early visitors, and within a little more than a golden mile area on the beach road, businesses such as Scarborough's Garage, Jockey's Ridge Restaurant, Miller's Pharmacy, the Carolinian Motel, Beacon Motor Lodge, Parkinson's Hotel, the Galleon Esplanade, Nags Head Pier and of course Gray's took care of most the needs of the visitors who were discovering these sand island. "It was the heart of the beach," says Larry Gray, who today runs the thriving and expanded Gray's enterprise along with sister, Julie, and brother Ronnie and his wife, Susan.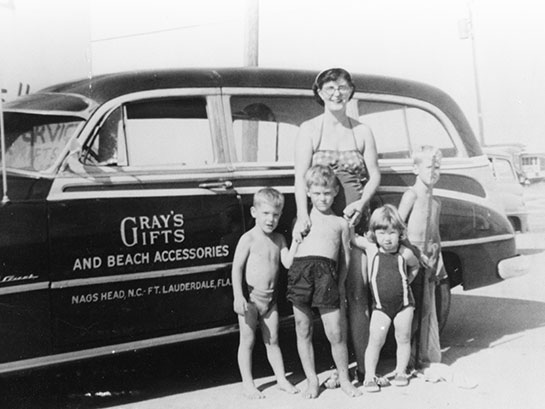 When Gray's Gift and Beach Accessories began, it carried an unbelievable variety of merchandise. Since there wasn't a plethora of stores to choose from during that time, Mr. and Mrs. Gray decided to fling their net wide. Inside, you'd find film, underwear, Tom Tom drums, socks, band aides, bathing caps, sunglasses, clothing, towels, bathing suits, umbrellas, rafts and more - literally Everything for the Beach, which was the store slogan for many years.
The Gray's oceanside location was a front row seat to the evolving surfing culture of the late 1960s and early '70s. To respond to this quickly growing sport and the culture created around it, Gray's added reasonably priced surf boards that first-time surfers could rent and learn how to ride the waves.
Surfwear became popular at the store along with towels, sunglasses, lotions, India print bedspreads and surf culture-inspired jewelry. Customers knew that Gray's was the place to go for the latest styles and " beach stuff."
Speaking of customers, by this time of the early 1960s, the store had been open close to 15 years. The Gray siblings talk about how important their parents felt customers were, and they cultivated them like friends. In fact, Mr. Gray used to describe potential customers as Friends We Haven't Met Yet. It's almost like the store was a means to an end to be part of the larger community of locals and visitors.
Julie, Larry and Ronnie all talk, with deep respect, about the extraordinary work ethic they learned from their father and mother - an ethic that has carried through to them. To keep a tourist-oriented business running during those first three decades on the Outer Banks was no small feat. Beyond the store, both of them contributed to the wholeness of their Outer Banks home with volunteer work with many local causes. Mr. Gray had his own beloved cause too - to make sure the tradition of the great Big Band music was passed on to younger generations. Beginning in September 1974 and continuing until 2000, he sponsored close to 250 dances with well-known bands such as the Glenn Miller Orchestra and Count Basie Orchestra. Many locals and visitors who came for the dances identify this music with Mr. Gray to this day; it's rather like the soundtrack to his life.
The growth of the Outer Banks tourism scene started expanding at an accelerated rate in the 1980s and so did Gray's - by now called Gray's Department Store. In '83, a new location opened in Duck in the Scarborough Faire shopping center. The Kitty Hawk branch opened in 1988, a Monteray Plaza store in Corolla in '91, another in Corolla in the TimBuck II shopping complex in '93 then a larger store in the same shopping center in 2000. Another Duck location, this one in the Waterfront Shops, began in 2001. In each new location, they've developed an ever-expanding collection of loyal customers - people who come in regularly, become friends with the staff, share stories and life events. This is the lifeblood for Gray's.
In 2013, Julie, Larry, Ronnie and Susan decided to refresh the image of Gray's brand, bringing it closer to the merchandise and shopping experience that today's customers have. The new Gray's Outer Banks Lifestyle Clothing Co. logo is beachy but stylish, just like the merchandise you'll find in the stores. Gray's carries the largest collection of the popular men's brand Tommy Bahama in the Mid-Atlantic, and the other lines they offer appeal to almost any age customer with an eye toward the latest - and longest lasting - styles: Sperry Top-Sider, Billabong, Olukai sandals, Fresh Produce Sportswear, Eliza B. sandals and belts, Scout, Champion, Gear For Sports, Tribal and Quiksilver.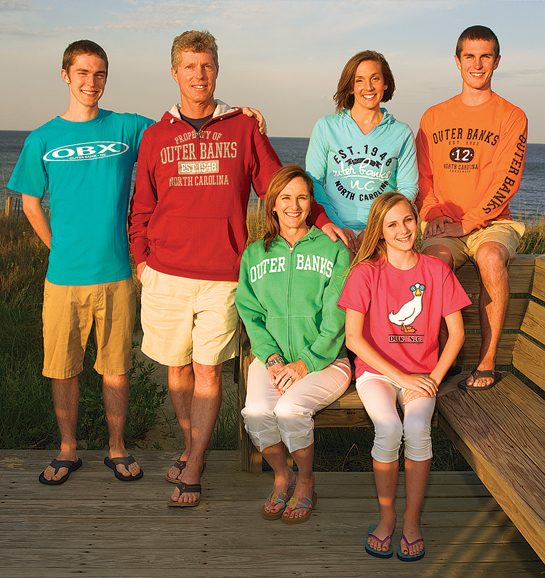 The longevity of Gray's is certainly due to quality and the stores' ability to reflect the desires of their customers throughout the decades. No other Outer Banks clothing company - actually, almost no other local store of any sort - can claim the continuing influence of several generations of family members. But Gray's success is also because they understand the Outer Banks state of mind and attitude and provide customers with the lifestyle clothing to match. They know that customers who are reminded of this state of mind when they put on something they bought at Gray's feel happy. And happy customers come back for more...more of the Outer Banks lifestyle, more of the clothing, more of the happy.
When you visit Gray's, you'll see the newest styles, but you'll also be surrounded with frame after frame of photos that show the progression of fashion right along with the growth of a family. It's such an interesting reminder to honor where we came from yet always look forward. Gray's Outer Banks Lifestyle Co. embodies that perfectly.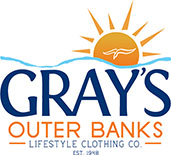 5 Locations on the Outer Banks
COROLLA, DUCK & KITTY HAWK
(800) 382-5006