When Bob White came down to the Outer Banks as a teenager, he had no idea he would become an advocate for the majestic wild horses of Corolla. 
"I was 14 at the time and couldn't imagine why my dad wanted to build a house here," Bob says. "There were no girls and nothing to do!"

Flash forward to now, and not only does Bob own a successful wild horse tour company where they share the magic of these creatures, but he also dedicates his free time to making sure the horses are safe and protected. He serves on the board for the Corolla Wild Horse Fund, which is an organization that was formed to protect, conserve and responsibly manage the herd of wild Colonial Spanish Mustangs roaming freely and to promote the continued preservation of the land as a permanent sanctuary for the horses. 

He makes it his personal mission to spread awareness about the horses and advocate on their behalf. The horses are designated as critically endangered by international equine agencies, with only 100 living on these shores, so it is up to dedicated citizens like Bob to protect them.

In a world of Tiger King, where you hear more and more stories of business owners in the animal entertainment business exploiting their animals for money, it's heartwarming to know of business owners like Bob. Horse tours may be his business, but the safety and happiness of the horses are at the heart of what he does.

These horses have a long history on the Outer Banks. They were brought over by Spanish settlers and left behind when conflict with the native population escalated. At one time the horses numbered near 3,000. When Bob moved to Corolla, only 40 horses remained. Now there are more, but according to Bob there is still much work to be done. This has been their home much longer than it has been ours.
"These horses have been here for close to 500 years now," Bob says. "They've been part of the Outer Banks since the first explorers."

The horses are in a vulnerable position. A road was opened to the public going directly through where these animals roam in 1984. Between that year and 1996, 20 horses were killed by vehicles on the stretch of road between Duck and Corolla. This was the reason the Corolla Wild Horse Fund was formed – a group of citizen-volunteers came together to change this tragic, destructive pattern.

They tried many solutions, but in the end the best one they could come up with was moving the horses to the north beach section. This area was safer than the increasingly busy and populated southern part of Corolla, but there were still other risk factors for the horses, mostly human-related, and still a factor today.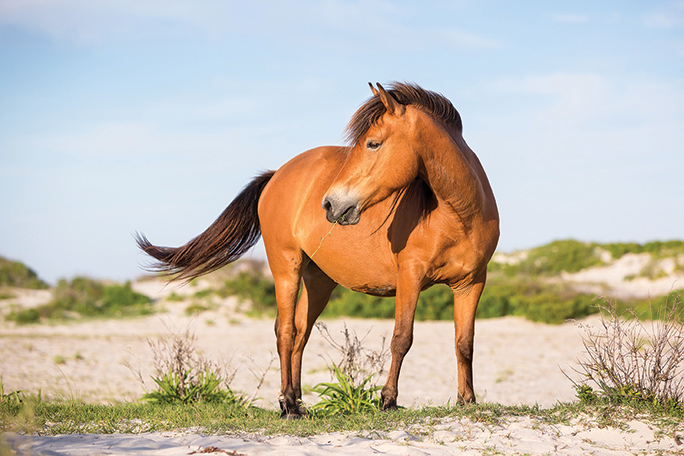 Although referenced as a wild horse sanctuary, the 7,544 acres accessible to the horses is a mix of 1/3 public land and 2/3 private land. The beach is considered a public road and is open to all 4WD vehicles, so danger from cars is still an issue. Many people ignore the signs telling them to stay at least 50 feet away and to never pet or feed the animals, even carrots and apples, because these non-native foods can create life-or-death situations for these horses.

Last year, a tragedy occurred that broke the hearts of many, locals and tourists alike. A yearling colt named Danny was killed from choking on an apple that someone who had ignored the signs fed to him. This preventable death sparked a new wave of motivation to protect these vulnerable, majestic creatures.

The Corolla Wild Horse Fund, for example, recently put up extremely large signs on the beach telling people not to feed the animals. The signs are so humongous that no one will be able to use the excuse that they didn't see them (an excuse that a lot of people have used in the past). And Bob, with his tours, makes it his mission to educate all of his guests on the safety precautions they need to take when observing these animals. What do they do on the tours to protect the animals?

First, let's talk a little about the tours in general. Bob's Wild Horse Tours are an open-air, safari-style experience. You ride out onto the beach in an open 4x4 truck that fits 16 people. Tours last two hours, and in that time not only will you see wild horses, but with the open-air experience of the safari-style trucks, you will also smell the salt air, feel the mist 
of the ocean and see other types of wildlife, from the regal ospreys to the wild boars.

Bob's Wild Horse Tours are famous for their knowledgeable and entertaining tour guides. During your tour, they will teach you about the history of the horses, the folklore, interesting facts and their way of life, all while making you laugh and appreciate what you're seeing and learning. They stop frequently so you can take photos.

As protectors of the horses, they also put a large focus on safety protocols to keep the horses safe, such as maintaining that 50-foot distance and not feeding them. And they also educate tour goers on the regulations for driving in this 4WD area if they ever drive out on their own.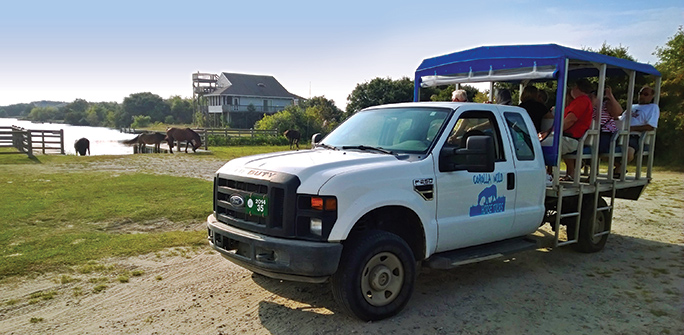 Bob went from being a teenager who had no idea why his dad wanted to live in this area to starting this tour guide business by happenstance, when his dad, who had another business in town, volunteered Bob to give some visitors a ride to see the horses. This trip inspired him to start a business, and it also inspired a lifelong dedication to protecting the well-being of these beautiful animals. All he had to do was spend a little time with the horses to turn into a lifelong advocate for them. He knows they will have the same effect on you when you spend time with them. In fact, he sees that impact all the time. According to Bob, once visitors experience these wild and free creatures, they can't help but feel protective.

If you would like to support the horses, here are some ways Bob suggests you can help out:
Go to the website corollawildhorses.com to read the complete history of the banker horses, get news and updates and find out ways to support the Corolla Wild Horse Fund.
Stop by their store/office in Historic Corolla Village and purchase some of their items. According to Bob, every little bit helps.
Sponsor a horse. Sponsoring a horse is a great, personalized way to help out the herd. Go to the Corolla Wild Horse Fund website to find out how.
Listen to their new podcast, from the Corolla Wild Horse Fund Herd Manager Meg Puckett, that teaches ways to protect the horses. 
Bob wants to protect, share and improve the lives of not only the horses, but also the greater community. That is why he also became a county commissioner and why he dedicates so much of his time to service. For him, there's nothing more special than these horses and this community. Because, as he says, "It's one the greatest places on Earth!"

And when you love something, you do everything you can to protect it.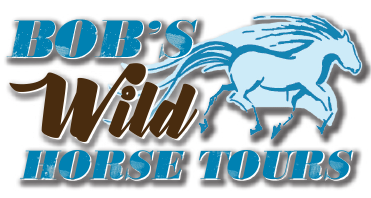 (252) 453-8602
817 B. Ocean Trail
Monterey Plaza | Corolla
www.corollawildhorsetours.com