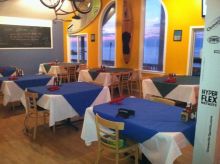 Here 's a food tasting experience unlike anything else you will find on the Outer Banks. I'm talking bold and unexpected flavors that make up one of the most incredible lunch and dinner menus in Avon — or anywhere.
The crew at Open Water Grill decided long ago that there was too much similarity in the Outer Banks restaurant scene. When you recommend your three favorite things to eat and hear back that the customer has already tried all three in other restaurants (in this week alone), you know it's time to shake things up.
"If we don't make it better than everyone else's, then we get rid of it," said general manager, Martin Shaffer. "It's a small island. We want our menu to be new and fresh, and we spend all winter dedicating ourselves to that concept."
Walking into Open Water Grill, now in its fifth year as the foodie's haven in Avon, the atmosphere is something like a diner meets a four-star restaurant, and there's really no other way to describe it. "If you are here in board shorts and a tank top, you can feel comfortable sitting down to order a prime rib," said Shaffer. "The food is dressed up. It's going to be formal and amazing and beautiful. But you are on vacation, so wear shorts because we do."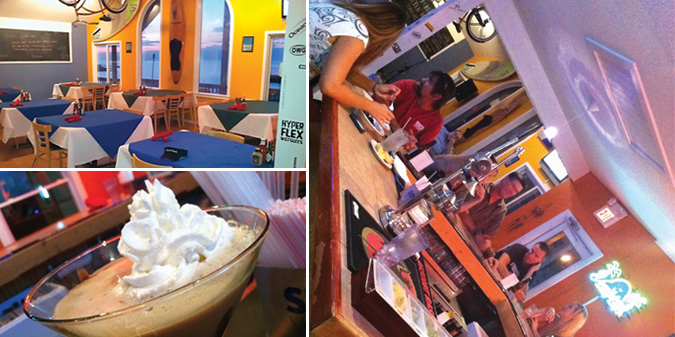 In the back, a porch sits right over the water offering unparalleled views of the Pamlico Sound in daylight hours and color-drenched sunsets at dusk. It's actually the only outdoor seating area in Avon that sits over the sound, and even if you don't dine in at the restaurant, the staff will encourage you to stop by to take a few photos on the deck because it's just that beautiful. But, really, you should make time for the food.
First and foremost, we have to talk about the seafood tacos. Stuffed with scallops, shrimp or the freshest cut of fish, the delectable favorites — served 12 different ways and topped with fresh made, signature Chimichurri sauce — are a reason to come to Open Water Grill all on their own. The Chimichurri sauce is so popular that you can buy it separately to take home.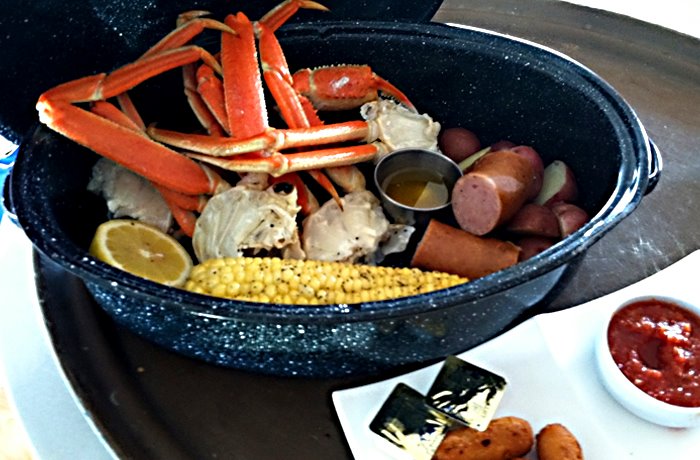 Other must-have menu items include a pork or shrimp stir-fry pasta that sizzles with delicious flavor and American Asian fusion dishes such as the orange shrimp and General Tso's chicken. One of Shaffer's favorite reactions from diners is when they order an item they would normally get from a take-out restaurant and then realize that what they are served here is actually an amazing and authentic meal. Of course, any Asian-inspired dish you order at Open Water Grill still comes complete with a fortune cookie.
At the bar, the emphasis is on cocktails made with real, fresh fruit and premium spirits. You will find a long list of creative drinks as well as excellent beer and wine menus.
Up new this year are some outstanding eats that were months in the making. After working in the restaurant industry for more than 20 years, making appearances in kitchens everywhere from Virginia Beach to Hawaii, Shaffer knows that standing out is all about getting creative in the kitchen. He really wants to make sure that nothing on the menu is similar to what you can get on the rest of the Outer Banks.

When patrons ask Shaffer what the Open Water Grill crew gets up to in the off-season, he says, "We spend six months serving really fantastic food, and we spend six months figuring out what fantastic food we are going to serve next. We want you to know that what you are getting out of the kitchen is the best food that we know how to make." And this past year, the team put in some extreme overtime. The original menu is entirely a result of the crew's dedication, and it's a group that hasn't changed very much in the last five years.
This summer, you'll find dishes the likes of which you've never heard of at Open Water Grill such as the shrimp and balsamic vinegar glazed watermelon salad over mixed greens. "You may think, are you crazy? But this thing is delicious," Shaffer said. "Everyone who has it is going to go home and make it, and I love that kind of thing. I love that response to food."
In the summertime, Open Water Grill can get seriously packed, especially around the dinner hour, so consider visiting them for lunch. But make sure to keep your wits about you … certain menu items may inspire your immediate relocation to the Outer Banks.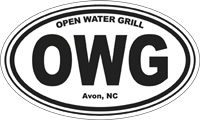 (252) 305-5287 • 39450 N.C. Highway 12, Avon • openwatergrill.com