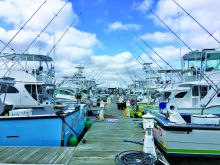 Tucked into the salt marshes of Wanchese, Outer Banks Marina is a hub of boating activity.
On any given day in the summertime, first-time and professional fishermen head out in search of the freshest catch, families board tour boats seeking bottlenose dolphins and working trawling boats dock next to multi-million-dollar sportfishing vessels destined for the Caribbean.
"We have a lot going on," says Outer Banks Marina owner Jarrod Umphlett. "There's just something for everybody here."
Located about 6 miles from Oregon Inlet, the marina provides a true glimpse into Outer Banks fishing and boating culture.
As you park your car near the docks, the thing that might jump out to you first is the immense number of boats – on land, in the water, indoors in the dry stacks. There are vessels of all sizes from 19-foot skiffs to 70-foot custom Carolina yachts, and amid the diversity of watercraft, people from all backgrounds walk the docks. Watermen are there for a day of work alongside families looking to fish and out-of-town boat owners popping in for a boat ride on the sound.
"There's giant tuna getting rolled down the dock," Jarrod says, "and there are local boys that are sitting there fishing with a bottom rig catching stripers."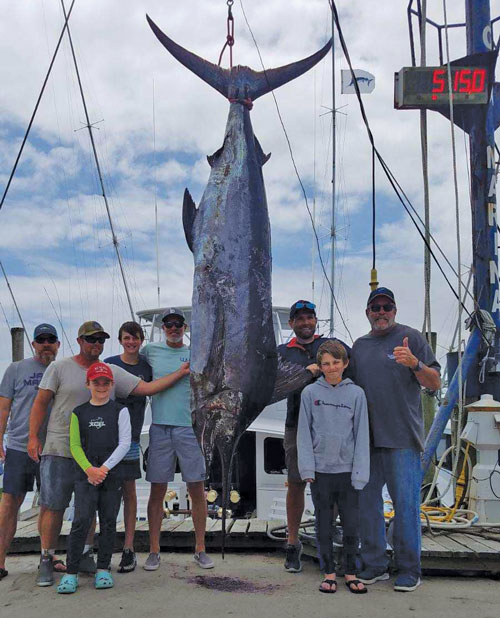 For boat owners, Wanchese is a one-stop shop. There are wet slips and dry stacks as well as amenities like inboard and outboard services, full electronic services, a welding shop, canvas repair and a tackle and ships store.
"There's no better place to get boat work done," Jarrod says of the multitude of services available. "It's the hub of Carolina boatbuilding. If you've got a boat and you're serious about fishing, you know where Wanchese, North Carolina, is."
A charter booking service in the ship's store can set up new fishermen and experienced tournament anglers for half- and full-day fishing trips. And at Outer Banks Marina, there are many fishing trips that you won't find in other places on the Outer Banks, including specialized trips for catching shrimp and crabs.
Half-day fishing trips are affordable for large families and working people, and after a trip, you can watch your fish being cleaned at the fish cleaning station.
Of course, you'll have to find a way to draw your attention from the work of commercial fishermen. At the end of the day, you might spot a 500-pound blue marlin being weighed – as was the case earlier this year on Memorial Day weekend.
"You can look and see some of the commercial fishing – how it's been done for years," Jarrod says. "The fishing hasn't changed. What's changed is the equipment, the tools, the class of the boat, the size of the boat. But the principles are still the same."
Beyond the fishing, Outer Banks Marina's Paradise Dolphin Cruises are some of the best in the industry. In fact, Paradise was recognized by Tripadvisor for the past six years. A two-hour dolphin tour gives you the potential to see bottlenose dolphins and a variety of local wildlife including ospreys. You'll also catch a view of some of the historic lighthouses of the Outer Banks.
Then there's OBX Marina Dockside, the tiki bar and grill that serves up local seafood and breezy cocktails from Wednesday through Saturday. On Friday evenings, the bar's open-air pavilion is the perfect place to have a drink and listen to live music. But there's a lot to take in from the tiki bar no matter the time of day.
"When there's fish getting rolled everywhere and people are toting rods and people are drinking drinks and people are smiling and laughing, you can almost put your hand out and feel the energy," Jarrod says. "It's just buzzing, and that's when it's fun. You can feel the energy and see it."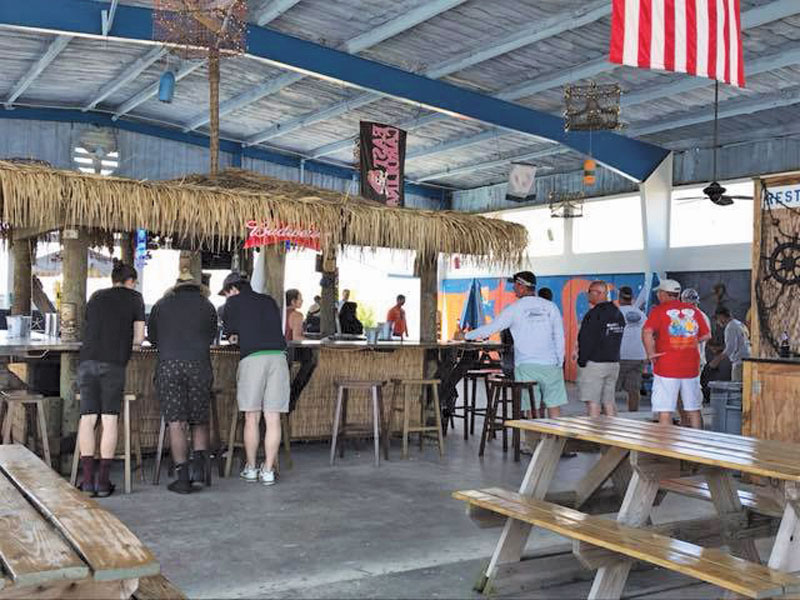 Some of Jarrod's favorite moments at Outer Banks Marina come when he's watching the docks or helping visitors with their fish, most of the time without ever telling them who he is. He says, "I don't even know how I'd put a good story in a bottle. There are just so many."
One of the best is that, each year in February, National Geographic comes to film its reality television show Wicked Tuna. The show follows commercial tuna anglers from Gloucester, Massachusetts. But there's also Wicked Tuna: North vs. South, where the fishermen face off with Outer Banks captains, and Wicked Tuna: Outer Banks featuring the Wanchese crew at Outer Banks Marina.
At first glance, Wanchese might seem hidden away on Roanoke Island. Outer Banks Marina is surrounded by nothing but beautiful sound vistas and a sea of marsh grass. But for the boating community, it's the center of the Outer Banks, attracting fishermen and boaters from all over.
"It's very close to Oregon Inlet," Jarrod says, "which is the main artery for anyone making a living on the water on the Outer Banks."
In Wanchese Harbor, you can find Bayliss Boatworks producing some of the finest yachts in the world. O'Neal's Sea Harvest, a huge commercial fishing distributor, has a bustling retail market and restaurant, and Jarrod says Croswait Custom Composites is on the cutting edge of technology in composite work for small boat repairs.
Jarrod emphasizes that Outer Banks Marina is a blue-collar marina. It's not a yacht club or a sailing club. There's a mix of commercial and recreational fishing happening here.
For visitors to the Outer Banks, the marina checks two of the most important boxes.
"People come to the Outer Banks for three reasons in my mind," Jarrod says, "and that's the beach, some of the best fishing in the world and that local catch being cooked in the restaurants. We're in a good spot."
Like many Outer Banks locals, Jarrod himself is drawn to the freedom of life on the water. "The farther I get from land, the better," he says. "I think that's what draws everybody, you know. People are engaged by the outdoors and their love for water."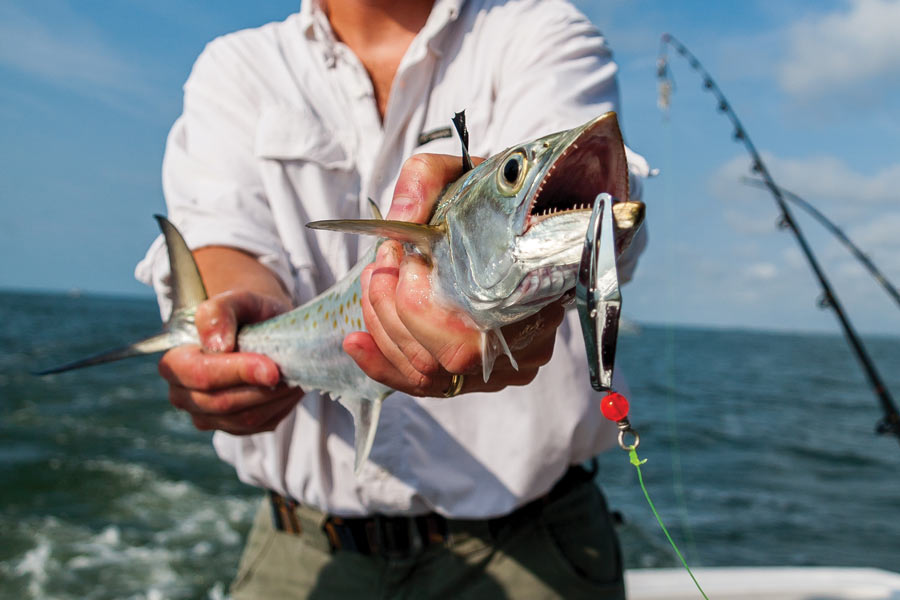 This year in particular, it means so much to the charter captains and working fishermen at Outer Banks Marina to see visitors making fishing trips and buying local seafood. A simple act like fishing can be an escape from the every day, and what's more socially distant than being 30 miles from shore with your family in a boat?
---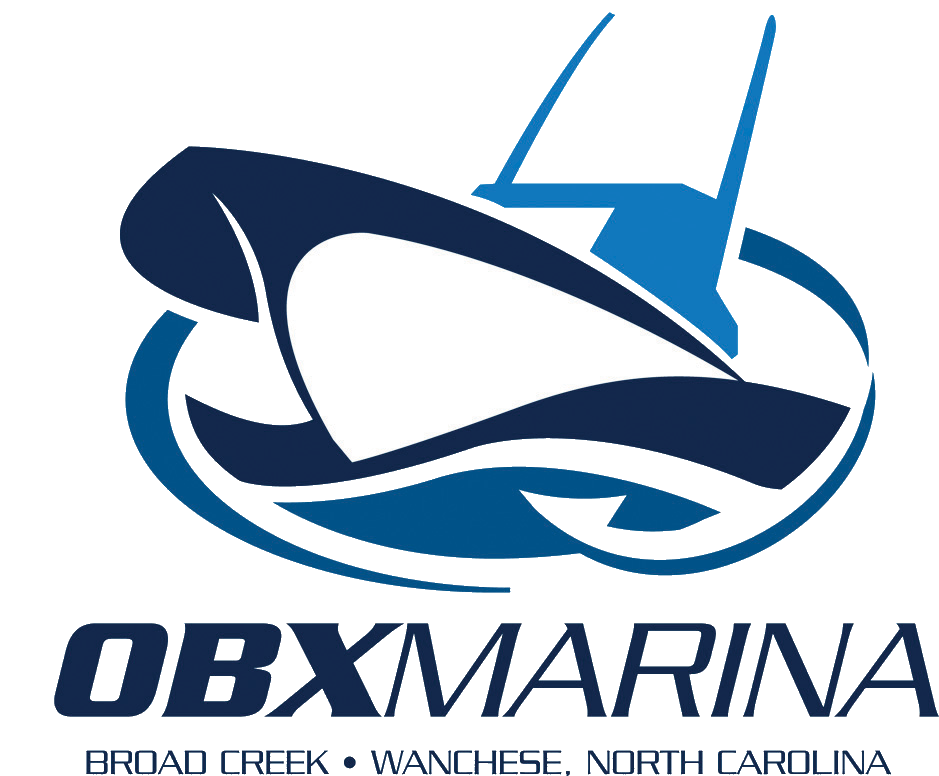 obxmarina.com
(252) 473-9991 (fishing charter)
(252) 473-5344 (slip rentals)
708 Harbor Drive, Wanchese
---