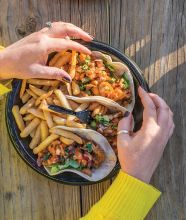 The November holiday gives rise to the same images each year – family gathered around a large table, falling leaves in warm colors and turkey . . . lots of turkey. But for families who live on and visit the Outer Banks for Thanksgiving, the special day has taken on new elements of a coastal nature.
There are the obvious reasons to visit the Outer Banks in the fall, such as the notable absence of summer crowds, low rental rates and pleasant temperatures. But there're also miles of wide-open beaches and seasonal fishing, athletic events and the chance to put a twist on Thanksgiving dinner by adding fresh seafood. It's a destination holiday ... and, yes, the leaves do change in Currituck County.
A Coastal Dinner
Fresh fish, shrimp, oysters and crabs are just a few of the makings of a seaside Thanksgiving meal. You don' t have to throw out the turkey, but consider a second main dish using seafood or whip up a few appetizers and side dishes that incorporate the day's catch. After all, you are at the beach. Cooking not your go-to? Restaurants and shops in Corolla and mainland Currituck may shut down for the off-season, but the majority of them open back up for the holidays. There are buffet-style Thanksgiving dinners, personal chefs, waterfront dining experiences and options for entire carry-out Thanksgiving dinners. You don't have to cook it yourself to get a taste of Thanksgiving in Currituck County.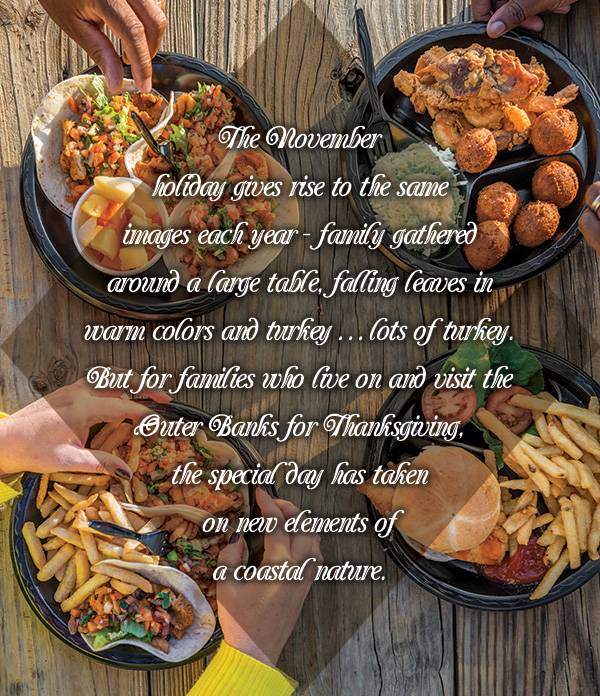 Run Like a Turkey
On this beach, both locals and visitors enjoy our many family-friendly running events. And what better way to prepare your appetite for Thanksgiving dinner than with a morning run or walk? The Wild Turkey 5K, held by Runcations, takes place on Thanksgiving Day in Corolla at 8:15 a.m. Winners receive a Thanksgiving treat for placing, including a pumpkin cheesecake for the first place finisher.
A Beachcomber's Paradise
Searching for shells in the summertime is an entirely different experience than hunting for the treasures in November. Hurricane season is wrapping up, and the storms tend to unearth even the most buried bits of sea glass. You can walk the beaches, eyes scouring the high tide line, often for miles at a time without running into another beachcomber. And on the 4x4 beaches in Carova, the wild Spanish mustangs are enjoying the empty beaches just as much as you are. Be sure to take a tour while you're in town.

Oceanfront Family Portraits
The beaches are empty and actually cool enough to warrant a sweater. The time is perfect for a family beach portrait – perhaps even one fitting for this year's Christmas card. Many area photographers will recommend the Corolla beaches for a family portrait because they are so wide and absent of beachgoers in late fall.
Catchin' Dinner
Fishing is a lifestyle on the Outer Banks and a year-round one at that. Each of the seasons brings different varieties of fish, which means different angling methods and entirely new experiences. Whether you choose to surf fish in the early morning on the beaches of Corolla – alone but for the marine life – or take a boat out on the sound, fishing in November is unlike anything you might experience in high summer. Who knows? You may catch a red drum or bluefish for the dinner table.
Visitors to the Outer Banks do not usually think of hunting as a vacation activity, but in Currituck County there is a large variety of waterfowl and other wildlife that draws hunters to the area. Sea ducks, geese and tundra swan are in season in late November. Licenses are required for both hunting and fishing.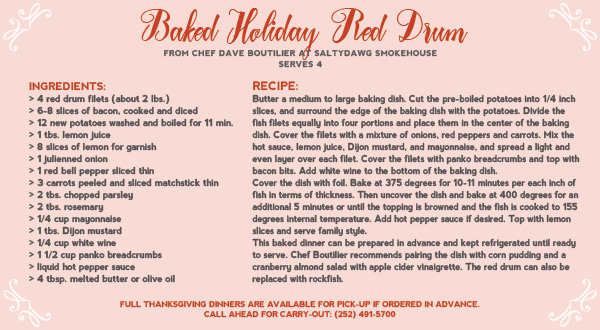 Hit a Hole-in-one
Axe the sweltering temperatures of summer for a game on one of Currituck County's picturesque and challenging golf courses. From the maritime forests to the wetlands, the courses all stand out in their varied terrain, and the cooler atmosphere and light breezes will make for a more enjoyable golfing experience. Teeing up in Currituck County could be your new Thanksgiving tradition.
Paddle Out
Although fall may not be the best time of year to pick up a surfboard for the first time, experienced surfers will flock to the ocean for a taste of the latest storm's swell. The Outer Banks is home to some of the best surfing on the East Coast, particularly in the off-season, and water temperatures drop more slowly than air temperatures here, so wetsuits may not be necessary on the right day.  

Currituck Outer Banks Visitor's Center:


(252) 453-9612  |  500 Hunt Club Drive, Corolla
Currituck County Tourism Department & Welcome Center:


(252) 453-2947, (877) 287-7488  |  106 Caratoke Highway, Moyock