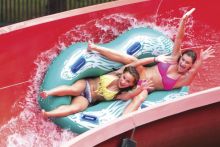 Savoring the Trip Through Currituck
There are two types of road trippers in this world: those who set their eyes on the prize and those who savor the journey. The first stop at nothing (the fun begins when we get there!). For the latter, however, the adventure kicks off the moment they get on the road. They stop along the way at shops that catch their eye and grab bites to eat at roadside joints with signs boasting about famous biscuits. These sorts of travelers are made for Currituck County.
What some may cavalierly brush away as just a stretch of highway, mainland Currituck is the sort of place that gives travelers a reason to get off the road. And for folks already on the islands, adrenaline junkies, foodies, golfers and culture enthusiasts are seeking out their activities on the other side of the bridge. So whether you want to improve the drive between home and the beach, avoid the summer season traffic or shake up the day to day, take time to slow down in Currituck.
Beach Day Alternative
Only 3 miles west from Kitty Hawk, H2OBX's Outer Banks-infused facilities remind you that even on the mainland, you're still at the beach. The park pays homage to the area's history and stories with waterslides and rides inspired by Blackbeard, the Corolla wild horses and the sand dunes. Give a nod to the Wright brothers with a cold beverage from Flyboys Bar, or sink your teeth into a barbecue sandwich piled high with North Carolina pulled pork. With optional push-button service cabanas and multiple eateries cooking up regional flavors, resort amenities like these give visitors a next-level experience, not to mention the 30 rides, slides and attractions.
"For people on vacation for the week, they seem to want a change of scenery from the beach by Wednesday," laughs Molly Garavito, H2OBX's marketing director. Dangerous water conditions, red flags, biting flies and the scratchy sand aren't part of the experience at the waterpark. Braving a waterslide's hair-raising drop or kicking back in a float to cruise down the lazy river in a clean and safe setting definitely are, though, and they provide loads of fun for both locals and visitors.
"My kids love the beach; they swim, they surf, but when given an option between the beach and the waterpark, they always choose the waterpark," Molly says.
For people heading to or from a beach vacation, the waterpark gives them a place to play and wait out the standstill traffic. And with an eight-day park pass for less than $40, visitors can return again and again anytime during their vacation for more fun memories with the crew.
Prefer Turf to Surf?
Currituck has you covered. Just off U.S. Highway 158, golf courses await with manicured greens open to the public. Between Kilmarlic Golf Club, The Pointe, The Carolina Club and Holly Ridge Golf Course, golfers and golf enthusiasts can take a break from the drive and relax with a game of golf in a scenic setting.
Kilmarlic's pristine stretch of green surrounded by towering pine trees and marsh vegetation has garnered prestige statewide. It was chosen to host the N.C. Open in 2004 and 2009, and later, GolfStyles magazine named it a Top 100 Course You Can Play in N.C.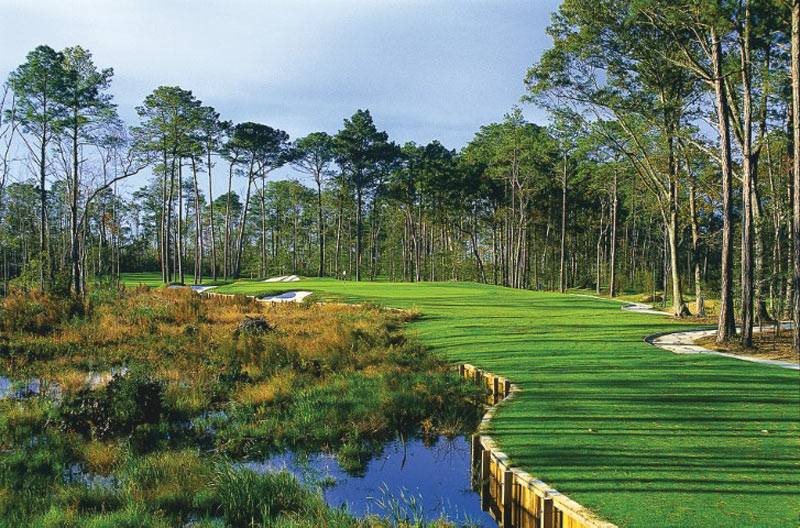 In a local poll, The Pointe was voted Best of the Beach between 2012 and 2014. Currituck's oldest golf course presents a par 71 course complete with a public driving range and short-game practice area. Farther north on U.S. 158, you'll find its sister course, The Carolina Club. On this par 72 course that expands over a scenic fairway, golfers can practice their swing waterside.
Doug Kisner, the director of golf for the two clubs, is proud that the courses' highly playable reputation appeals to all levels of golfers. "Golf is already challenging enough," he says. "Not everyone wants a course that wears them out every day. Why pay your premium dollar to go and not have a good time?"
Holly Ridge Golf Course also shares this family-friendly reputation. Their 18-hole, par 71 course caters to all levels and skills and is a course that's accented by ponds and long-leaf pines. For those looking to perfect their techniques, the nine-hole practice course and driving range let people hone their stroke near and far. And just 2 miles away from the bridge, this Harbinger course stands out as a convenient golfing facility that barely takes drivers off the highway.
Annual membership programs are available at all of these courses, but for locals and vacationers enticed by the affordable rates and a desire to explore beyond the bridge, day-use passes are also available.
World-Class Wine Tasting
Welcome to one of North Carolina's leading winemaking regions! Already known for taking home awards at state-level wine competitions, Currituck is drawing attention at the national level too. The Washington Post even named it one of America's up-and-coming wine regions in 2019.
Sanctuary Vineyards is at the root of all this renown. Perhaps you've enjoyed their Pearl Albariño at a restaurant or couldn't resist picking up The Plank's cork-and-wax sealed bottle at a wine shop. See where it all happens by visiting the vineyards and winery in Jarvisburg. Or drop by their tasting room any day of the week, and let the staff guide you through their collection of white, red, rose and even orange wines.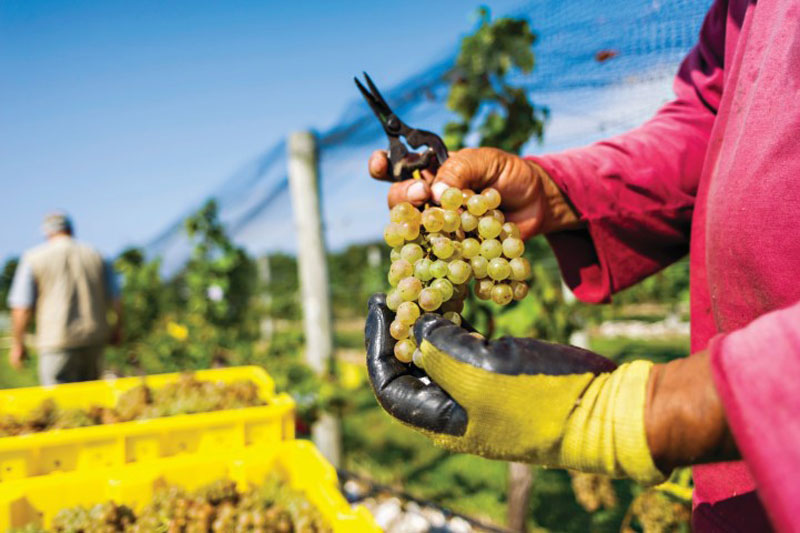 Sanctuary Vineyards also hosts an array of Outer Banks events throughout the year, from their Mardi Gras-themed Cajun Occasion to the Currishuck Oyster Roast every fall. In the summer season, weekly programs and activities bring in a constant stream of visitors. Thanks to a partnership with Kitty Hawk Kites, their Vineyard Voyage boat tour takes you across the Currituck Sound from Duck to the vineyards for a tour and tasting. Or unwind, drink in hand, and watch the sun setting into the vineyards while live music fills the air at Acoustic Sunset every Thursday evening.
North Carolina's Oldest Microbrewery
It's not only wine where Currituck is making strides. In the 1980s, Weeping Radish Brewery revolutionized the way beer gets made and consumed in North Carolina. Owner Uli Bennewitz worked to legalize breweries' ability to brew and serve their beer onsite, and when he succeeded, he opened the state's first microbrewery and pub in Manteo, NC, then later moved the enterprise to its current location.
Leave Currituck and enter Bavaria with Weeping Radish's beer, food and ambiance. This is the place to satisfy cravings for beer and bratwursts, and this brewery and butchery emphasize quality. Since the beginning, they have brewed their beer in accordance to the Bavarian Reinheitsgebot Purity Law of 1516. It decrees that beer can only use four ingredients in the brewing process: hops, malt, yeast and water.
Discover how these four simple products turn into the Weeping Radish beverages you see on market shelves and in taprooms. Twice a week in the summer, Uli leads tours through the brewery's full facility. Taste the beers as you go, and learn about the history and culture of each. Samples of the Weeping Radish's homemade sausage complement the beers, and if this tempts your palate for more, head to the restaurant for German and pub fare.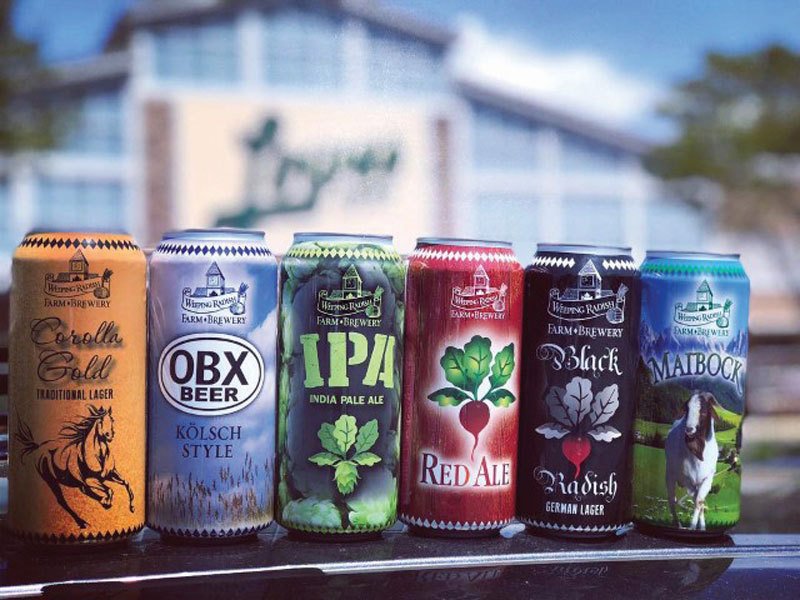 Pair kielbasa, sauerbraten, red cabbage and potato pancakes with your brews. They have a children's menu, too, if the whole family wants to dine. All the meat and fish they serve comes from regional and sustainable purveyors. "When we say we have local food, we mean it," marketing director Sophie Bennewitz says. "We're very proud to work with local farmers and producers." Between its top-tier meats and creative cuisine, Weeping Radish is as much a destination for food as it is for beer.
When you leave, take a taste of Weeping Radish with you. Their gift shop sells their butchery's sausages, beer by the bottle and can, steins, shirts and swag.
Stop waiting to cross the bridge before beginning your Outer Banks activities. Just a short drive from Kitty Hawk, thrills, sports, food and culture await in Currituck.
Currituck Events Happening This Summer
Acoustic Sunset
Sanctuary Vineyards
Thursdays, 12 to 3 p.m.
June-August
Saturday Truckin'
Sanctuary Vineyards
Saturdays, 5:30 to 8:30 p.m.
June-August
---

(877) 287-7488
CorollaNC.com
500 Hunt Club Drive, Corolla
---