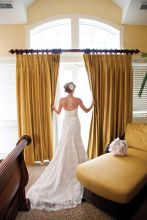 It's a beautiful thing when love is in the air, and if you're one of those couples who have recently (or even not so recently!) decided to pronounce your wedding vows, then you probably know how simultaneously exciting and daunting it can feel to plan all the next steps that will lead you down the aisle of your dreams. But the first, and perhaps the most important, decision on many couples' minds is simple: location, location, location.
The Outer Banks has long been a premier spot for destination weddings, and this has recently become especially true on the northernmost stretch known as the Currituck Outer Banks. With miles of exquisite beaches bordering the Atlantic Ocean, breathtaking sunsets and a remote yet vibrant atmosphere, visitors from all over have quickly come to regard the Currituck Outer Banks, a.k.a. Corolla, as a hidden treasure that has set the stage for some of their most cherished memories. For some lucky couples, it's even the place where they first fell in love.
Besides the obvious natural beauty, another large part of the area's appeal for couples considering a destination wedding comes down to the spectacular variety of options available there. Whether you have your heart set on a casual beach wedding in the backyard of your rental home (where there's always a chance that one of the area's wild horses will wander right on by!), a traditional church wedding with seaside flair or a celebration in a more extravagant setting such as historic Whalehead or the majestic Currituck Beach Lighthouse, there's definitely something nearby that's sure to meet all your needs.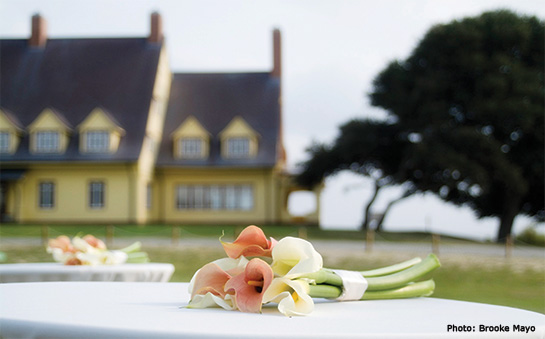 Even if you're not sure exactly what you want on your wedding day, or if you need to stick to a budget but don't want to skimp on the things that matter to you the most, the Currituck County Tourism Department provides wonderful free resources for couples who want to explore all their options and learn more about the wide array of amenities that the area has to offer.
"It often amazes me how many people come into the Welcome Center and say they had no idea how much we can help them plan for their perfect wedding event," says Michele Ellis, the Tourism Department's Public Relations Coordinator. "But we're here to answer questions about everything from affordable oceanfront weddings to the kinds of recreational activities everyone can enjoy both before and after the ceremony. We really just want to make sure visitors have access to all the information they need!"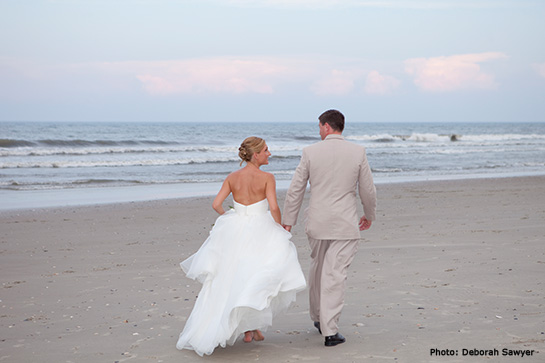 Besides keeping comprehensive lists of all the local accommodation options, ceremony and reception sites, caterers, personal chefs, event planners, officiants, photographers and other vendors, the Tourism Department is also happy to provide practical information on obtaining marriage licenses and permits, transportation advice and tips on how to plan specialty celebrations such as pet-friendly wedding ceremonies (yes, in Currituck County, both cats and dogs are allowed on the beach - though dogs must be leashed at all times).
The advice the Currituck County Tourism Department stresses the most, however, is that couples should always start planning well in advance. September-October and March-April are the busiest wedding seasons, and things can fill up quickly. Scheduling an exploratory pre-wedding trip to the Currituck Outer Banks is always a good idea, and The Outer Banks Wedding Association Weekend Expo, which is held each year in January, is a popular event that allows couples to personally meet with vendors and check out a number of reception and ceremony sites firsthand. And no matter when you decide to visit, be sure to stop by the Currituck County Welcome Center on your way. Not only do they have walls full of brochures and magazines, but by prior request, they can also provide fantastic goodie bags filled with maps, discount cards and a number of specific visitor guides. Be sure to pick up one for yourself, or let them know your headcount ahead of time and they can arrange to supply you with goodie bags for each one of your guests!
But don't worry if a pre-wedding trip just isn't possible. The Currituck County Tourism Department has a great website filled with tips and information that's fun to browse. You can also email or call them directly on their toll-free line if you have specific questions that aren't addressed elsewhere. Their friendly staff is always on hand to walk you through your options and make suggestions depending on your individual needs.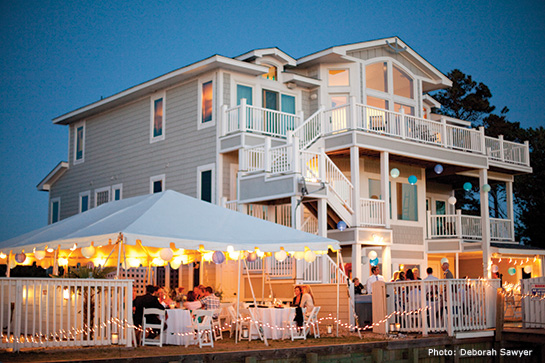 "Whether people are looking for information on weddings or other special events such as anniversary trips or beachside family reunions, everybody likes to experience something unique," says Michele Ellis. "So we work hard at the Tourism Department to make sure that every visitor is aware of all the amazing things the Currituck Outer Banks has to offer. That's just the personal touch you can expect to find here."
 
---
Don't forget to mark your calendars!
The 2015 Outer Banks Wedding Association Weekend Expo takes place on January 17-18 with plenty of activities and exhibits that can help you plan your dream event.
Visit outerbanksweddingassoc.org for more information.
 
---
For more detailed information on marriage licenses and other wedding services in the area:
Currituck Outer Banks Visitor's Center
500 Hunt Club Drive, Corolla, NC
(252) 453-9612
Currituck County Tourism Department & Welcome Center
106 Caratoke Highway, Moyock, NC
(252) 453-2947, (877) 287-7488