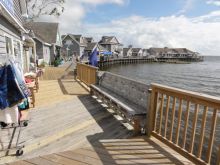 ---
Ah, Duck. When you enter the town, following that corridor of N.C. 12 under the canopy of live oak trees both calms the senses and stirs the spirit. For one, the scene is an image of soundside tranquility. An inviting pedestrian path hugs the town's length, and bits of the Currituck Sound peek out between the shops along the way. Speaking of the shops, these locally owned boutiques, galleries, bookstores and other small businesses cause a stir. Each embodies its own, eclectic personality and offers a trove of fine clothes, twinkling accessories, locally made artwork and handicrafts, organic cosmetics, tempting trinkets and so much more.
These small businesses and shopping villages are clustered into a 1-mile area, all connected by a boardwalk and pedestrian paths. For the best way to shop in Duck, park the car and mosey about from place to place on foot.
The variety of shops lends to the town's appeal. Here, you can stroll from clothing boutiques to indie booksellers, old-school tackle shops to stylish surf shops and wine sellers to candy stores in no time at all. That said, still plan to carve out time for each stop on your list. Trust me on this one. Sniff the candles. Caress the scarves and chambray blouses. Pick up a bag of fudge along the way. Pause for a wine tasting. Lose track of time flipping through bestsellers' pages at bookstores.
No matter your age, interests or shopping agenda, Duck offers a one-size-fits-all experience.
---

Representing American craftsmen on the Outer Banks since 1979!
Tar Heel Trading Co.
(252) 255-0225 • 1171 Duck Road, Scarborough Lane, Corolla
(252) 453-3132 • 790-F Ocean Trail, TimBuck II
tarheeltrading.com
---

Your one-stop shop in Duck.
Wee Winks Market & Deli
(252) 261-2937 • 1213 Duck Road
weewinksmarket.com
---

Shop all new & trendy fashions at Amity Boutique.
Amity
(252) 261-5164 • 1240 Duck Road 
---

We have Harry Potter's Butterbeer, Bertie Bott's Beans, Frogs, Slugs, Wands & More.
OBX Sugar Shack
(252) 255-5800 • 1190 Duck Road, Osprey Landing