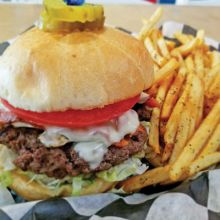 When Jen Banzhoff and Tony Northrup came down to the Outer Banks from Pennsylvania in 2009 to take a summer job at Uncle Ike's in Corolla's Town Center, it was their first time visiting the area, but they immediately fell in love with it. They thought they were only coming for a few fun months, but by August the original owners offered Jen and Tony a chance to buy the restaurant, and it was an opportunity they knew they couldn't refuse. A short three weeks later they returned to Pennsylvania and packed up everything they owned, then turned around and immediately came back to their newly chosen home.
"It was sheer luck, but we jumped at the chance to stay," says Jen, who's now a proud co-owner of Uncle Ike's Sandbar and Grill with Tony. "We've been here ever since."
Seven years later they're not only still here, but they're also thriving. According to Jen, they decided to keep the name Uncle Ike's to honor the restaurant's historic namesake — an English bulldog they both remember fondly from their first summer here. But beyond the name, there's little this dynamic duo hasn't changed since they took over the reigns … taking Uncle Ike's to a whole other level in the process.
This year they've perhaps made their most impressive large-scale improvement: a complete remodel that's doubled their size to 100 seats, complete with a brand-new rectangular bar (where you'll find tons of creative cocktails and 11 rotating beers on tap) and a separate extremely family-friendly dining room area that allows Uncle Ike's fans, both new and old, the opportunity to spread out and fully enjoy all the things that continue to make Uncle Ike's one of the most happening spots on the northern beaches. 
A lot of their success can be attributed to Jen and Tony's dedication to their customers that goes above and beyond (and, thus, they have almost fanatically loyal repeat diners) and the attention to detail on their menu. And perhaps the best way to explain the inspiration behind their incredibly diverse menu items is to imagine Good Comfort Food Done Really, Really Well … with a healthy dose of that beach-style flair you'll only find on the Outer Banks.
Not to mention fresh. At Uncle Ike's you'll find everything from hand-breaded fried chicken, New York Strip and breakfast lasagna to a variety of local seafood done right including scallops, fish and shrimp plus plenty of homemade favorites such as their signature sauces, daily hand-pattied crab cakes and lots of choices for the little ones too, such as their homemade mac-n-cheese. 
"Our motto's always been that if we don't want to eat our food, no one else will either," Jen says with a laugh. "Everything's made to order here — that's the only way we ever want to do things."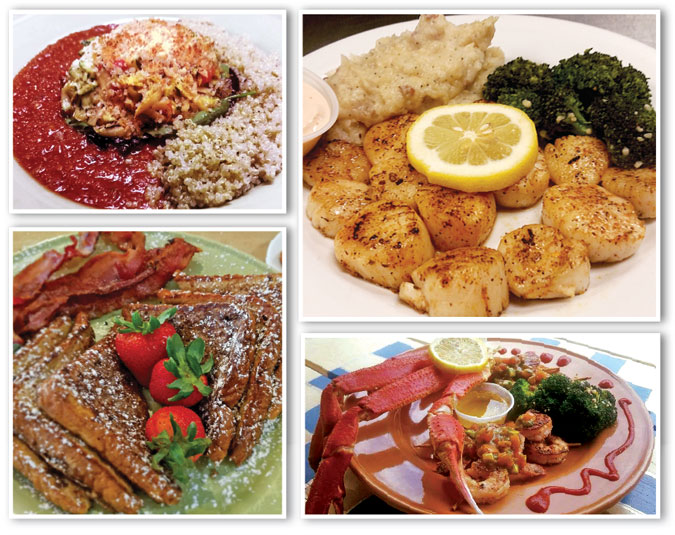 As part of meeting their customers' high expectations, they've also added a seafood steamer and health-conscious vegetarian and gluten-free menu options such as their daily homemade quinoa burger (served with or without the bun) and their jumbo portabella mushroom entrée, which is stuffed with fresh seasonal vegetables and served over homemade marinara and quinoa. 
"A lot of people want to be fit and fresh, and we're embracing that," Jen says.  
Due to the extra space from their recent expansion, they're also continuing to embrace the fun. Arrive prepared to try your hand at ring toss, corn hole or darts, and you may even take your energy level up a notch at their new ping-pong table. And while this place is already well known as somewhere you can stop in for breakfast, lunch and dinner daily from mid-May through September, plus plenty of off-season lunch and dinner hours, Uncle Ike's continues to hop with their full-service bar until 2 a.m. virtually year round.  

This means that the adult crowd can plan on even more late-night entertainment all summer long featuring an array of talent such as karaoke on Tuesdays and Thursdays, live reggae nights on Wednesdays plus some DJ nights and other occasional live entertainment on their outside deck as well. 
Uncle Ike's has all the sports fans covered too. With more room to accommodate everyone's viewing requests, they now have a whopping total of 10 televisions, including a giant 72" above the bar where enthusiasts can catch all the soccer, baseball and NFL packages throughout the summer and well into the fall season.  
The inclusiveness you'll find at Uncle Ike's reflects Jen and Tony's style of doing business in general. "We're one large family here," Jen explains. "It's a hands-on way of doing things that makes everyone feel as though they're a part of something special … and we wouldn't have it any other way."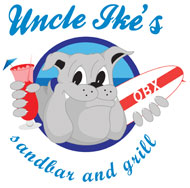 ATTENTION ALL LARGE PARTIES:
Uncle Ike's has doubled in size, so groups of eight or more can now make reservations ahead of time by calling (252) 597-1606!
Corolla Light Town Center
uncleIkesobx.com