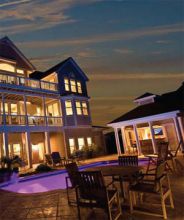 If you were to go to your favorite search engine and look for Ballast Point, you could wind up anywhere that has a coast. Speak to a longtime Outer Banker and they will be quick to put you into a particular place and time in their memory. Those long gone would have remembered it as a landmark as they ventured by boat toward the shoals of Shallowbag (once Shallow Bar) Bay, where larger vessels could shift their ballast of stone on the Point, if necessary, to ply the thin waters toward Manteo. Its sandy beaches, some recall from the stories of others, were a place of respite for wildlife or Sunday churchgoers in sailing skiffs who might have stopped to rest between one shore and another. The local folks with longer memories will talk of the Drafty Tavern and tell you that one couldn't see Ballast Point from the bar, where fights were as frequent as the beers that passed over it. Someone else will talk about a memory of bottom fishing on the oyster reef that lies in the deep channel running alongshore from the Point to the Baum Bridge. If the George Washington Baum Bridge could talk, there would be more than one version with different stories. Those who live here and those who visit come and go. Time changes people and places. And some stories are often left untold.
Today, many know Ballast Point as one of the premier neighborhoods of Pirate's Cove Resort, an island community that knows how to bring memories to those who care to linger. Designed to offer the best and most that a vacation has to offer, Pirate's Cove is a place where one may find a home, long or short term rentals, fishing, food and fun.
"This is the best-kept secret on the Outer Banks," laughs Carolyn Brooker, though she's absolutely serious. As reservation coordinator for Pirate's Cove Vacation Rentals and Property Management, she should know; she has helped hundreds of folks find just the right place to rest their heads. For her, the key to unlocking a trunk load of family fun is the bounty of elements Pirates Cove offers: quality, diversity and friendly service. "Different people have different desires," she continues. "That first contact with our guests gives us the perfect opportunity to help them find the home that will meet their needs." From the family out for a full-on vacation to the couple hoping for a quiet retreat, there is something for everyone at Pirate's Cove Vacation Rentals.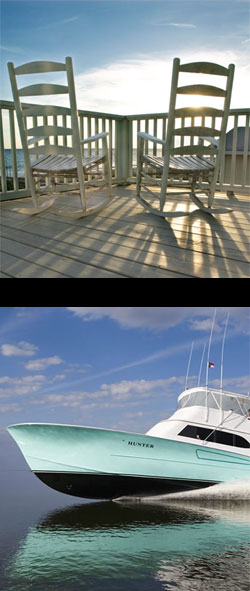 "Where else can someone stay where they can have easy access to the water and such magnificent scenery?" Brooker continues. "With more than 4 miles of boardwalks and expansive views along the waterways that surround the island, there are plenty of options for those who stay here." Want a place for the family within walking distance of the pool? Looking for wildlife? That's easy. How about a view of the Marina at tournament time? No problem. Need an elevator, event space or restaurant? How about a three-day stay - any days of the week? You can have it.
And then there is the fishing. If you have a boat, bring it with you and dock it right where you're staying. If you don't have a boat, don't worry. The staff at Pirate Cove Vacation Rentals knows where you can rent one, and it can be delivered to your dock and picked up when you're done. Or maybe you like to fish but want to stay close to home with the family. Crabbing and fishing are permitted along the boardwalks of residences. There is even a stocked pond where the Kid's Fishing Tournament occurs weekly during the season. For anglers after bigger game, it's easy to catch a charter boat right there at Pirate's Cove Marina, whether it's offshore, near-shore or inlet fishing.
Going somewhere? Its location on Roanoke Island makes Pirate's Cove the ideal place to jump off and head in any direction, allowing easy access to beaches and attractions that are only minutes or even miles away. "Besides the obvious benefits for vacationers," says Debbie Green, broker-in-charge at Pirate's Cove Realty, "we are a great central location for those on business to the area, whether someone is having a boat built or looking to buy property on the Outer Banks."
With pool and clubhouse, tennis, volleyball and basketball courts, fitness center and playground woven within the manicured landscape and pristine homes of this gated community, some find the need to go nowhere. Planned activities for children during the summer, Kid's Camp and Little Pirate's Club (Kid's Night Out) are available and well supervised. Rentals come with clean linens and the beds made. On site staff is available to address any problems that might arise, and the hardest part of the stay is turning the key to leave.
Many guests of Pirate's Cove Vacation Rentals have treasured memories of Pirates Cove. Memories made now in a setting where every home has a balcony or deck overlooking the waters and marsh that surround Ballast Point. And as Carolyn Brooker knows, sometimes the treasure is the pleasure of telling the story of a place.