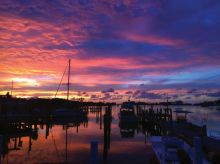 There's no end of wonders to the island of Ocracoke. From Blackbeard to wild ponies to miles and miles of some of the most pristine beaches on the East Coast, this little island has it all. But when you're on vacation, sometimes you want to boil it down to the basics. Eat, play, sleep. Repeat. So come along as we take a look at a couple of Ocracoke's most iconic spots where you can get in all the rest, nosh and fun your little vacationing heart could desire.
Howard's Pub at the north end of the village is the first restaurant you'll encounter driving south on Highway 12 into the village of Ocracoke. Serving up fresh seafood, drinks and fun for 27 years now, it's so iconic that some people make a special trip to the island just to make sure they get their Howard's fix for the year. With a large menu operating during both lunch and dinner, you'll find plenty of delicious options. Howard's is the only raw bar on the island, so you know their seafood is local and fresh. They're also known for their juicy half-pound burgers and hand-cut fries, steaks, salads and sandwiches. If you want to warm up your palette, start with munchies like fried pickles, tuna bites or lightly battered conch fritters.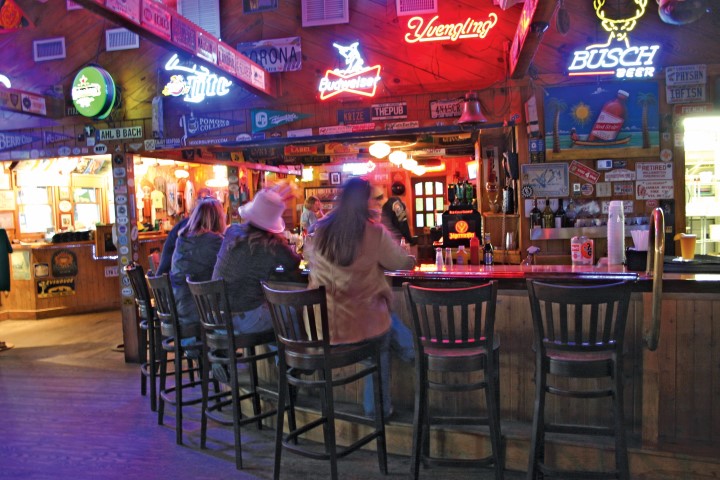 To segue into the "play" side of things, Howard's has a massive list of more than 100 bottled beers and 24 drafts, including domestic, imported and microbrews, along with a diverse wine list and a fun offering of cocktails (try a few Ocracomas if you're looking to skip to the "sleep" phase of things!). The atmosphere is fun incarnate, and all ages and groups are welcome. Kids get their own menu and meals served on a Frisbee they can take home along with a coloring book, crayons and sippy cup. Kids at heart will delight in the fun decor — license plates from around the country, college pennants, neon lights and lots of TVs. There's a screened-in porch, a quiet, enclosed tower with a view of the island and a sky deck with rocking chairs to take in the incomparable ocean-to-sound view. And if shopping is your idea of playtime, check out their gift shop with a wide selection of t-shirts, hats and Howard's souvenirs. There's often live music and entertainment as well. Howard's is open every day for lunch and dinner from mid-March to late fall.
When you want to find a comfy spot to rest your head after a day of fun and play, check out Ocracoke Harbor Inn. Like Howard's, Ocracoke Harbor Inn is a fixture on the island, with its harborfront location in the center of the village. They offer 16 rooms, seven larger suites with kitchenettes and a selection of cottages. Once you've recovered from your Ocracoma and you're ready to switch to "eat" mode again, you'll enjoy the inn's complimentary breakfast in their sunny lobby or outside on their waterfront dock. Watch the fishing boats head out in the morning, and keep an eye out for visitors like seagulls, herons, pelicans and the occasional otter.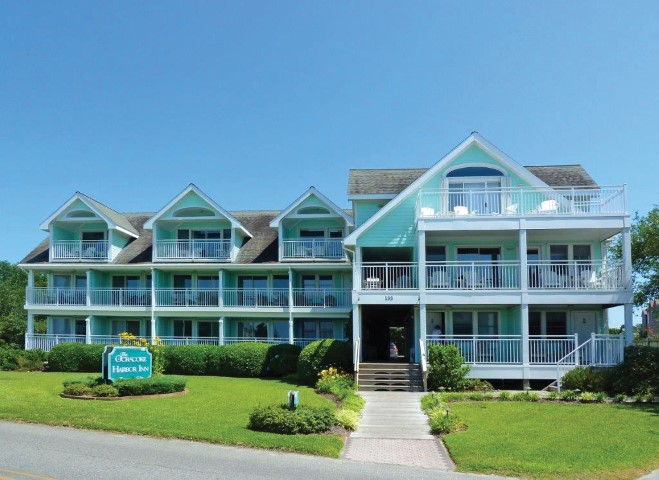 Ocracoke Harbor Inn makes it easy to stay and play right where you are with their complimentary wireless internet, free boat dockage and Jacuzzi or whirlpool tubs. You can relax on your waterfront balcony and enjoy the sparkle of sunlight on water, salty breeze and clinking maritime sounds of sailboats resting at their docks. When you're ready to venture out, you'll find yourself perfectly positioned in the middle of the village, ready to explore the island's charming shops and restaurants. The inn offers bicycle and golf cart rentals and can easily connect you with a sportfishing charter. This family-owned business has been on Ocracoke for a long time, owned by the Miller family since 1998. They know how to make a guest feel welcome, relaxed and at home. They're open mid-March through the end of November.
When the elements of eat, play and sleep are central to your ideal vacation, these Ocracoke hot spots will ensure your vacation is relaxing, satisfying and just plain fun!
---
Howard's Pub: (252) 928-4441 | howardspub.com
Ocracoke Harbor Inn: (252) 928-5731 | ocracokeharborinn.com