I love Edenton in the spring. The trees leaf out, and blossoms and blooms bring bursts of color to the walkable downtown. It's like Mother Nature waved her paintbrush over the town and left it for rest of the world to stroll through and admire. 
This time of year brings a blooming of activity in Edenton. 
After the holiday season, the town quiets for much of the winter, but the return of warmer weather and longer days brings a renewed vigor. Throughout the weeks of April, May and June, there's almost always an event going on – sometimes even multiple in the same week!
Make your plans now to visit Edenton and take advantage of all it offers during the spring – from delicious restaurant meals and luxurious inns to events that channel the town's signature character, culture and history. There will be tours to showcase different facets of the town (from historic beers to colonial homes), athletic events for cyclists and runners, music festivals, regattas and more. Through these upcoming Edenton events, you're invited to explore the town through taste, feel, sound and stories.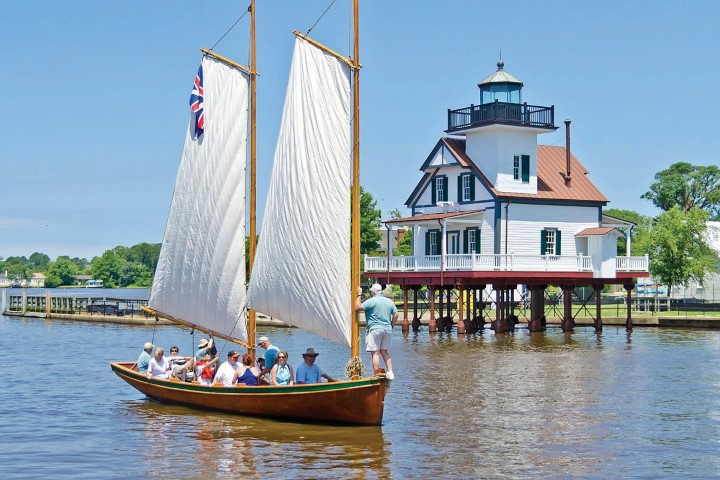 If you don't live in town, these events give you a wonderful excuse to visit. Plan to stay overnight. Feast on gourmet farm-to-table fare and seafood at local eateries. Stroll through the historic streets, admiring the restored homes and caringly cultivated gardens that make you feel like you're walking around a postcard photo. Discover Edenton this spring – its stories, culture and people – by playing, staying and experiencing.
Taverns and Trolley Beer Tour
April 6, 3:30 to 5 p.m. | Historic Edenton State Historic Site Visitors Center
This trolley tour of North Carolina beer and Edenton brews begins at the Historic Edenton State Historic Site Visitors Center and makes stops for beer tastings at Waterman's Grill, Edenton Bay Trading Co. and the James Iredell House. 
Historic Edenton Pilgrimage Tour of Homes and Countryside
April 12 and 13, 10 a.m. to 4 p.m. | Historic Edenton State Historic Site 
Visitors Center and various locations
This biennial springtime event presents historic private homes, plantations and public buildings. With horse-drawn carriage rides, history re-enactments and interpreters wearing period dress, Edenton comes alive with scenes of the town's yesteryear. 
Boogie on Broad with The Tams
April 12, 7 to 10 p.m. | S. Broad Street
This family-friendly street dance is an annual Edenton tradition on the Friday evening of the Pilgrimage Tour of Homes or Easels in the Garden. With toe-tapping beats from The Tams, come break out your best moves on S. Broad Street. 
Presidential Ball
April 13, 7 to 11 p.m. | Historic 1767 Chowan County Courthouse Green
This formal ball celebrates the 200th anniversary of President Monroe's visit to Edenton as part of his tour of the South. A music historian guides attendees in the art of Victorian-style ballroom dancing. This fundraiser supports the Friends of State Historic Sites in Edenton.
Breakfast with the Easter Bunny
April 20, 8 to 11 a.m. | Unanimity No. 7 Masonic Lodge and Historic 1767 Chowan County Courthouse
Children are invited to join the Easter Bunny for breakfast at the Masonic Lodge and then for face painting and an egg hunt on the Historic 1767 Chowan County Courthouse Green.
Cycle N.C. Coastal Ride
April 26, 27 and 28 | Downtown Edenton Waterfront
Campsites and volunteers set up throughout Edenton's historic downtown to welcome cyclists completing the Coastal Ride.
Edenton-Chowan Kiwanis 5K Race/Walk
May 4, 7:30 a.m. registration, 9 a.m. start | Start at Historic Edenton State 
Historic Site Visitors Center
This 5K invites all walkers and runners to sightsee Edenton's historic streets by foot.
Edenton Music and Water Festival
May 17, 6:30 p.m. and May 18, 10 a.m. to 5 p.m. | Colonial Park on Edenton Bay and Broad Street
This event weekend kicks off with a Guided Sunset Paddle launching from Queen Anne Park at 6:30 p.m. On Saturday a waterfront stage in Colonial Park and musicians roving Broad Street bring a variety of tunes to downtown Edenton. 
Double Trouble Regatta
May 25 and 26, 9 a.m. to 5 p.m. | Penelope Barker House Welcome Center Lawn
The 2019 RC Laser North American Championship will take place on Saturday followed by the 2019 Star 45 Region 3 Championship on Sunday.
Heritage Farm Fest
June 1, 10 a.m. to 4 p.m. | John A. Holmes High School
Celebrate Edenton's local foods, produce and farming heritage with fresh fruits, vegetables, dairy products, baked goods and meats. A Heritage Village features demonstrations from artisans, craftsmen and metalworkers for blacksmithing, dog herding and moonshine distilling. The event kicks off with the parade of draft horses, antique tractors and more down Broad Street. 
Photos Courtesy of Kip Shaw Photography