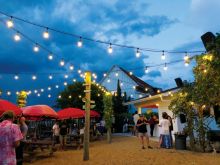 Yes, we are in the midst of a new era of social cautiousness, but that doesn't mean you can't go out for a great bite to eat and a tasty cold beer. When you've got that itch to get out, Outer Banks Brewing Station is an exceptional choice.
Space is one of the Brewing Station's greatest advantages these days, and their vast interior offers several socially distant dining areas. Under the cathedral ceiling in the main dining room, there's plenty of room for the tables to be separated for safe dining. Diners are spread out among the main floor, the cozy private alcove, the stage and the upstairs loft. In the bar area, patrons can sit in booths or at a safe distance along the pub's extra-long bar.
Of course, outdoors in the backyard under the wind turbine is where it's most safe to relax in the open air. Kick back at picnic tables or in the Adirondack chairs any time of day or night.
"It's a chill spot to hang out and enjoy a beverage while the kids play," says Eric Reece, one of the owners of Outer Banks Brewing Station. "Family-friendly is the whole point. The beer quality is a bonus."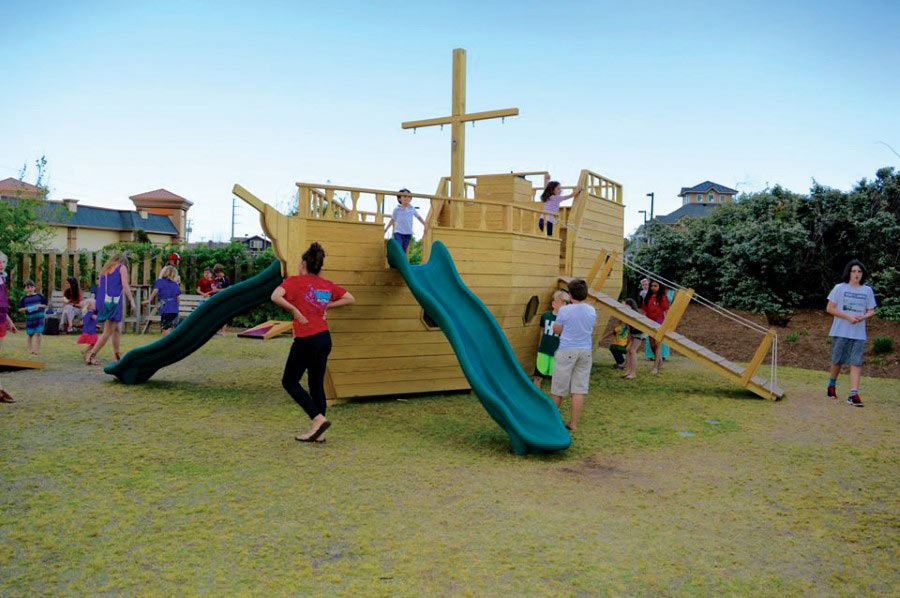 Adding to the feeling of dining security is Outer Banks Brewing Station's commitment to safe serving and disinfecting practices. "We are one hundred percent committed to food safety here," Reece says.
Regulars will be glad to know that Outer Banks Brewing Station's menu favorites are still available, including regionally sourced beef. Their ultimate pasture-to-plate offering, the beef is from cows that are fed with their own spent grain from the brewery. It's all part of what Chef Tony Duman and his seasoned kitchen staff call their menu of "contemporary American beach fusion." It's an eclectic blend of regional specialties, traditional favorites, creative combinations and vegetarian offerings. They've got seafood, burgers, sandwiches, salads, steak, pasta and entrees for everyone. They've even got gluten-free and vegan options.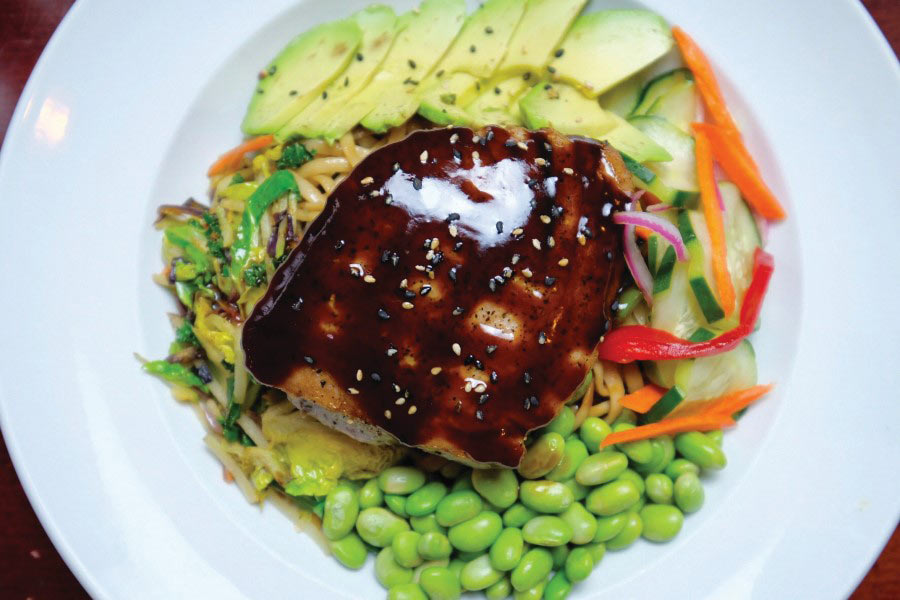 For those who'd rather enjoy a great meal at home, Outer Banks Brewing Station is also continuing its take-out menu. Spring diners were the first to get a taste of the restaurant's takeout specials, family-style dinners, fresh-baked bread and desserts to go, and they were a huge hit. Take-out will continue this summer, and of course you can also get growlers of their beer and wines by the bottle to-go.
While the food style remains the same, there are changes coming for the beer at the brew pub. This past winter the brewing team purchased a new brew house, which will allow them to produce smaller batches and be quicker to change their offerings. Stay tuned for upcoming beer news!
 
What's Brewing?
The brewers are busy around here. To give you an idea of their range, here are just a few of the brews that beer lovers have enjoyed over the last 19 years: Olsch, Lemongrass Wheat, Hoi Toider IPA, Dark Helmut lager, Local Spirit, Homegrown Saison, Hella Maibock, Meyerbock, Mocktoberfest, Hugh Hefeweizen, Closeout Nitro Stout, Red Flag IPA, Elf Crusher, Wind Swell Marzen, Santa's Little Sledgehammer, Love Pils, Stormy Roses Stout, Copperopolis, Altimeter, Monkey's Dunkel, Mad Raven Double Black IPA, Moondog ESB, Monkfest, Briney Deep Oyster Porter, Madcap Saison, Foxy Brown's Spiced Ale, Kermit the IPA, ThankYouSirMayIHaveAnother Pale, Wright Wit-ty, Ashley's Coffee Stout, Morning View Espresso Porter, Pant-a-nator Doppelbock, Dry Hopped Saison, Beach Daddy Wit and Real Deal Octoberfest.
You can enjoy a pint at the brew pub or pick up growlers, cans and bottles of their beers to go. You can also find their Lemongrass Wheat Ale in cans around town.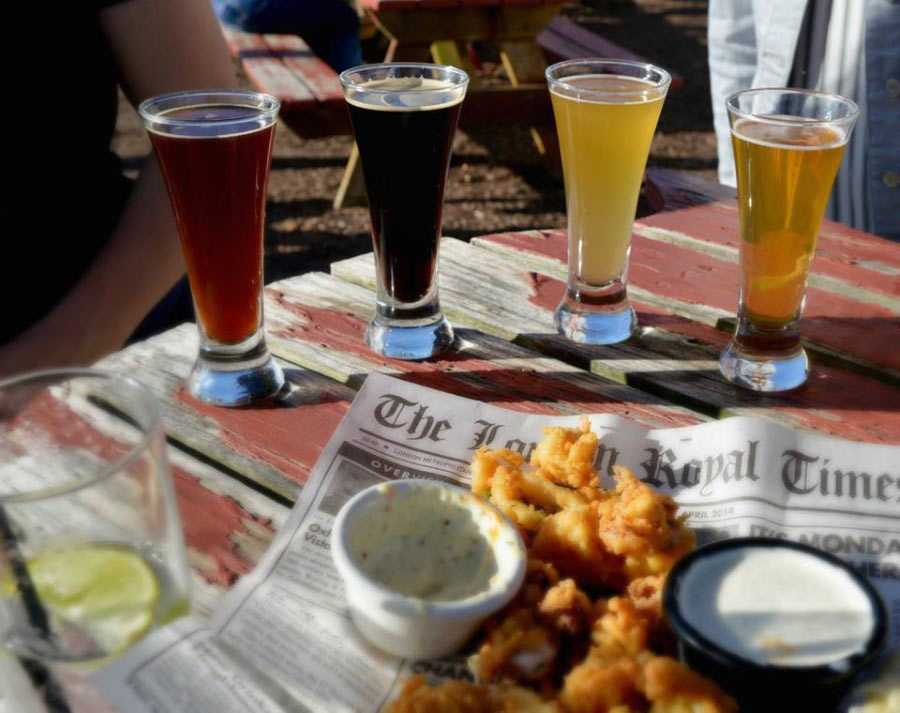 Happy Hybrids: Beer Cocktails
Combining beer with spirits, juice and other tasties like syrups and cordials is not a new thing, hence the shandy (beer and lemonade), michelada (beer, lime juice, hot sauce and salt) and boilermaker (beer and whiskey). But it is becoming a more popular thing, and Outer Banks Brewing Station's bartenders are having fun creating these beer-based concoctions. Beer adds the texture and effervescence, the spirits provide the kick, and when combined they give a cocktail great lift. They're imaginative ways to experiment with flavors and find new ways to love beer. Brewing Station bartender Alex Bradshaw created this beer cocktail, which he calls the Muscadine Sour Ale Margarita. "Sweet, sour and slightly smoky, this cocktail is your taste buds' best friend," Alex says!

Muscadine Sour Ale Margarita
1.5 ounces Hornitos Silver tequila
.25 ounce Mezcal
.25 ounce Cointreau
1 ounce Muscadine juice
1.5 ounces natural margarita mix
1 ounce Muscadine Sour Pale Ale
Margarita salt
Lime Rim a rocks glass with lime and salt and fill with ice. Add an ounce of Muscadine Sour Pale Ale.
To a shaker tin filled with ice, add tequila, Mezcal and Cointreau and shake well. Add the Muscadine juice and sour mix and shake well again.
Strain the cocktail mixture on top of the beer. Garnish with a slice of lime.
 
OBBS Family-Style To-Go Meals
In addition to the full menu and growlers to go, Outer Banks Brewing Station offers family-style meals that feed four people each. Here is a sampling of the menu.
North Cackalacky Vinegar-Based BBQ with wedge fries, house slaw & buns
Our Famous Shrimp N' Grits with shrimp & red-eye gravy
Big Daddy Seafood Platter Tempura-fried shrimp, oysters & flounder with remoulade, fries & slaw
Smoked Chicken & Ribs with potato salad, country-style braised kale & cornbread
Pu Pu Platter with Buffalo-style wings, veggie spring rolls, BBQ ribs & mozzarella sticks
Salads, sides, soup, crab dip & salmon dip are available as well.
---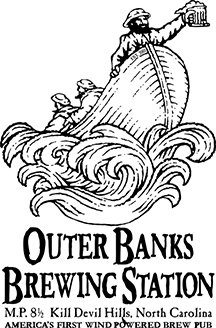 (252) 449-2739
obbrewing.com
600 S. Croatan Hwy, Kill Devil Hills