Greg and Eden Honeycutt opened Ocean Atlantic Rentals 38 years ago. Their vision then was the same as it is now: to be the source for any item visitors might need during their Outer Banks vacation — such things as beach chairs, umbrella, bikes, strollers or blenders that they didn't want to haul from their own house or maybe realized they had forgotten to bring. If you asked for it, they did their best to provide it, which in the early days even meant occasionally renting out their own stuff from home.

And though there have been changes big and small over the course of the past 38 years, including two of their long-time employees — Chris Marik and Blake Buchert — becoming involved in the ownership and management, mostly what's changed is what people are asking for these days.

Lately, what people want is an easy way to get around town and to and from the beach, so that's just what Ocean Atlantic Rentals is adding to their line up. Starting this year, they're introducing a brand new fleet of Low Speed Vehicles, or LSVs.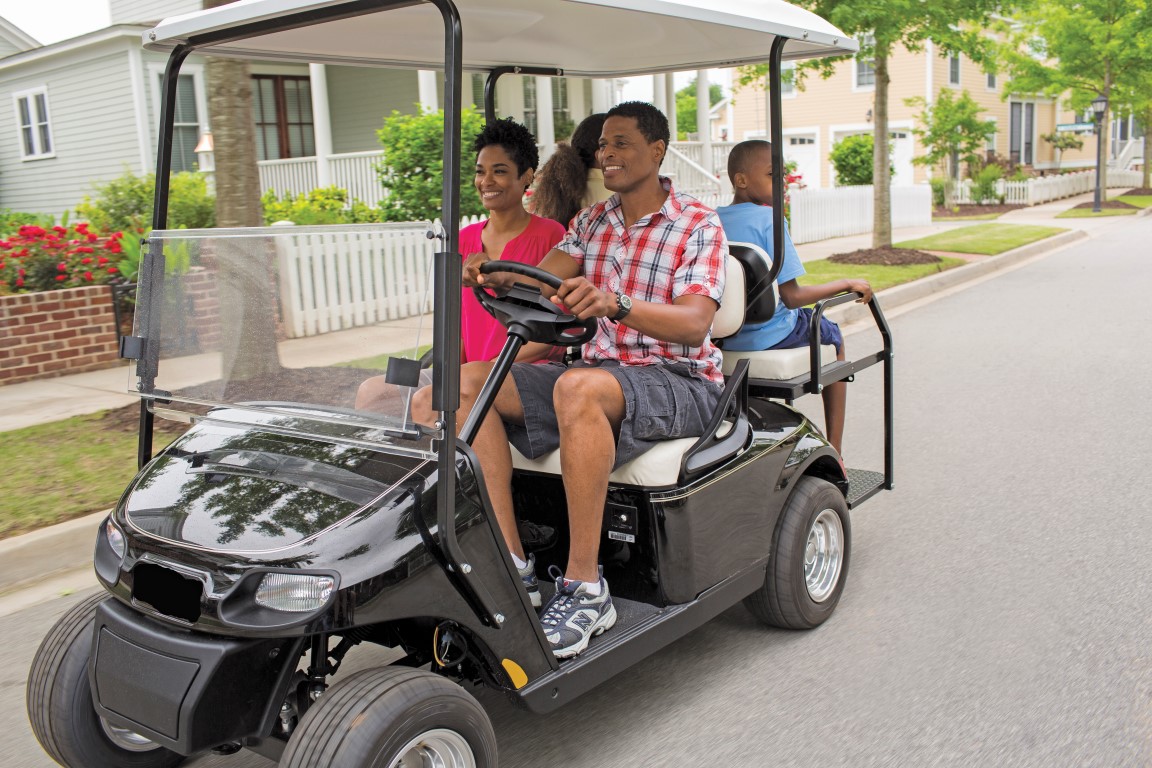 Picture something roughly akin to a golf cart — only better! LSVs are street legal on any public road with a speed limit of 35 mph or slower. On the Outer Banks that means you can drive up and down the beach road (Virginia Dare Trail) from Southern Shores to Nags Head and also mosey around town in Duck, Corolla and Avon (conveniently, Ocean Atlantic has locations in all those towns!). They go up to 25 mph, have headlights for driving at night and windshield wipers to chase away the summer storms. Each LSV has enough cargo space for a couple of chairs and an umbrella, and you can choose from a four- or six-seat model, so there's room for the whole family. You do need to be 21 or older, have a valid driver's license and proof of insurance. And, as with any moving vehicle, the driver needs to lay off the Mai Tais.

It's easy to see the advantage of having an LSV during your trip. If you're staying a block or two away from the beach, you can use them to haul all your gear to one of the many beach accesses located up and down the northern Outer Banks. No more carrying that cooler several blocks until your arms give out. Elderly or mobility-impaired folks will enjoy greater ease of access with less time spent walking. LSVs are also the perfect way to explore small, closely congregated areas like the town of Duck or Historic Corolla Park. They're all electric powered and eco-friendly, too, so you can feel good about your impact (or lack thereof) on the beautiful place surrounding you. And, while it may be hard to imagine, if you spend your trip zipping around in an LSV instead of the family car, it's entirely possible to return from your vacation without bringing the sand home with you.

LSVs aren't the only exciting changes Ocean Atlantic Rentals has made in the past few years. In 2015, due to requests from their customers, they rolled out their OBX Umbrella Service. They set up your beach chairs and umbrellas every morning and break them down for you every night. Chris Marik, now the general manager, noticed that families with young kids, who have quite enough to deal with already, are particularly fond of this service.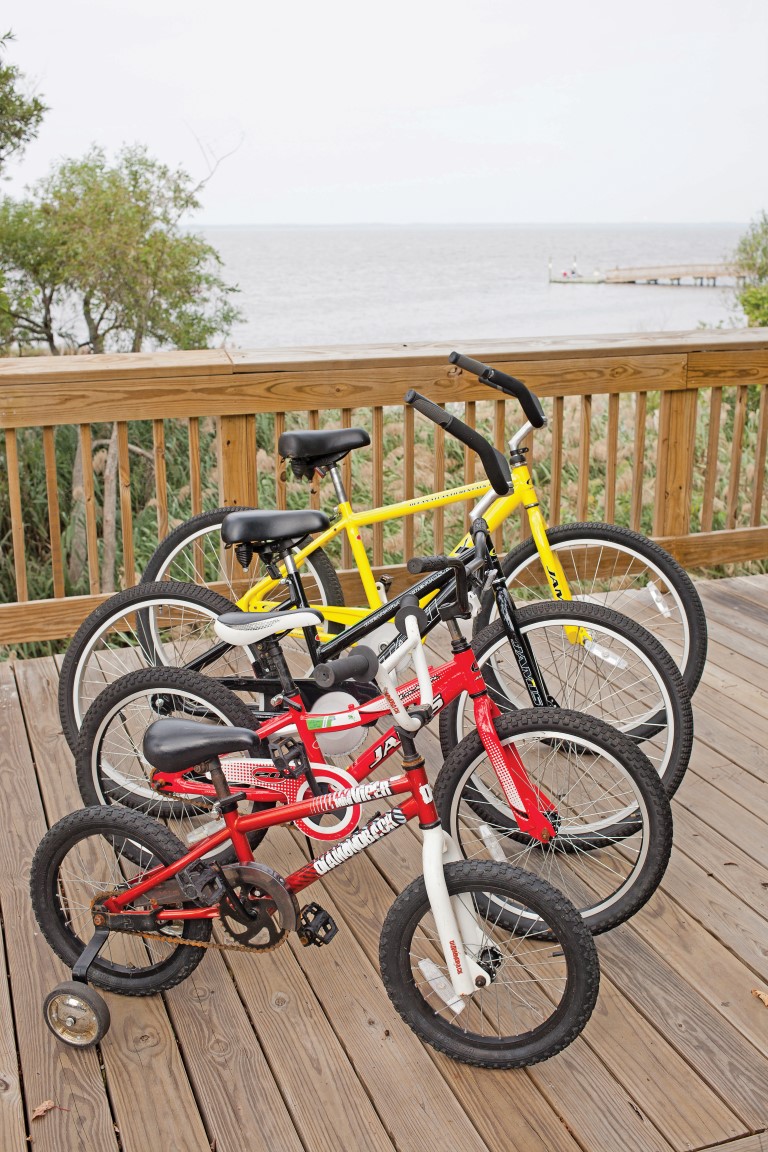 "If you're a young parent like I am, you don't need any more junk to carry to the beach. You can get the toy bag and the diaper bag, and we'll take care of the rest," says Chris.
When they started the cabana service, they also began sending texts to customers with details about their gear, and that had an unexpected, pleasant side effect.
"It became a new way for us to connect with the customers," explains Chris. "We'd send a text that says, 'Hey, I had to put the umbrella the other way today. The wind was heavy.' Then as the customer would respond, a banter would start. They might then ask, 'Where can I get a pizza around here?' We'd text back and forth and become a concierge to people who don't know much about the area."

It's just one more way to get to know their customers, to be a meaningful part of their vacation experience, something the staff at Ocean Atlantic Rentals takes pride in. With 38 years in the business, they've been around long enough to see families grow. The babies who slept in their rental cribs years ago are now teenagers renting surfboards or even adults having babies of their own.
"I love getting to know families on a personal level," says Chris. "I've formed life-long relationships."

Over the years the company has become a staple on the Outer Banks, supporting the local community by sponsoring events like the OBX Marathon or the North Banks Rotary's Nags Head Woods Run and organizations like the YMCA. 

"Caring for this community is an important part of our identity," says Chris. "There's a lot of stuff out there that we want to support. We're always thinking, 'How can we help? How can we enrich the lives of everybody living here?' That's who we are."

And they're always working hard to make vacations better for Outer Banks visitors. They've expanded from offering blue beach chairs and umbrellas to carrying baby gear, watersport equipment, bikes, barbeques, wheelchairs and top-rated wedding rentals, with stunning tablescapes by local designers. This list has gotten to be quite extensive, and it just keeps getting bigger.

"That's the exciting part of Ocean Atlantic Rentals. We're listening to what the customer is asking for," says Chris. "We evolve and try not to be stagnant. People were asking for OBX Umbrella Service, so we added it. People were asking for low speed vehicles, so we brought those in too."

It seems that, at Ocean Atlantic Rentals, if you want something, all you have to do is ask.

Ocean Atlantic Rentals is in the business of making vacation dreams into realities, and they couldn't do that if they weren't building bonds with their customers and asking them what it is they want. So they want to know, what does your Outer Banks vacation look like? Because they're going to do their best to make it happen.

The OBX RENTAL CENTER
800.635.9559  |  (252) 261-RENT
Corolla: 
Corolla Light Town Center  |  

Kill Devil Hills: 

2001 S. Croatan Hwy.


Duck: 

1194 Duck Rd.  |  

Hatteras Island: 

40809 NC Hwy. 12