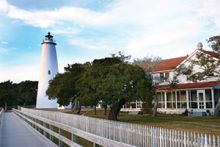 What's your favorite season on the Outer Banks? Ask just about anyone, and you'll likely be told fall or spring (or both!). It's not hard to see why either. The weather's still fantastic, the beaches are less crowded and the water's almost sure to be perfect. Now imagine spending some of that magical time on Ocracoke Island - a place that draws people from all over the globe with its unique mix of remote old-style charm and more modern amenities.
If you haven't visited before, one of the first things you'll probably notice about Ocracoke is how small it is...which, of course, is simply a huge part of its appeal. Historic Ocracoke Village proper is even smaller - just less than two square miles! But, contained within that space is more charm than you're likely to able to take in on one visit.
As you would expect - or, perhaps, hope - of an island experience, the roads here are narrow and curvy and best navigated by foot, bike or anything smaller than today's cars. Thankfully, after a new ordinance was passed allowing golf carts on the village roads in 2009, you can now leave your car behind once you arrive, call for a door-to-door cart delivery and cut right to enjoying your stay out in the open air!
John G., owner of Island Carts, has been renting golf carts in the community since the ordinance first passed, and he's been amazed by the difference it's made for people who both visit and live on the island. "Most of the roads here were originally footpaths," John explains. "They just weren't designed for the kind of traffic we have today. With the carts there's now less congestion, less noise and more room to move around and take in the sights. It just makes for a great way for everyone to experience the island!" It's also incredibly eco-friendly (all of John's carts are battery-operated), affordable and, well, fun. With carts of all sizes (the largest seats eight) that can be rented hourly, daily or weekly, you can do everything from zipping out with the family for a complete afternoon tour of the island to renting a fleet of carts for a wedding party scavenger hunt! But perhaps the best part of all? Riding around on the island in a golf cart allows you to slow down and really explore the area in a way that just isn't possible otherwise. Yep, now you're on island time. And isn't that what you came here for?
Go ahead and let that feeling of decompression sink in for a moment! Then, when you've finally slowed down enough to fully admire all the qualities of Ocracoke, especially in the shoulder seasons, you're certain to notice just how many lovely little shops there are to discover. While a number of them are clustered around the Community Square, there are plenty of others tucked away on side roads, and you can feel a bit like you've found hidden treasures if you take the time to meander through them. One of these is Bella Fiore, which is owned and operated by the incomparable potter, Sarah Fiore. Inside you'll find tons of functional ceramics in an array of vibrant colors that Sarah handcrafts in her studio behind the shop as well as an impressive selection of handmade jewelry, soaps, paintings and other accessories that Sarah's picked up over the years from other artists she admires.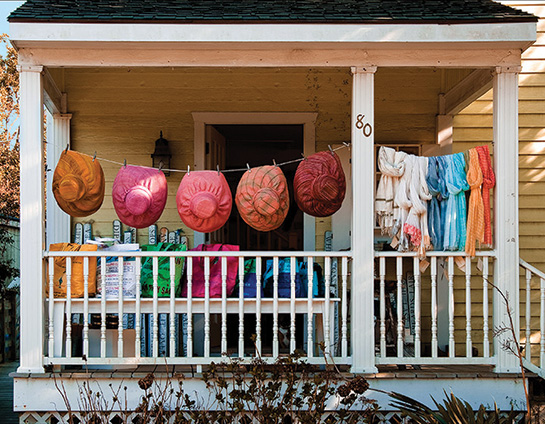 Sarah especially looks forward to the shoulder seasons because it gives her time to create in her studio and offer a larger selection of her work. Plus, since her other passion is traveling, Sarah uses her winter downtime to close up shop (generally from December to mid-March) and seek out new things to feature come spring. This year she'll be honeymooning in Vietnam, where she plans to visit and give her support to artists in a number of fair trade villages. Can't wait until she gets back? About a week before Christmas every year, either Sarah or her mother hosts an open house so that people can come hang out in the
shop, browse the sales and chat about art. It all makes for a molto bella shopping experience, indeed! It's worth planning a trip to the island for that event!
The variety of things to do on Ocracoke doesn't end there, however, and it's not surprising that a lot of the other recreational activities involve getting out on the water. Longtime sailor Rob Temple, who owns the schooner Windfall II and operates the historic skipjack Wilma Lee for the nonprofit group Ocracoke Alive, has been taking groups out on private charters and sunset cruises for years, and he also particularly looks forward to the shoulder seasons. "We generally stay open through October and reopen in April," Rob says, "But of course it's all dependent on the conditions - if the weather's good, then we're here!"
His advice? Call ahead if you know you'll be on the island at a certain time and see what's available. Not only is the sailing often better during the shoulder seasons, but Rob also enjoys having more time to offer other services he's too busy to accommodate in summer such as private sailing lessons and longer trips that can be tailored to a group's specific interests. At no additional charge, Rob can even officiate your wedding at sea if you book a private charter for a truly special kind of ceremony! In short, no matter what type of maritime adventure you're looking for, chances are that you can find it on Ocracoke. As Rob says, "No two trips here are ever exactly the same." Thank goodness for that!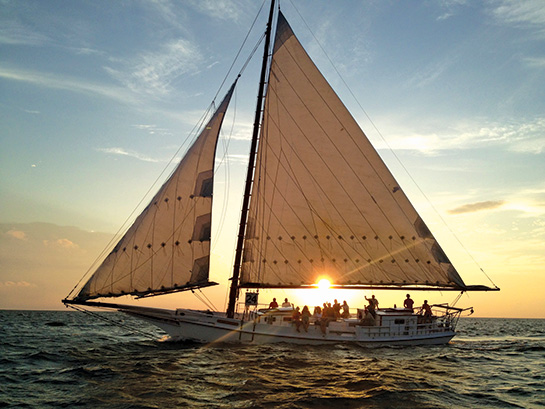 And with all these activities to choose from, the one sure thing is that you'll definitely work up an appetite while you're here. So whether you wait until the sun's gone down, or if you're looking for a great lunch spot, there's no shortage of wonderful places to eat on the island. A favorite of residents and visitors alike is certainly Jason's Restaurant. With everything from their bestselling pizza to fresh local fish and shrimp, hearty pasta dishes and creative sandwiches (which only begins to do the full menu justice!), Jason's draws in crowds no matter what the season.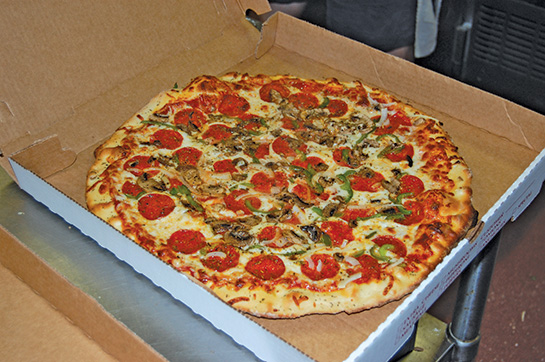 Though, like most eateries in Ocracoke, Jason's closes shop from November through February, they have the same large menu available for lunch and dinner during the shoulder seasons, plus they do catering for small weddings and other events. They even continue to offer daily specials and to spotlight different kinds of cuisines on certain days, such as Sushi Night Tuesdays and authentic Mexican dishes on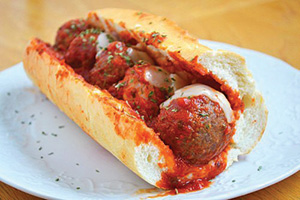 Wednesdays. For owners Jason Wells and Jimmy Bowen, who grew up on the island together and have been working beside each other in the restaurant business for 25 years, these special menu additions are all just part of keeping up the fun diner-style atmosphere that's so characteristic of Jason's. And if you can't be here in person but you still want to keep up with all their daily details, no worries: Jason and Jimmy love keeping in touch via Facebook and Twitter; follow them now and be in the know at all times!
If all these options already (and understandably) have you craving some island time, don't forget that a visit to Ocracoke can always make a lovely day trip... but you might just find that by the end of the day you won't be ready to leave. Luckily, you don't have to! Ocracoke Harbor Inn, which sits right beside Silver Lake Harbor, offers a number of accommodations that feature some of the most scenic views you can find on the island. Space is never an issue either, since you can choose from a regular room to one of their larger suites, some of which come complete with a Jacuzzi and a kitchenette. They also have a two-bedroom apartment on the premises that's available for larger parties, and even though the inn closes from December to mid-March, they still offer one-, two and three-bedroom cottages at various locations on the island year round.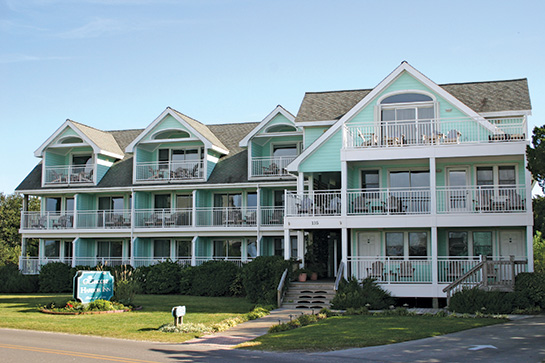 The Miller family, who has owned the property since 1977, really enjoys working with visitors in the shoulder seasons too, since they find that they get to meet people from all over who often return again and again during their favorite time of year. "There's a certain kind of romance to it," Sharon Miller explains. "You meet lots of couples of course, some who have just gotten engaged - who then come back for their honeymoon, and later their anniversaries! - as well as close-knit groups of friends and families. It's just a quieter time here on the island, and people appreciate being able to relax and enjoy themselves without a lot of distractions."
Relaxing, romantic...whatever you choose to call it, it's hard to deny that Ocracoke is a special place no matter what time of year you visit. But if you haven't yet had the chance to experience the island's extraordinarily beautiful shoulder seasons, you might just want to ask yourself: Will it be fall or spring? Shoot! Why not choose both!
cruise the island
Island Carts
216 Irvin Garrish Highway
(252) 928-0090
shop at
Bella Fiore
80 Back Road | (252) 928-2826
eat at
Jason's Restaurant
1110 Irvin Garrish Highway
(252) 928-3434
sail
Schooner Windfall II & Skipjack Wilma Lee
288 Irvin Garrish Highway
(252) 928-SAIL
rest your head at
Ocracoke Harbor Inn
144 Silver Lake Road
(252) 928-5731 or (888) 456-1998