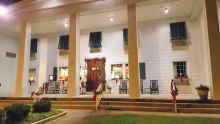 You know how wonderful the beach is in the summer, but have you ever experienced the magic of the Outer Banks in fall and winter?

Before you say "too cold!" consider that the Outer Banks' average temperatures are typically in the 70s in October and often in the 60s through December. And at this latitude, the Atlantic Ocean is swimable, if not necessarily warm, through October. Thanks to the proximity of the Gulf Stream, the Outer Banks' winter temperatures are warmer than nearby areas of North Carolina and Virginia. 

But the perks of the off-season go way beyond a temperate climate. On the chilly sunny days of fall, the Outer Banks takes on a new beauty with crisp, bright colors and fresh, salt-scented air; in contrast, on a cold, gray winter day, the prevailing north winds create monochromatic seascapes of wild gray ocean with billows of white foam.
Beyond natural beauty, one of the best things about fall and winter is the lack of crowds. You can enjoy huge stretches of beach almost all to yourself, getting to those shells and hunks of sea glass before someone else swoops them up. You can walk into any restaurant you like and find a table, and you can decide to do things like kayak or standup paddleboard on a whim, without making plans in advance. You can walk maritime forest trails without pesky flies for company, and, of course, you can find a better selection – and better prices – on places to stay.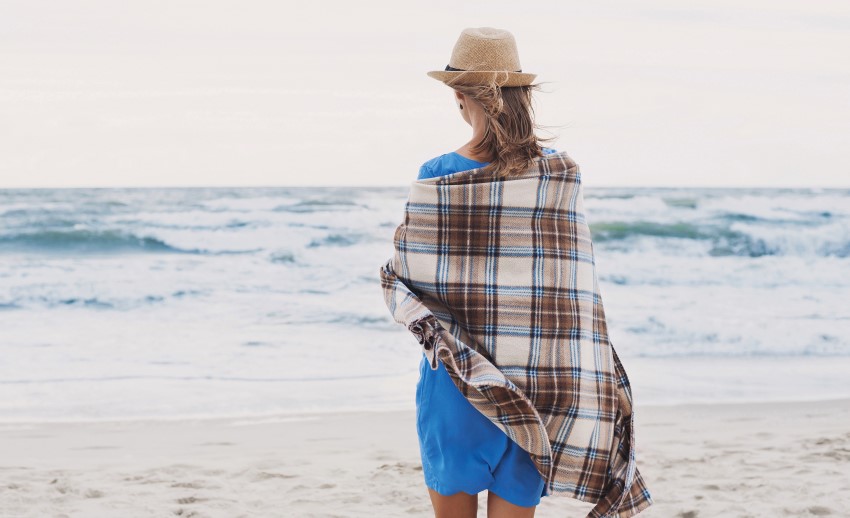 That brings us to an important decision: where to rest your head. Since the rates drop, there's no reason you shouldn't pick an oceanfront location in the off-season. 
Imagine returning from your winter beach walks and cool-weather adventures to a cozy lobby warmed by the glow of a real, wood-burning fireplace. Imagine wrapping your chilly fingers around a mug of warm cider and nibbling tasty cookies as you lounge on the leather sofas by the fire.
 
At Days Inn Oceanfront Wright Brothers in Kill Devil Hills, this is exactly what you'll do. General manager and co-owner Tess Judge says it's her favorite time of year. She loves decorating for the fall season and the holidays, and she loves the nightly gatherings around the fire with cider and cookies.  

"That fireplace draws many repeat customers," she says. "Once people have experienced the home-like coziness of our lobby, they want to return again and again."
While the lobby is truly something special, it's the whole package of the Days Inn Oceanfront Wright Brothers that beckons visitors no matter what the season.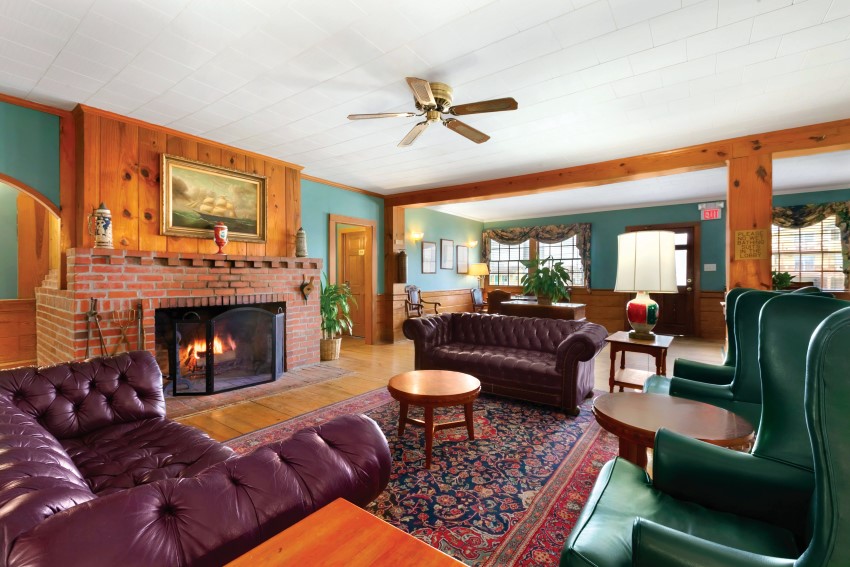 One of the things people love best about Days Inn Oceanfront Wright Brothers is the nostalgia it evokes. With its kitschy and now so trendy motor-lodge feel, the distinctive two-story building with dramatic wings is decidedly old-school Outer Banks. But with its fresh coat of white paint, coastal shutters, porch rockers and welcoming front door, you can tell that it's fully modernized nostalgia. 

The inn does indeed have a wealth of history, which is well documented in the black-and-white photos and memorabilia in the lobby. It started in 1939 when Thomas and Annie Baum opened the Wilbur Wright Hotel on the oceanfront just across the way from the Wright Brothers National Memorial. Soon after, their daughter, Diane Baum St. Clair, opened a hotel next door, the Orville Wright Motor Lodge. The two inns flourished side by side for many summers until 1978, when a rogue waterspout completely destroyed the Wilbur Wright Hotel. After that, Diane renamed the remaining hotel as the Wilbur and Orville Wright Motor Lodge. Tess, her late husband, Warren Judge, and partners in Wilbur Wright Associates bought the lodge in 1987, adding their own touches and incorporating numerous cottages to rent for their guests. The inn eventually affiliated with the Days Inn franchise in what is now the Days Inn Oceanfront Wright Brothers. The hotel has the distinction of being one of the longest continuously running hotels on the Outer Banks, and it's one of the Days Inn franchise's top-rated locations.

Tess is equally proud of the inn's character, including the original pine wood accents and welcoming front porch, and of its modern upgrades like high-speed WiFi, flat-screen TVs and contemporary decor. The rooms are individually decorated, not cookie cutter at all, and feature different artwork, accents and elements that evoke a modern beach aesthetic. There are 54 rooms in all sizes, from cozy queen rooms to king suites with sitting areas and wet bars. Some rooms overlook the dunes and ocean, while others face the interior and offer porches with Adirondack chairs for lounging. 

Hotel guests enjoy a hot breakfast included in their stay plus afternoon snacks and access to the Outer Banks Family YMCA for fitness and recreational opportunities. An expansive oceanfront barbecue area with a grill, brick patio, picnic tables and a volleyball net is open for guests anytime, and an outdoor pool is available in summer.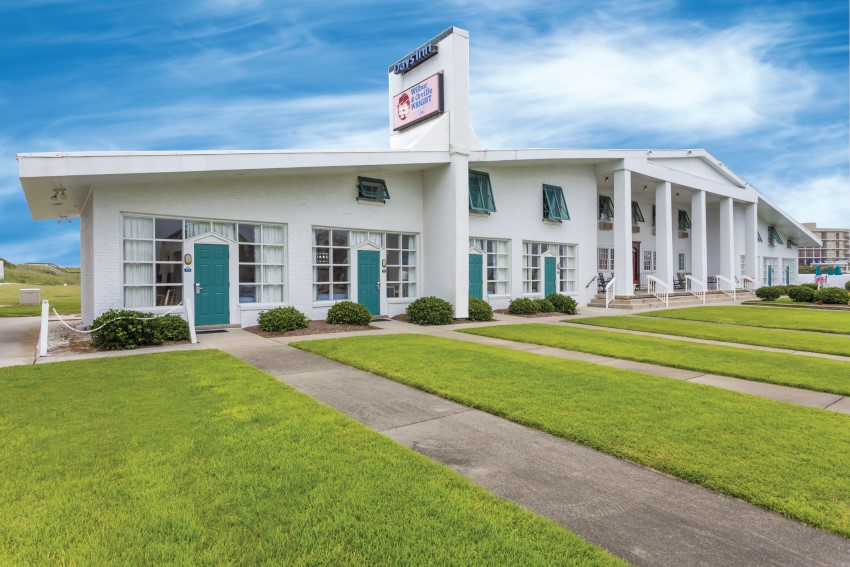 Another appealing aspect of the Days Inn Oceanfront Wright Brothers is its cottage court and cottages. The inn has 20 onsite cottages of all sizes. As in the hotel, Tess herself tastefully decorated and continually updates the cottages, keeping them ship-shape for her guests. The cottages range from two to eight bedrooms and are standalone homes similar to vacation rentals, though renters are welcome to use the hotel's pool and barbecue area. The cottages are in close proximity, making them convenient for groups of families and friends who want to stay close by but not together in the same house.

Large groups for events like weddings, reunions, civic trips and social outings love the Days Inn Oceanfront Wright Brothers for its choice of 
accommodations options, and school groups love it for its proximity to Wright Brothers National Memorial. 

Situated in the heart of the Outer Banks in Kill Devil Hills, the hotel is conveniently close to some of the top local attractions and restaurants. It's right between Nags Head and Kitty Hawk, and equidistant from Duck and Roanoke Island, making it the perfect home base for exploring the Outer Banks.

And when you return home at the end of your day, you'll be greeted by one of the most friendly and welcoming hospitality teams on the Outer Banks. Winter, spring, summer or fall, Days Inn Oceanfront Wright Brothers provides the warm embrace of Outer Banks history while providing modern accommodations and amenities.