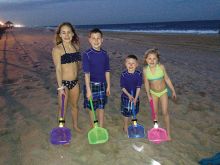 It's a breezy summer evening after a hot day on the beach. Dinner is over, wet bathing suits are hung, sun-touched skin is cooled...and the young ones are restless! What's there to do now? Being the creative parent that you are, the idea of plopping them in front of the TV or allowing one more text message to be sent by the teenagers is just not quite sitting right. We're on vacation! Time to put down the devices and head outside for an adventure!
Under the moon on Outer Banks beaches, critters are scurrying! Ghost Crabs! They're everywhere, zipping across the sand, diving into holes. Kids - who, as we know, tend to act the same way - are entranced. All they need is the gear and they're off and running, having some of the most fun they've probably ever had and creating memories that last a lifetime...and they don't even need sunscreen!
What gear do they need? Well, the three guys behind GhostCrabbing.com have that all figured out for you. Themselves the father of a total of 10 kids who have been mighty ghost crab hunters for years, they've had the chance to beta test on their own crew. And what they've developed isn't high tech or expensive. It's just smart. When you buy an Illuminet, you get the only product developed specifically for ghost crabbing, and it has everything you need (including batteries). Every Illuminet includes a durable ghost crab net, a waterproof LED flashlight that attaches to the pole of the net with a clamp and a rainbow-colored LED visibility bracelet that makes it easy to keep track of kids on the beach (lots of kids don them as jewelry for days after the hunt). The attachable flashlight leaves one hand free so you're not laying the light in the sand every time you put your captured ghost crab into a bucket. The Illuminet also comes in five colors so that each member of your crew can have their own identity.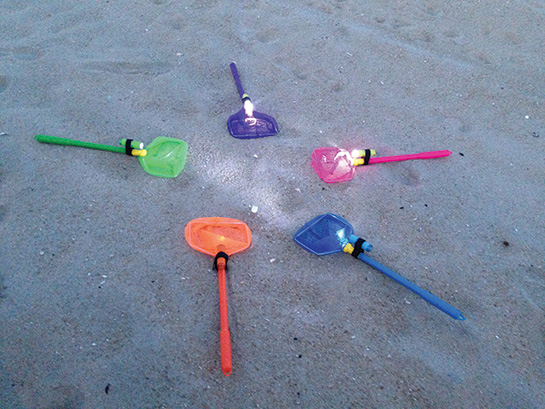 You can buy the Illuminet™, apparel and gear at their website. And, while you're there, share your experiences so others can join the fun.
You can imagine that the dads who would spend their time creating this fun for their kids - and for you and yours - would also come up with creative games you can play while you're ghost crabbing: The Crab Dance, Catch the Most Crabs, Moby Crab. It's a hoot, and everyone from ages 2 to 92 has the time of their life. We love the idea of how the glow-in-the-dark moving dance, with the colorful glow from the flashlights and bracelets, must look to those watching from afar. Moon dance.
Of course, you're always expected to release the crabs and to treat them kindly as they provide such entertainment for you.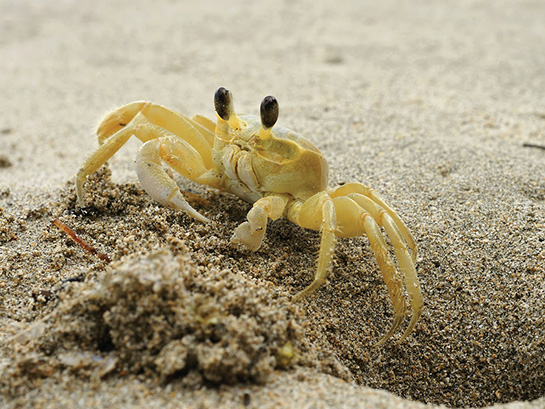 This year, GhostCrabbing.com has donated Illuminets™ to Jennette's Pier for use in their Creatures of the Night Program held in the evenings all summer long.
You can buy your Illuminet™ at close to 70 stores on the Outer Banks or from their website before
you're on the Outer Banks. They also now have sales out of Florida, Virginia Beach, Myrtle Beach, Topsail Beach and Kure Beach.
If you aren't already convinced what a fun activity this is, here's a little story: The very first order the guys got on their website was, unbeknownst to them beforehand, from a woman who they all knew in elementary school! And she said that her kids loved ghost crabbing so much that they chose a trip to the Outer Banks so they could do it over a trip to Disney World! That's some strong endorsement.
So, grab an Illuminet™ and let's all meet under the moon!