Team meetings, conferences and retreats – oh my!
  
In an effort to elevate these inevitable aspects of business into constructive, memorable and actually fun occasions, many companies and organizations are turning to the concept of destination meetings. Similar to destination weddings, these retreat-style meetings bring everyone together in a cool location that inspires team building and success.

Corporate event experts will tell you that the success of a destination meeting comes down to two factors: location and facilities. You need a location that will keep attendees happy during their free time as well as a facility that has all the resources for efficient meetings and productivity. 

Enter Sanderling Resort. Well known as the only Four-Diamond, full-service Outer Banks resort and wedding venue with an upscale beach-town vibe, Sanderling has also positioned itself as a top East Coast corporate meeting facility. Thanks to its beautiful barrier island setting, functional facilities, superb food service and wealth of event and recreational amenities, it's easy to see why meeting planners love the Sanderling just as much as meeting attendees do. The whole package of the resort comes together in what the staff at Sanderling Resort calls "the art of the retreat."

Sanderling has been hosting successful corporate meetings for years. But it's the newly expanded and renovated Event House that takes the executive meeting to a whole new level. The oceanside Event House is entirely private and offers two levels of meeting space plus a sound-view boardroom, breakout space, a large foyer with room for exhibits, lower and upper level decks and a fire pit. The Executive Board Room seats up to 13 guests in ergonomically designed chairs and includes a smart TV, in-room food and beverage setup and plenty of windows providing energizing natural light. The new Event House opened on April 30, 2019, and has been an immediate hit with corporate groups from Virginia, Research Triangle Park, the D.C. area and beyond.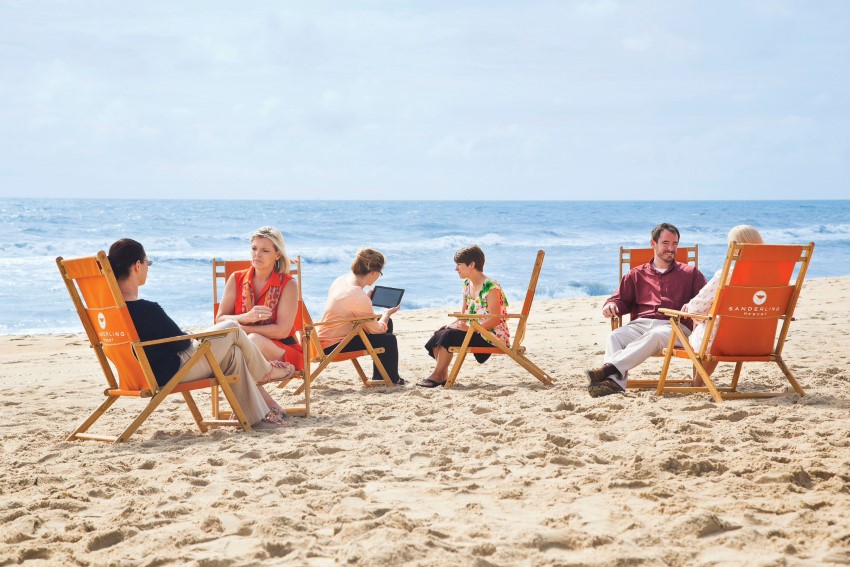 "This is a great facility," says Wendy Murray, director of sales and marketing at Sanderling Resort. "It gives groups everything they need in an aesthetically pleasing, functional space."

The Sanderling's other event spaces can also be purposed for corporate events. The Historic Keeper's Loft atop the Historic Lifesaving Station Restaurant is perfect for intimate events and meetings of up to 50 people. The oceanside Event Lawn can accommodate up to 180 guests for receptions or dinners, while the covered, climate-controlled, 4,200-square-foot Soundside Pavilion has room for up to 180 guests with sunset views overlooking Currituck Sound. Kimball's Kitchen soundfront restaurant can accommodate private functions of up to 60 guests and also offers a unique breakout space. All of these event and meeting spaces are accessible, private and perfectly outfitted for productive meetings and gatherings. 
Upping the convenience factor is the fact that all attendees can stay on site. Sanderling Resort offers 123 guest rooms and suites and five vacation homes. One or more of the homes can be used as hospitality space, where everyone in the group can gather socially beyond the meeting space. 
It's easy for guests to unwind, destress and slip into a creative state of mind at Sanderling Resort. The oceanfront setting provides the elemental conditions of sea breezes, salty air and swaying sea oats, while the resort facilities give the feeling  of timeless elegance. "It's beach casual but upscale at the same time," Wendy says. "There's no stuffiness." 
Outside of the scheduled itinerary of meetings and events, guests can enjoy the beach, indoor and outdoor pools, fitness center, spa treatments, indoor and outdoor lounge areas, watersports and all the shopping, dining and recreation in the northern Outer Banks towns of Duck and Corolla.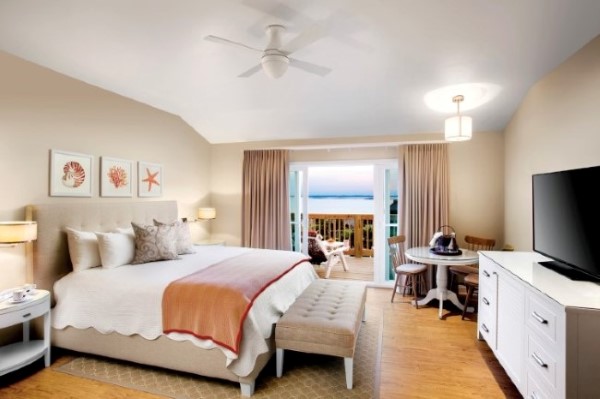 Sanderling's premier hospitality service provides onsite catering for breakfast, lunch, dinner, snacks and late-night fare before, during and after events. Choose from buffets, chef-attended stations, plated meals and self-serve options. Well-organized, themed catering menus make it quick and easy to select meals and snacks for the course of the meeting duration. And to keep your team motivated and alert, you can order in hula hoops, jump ropes and even 5- to 10-minute chair massages during your breaks. 
Perhaps best of all, Sanderling Resort has meeting planners on staff to help you pull it all together seamlessly and attend to your needs throughout your stay. Corporate clients have commented on the attentive staff, professional service and security of the meeting locations. 

"While we had three rigorous days of meetings, having them in a cheery room full of natural light and an ocean view made a real difference," said one client from MeadWestvaco. "Our group agreed it was the best offsite so far and could not stop talking about how beautiful the property was and how good the food was."

Another client, from BASF – The Chemical Company, commented, "The staff was accommodating and attentive to our needs. They were able to provide immediate assistance with any technological issue and kept the location secure while not in use. The team and staff were very professional and provided courteous service at all times."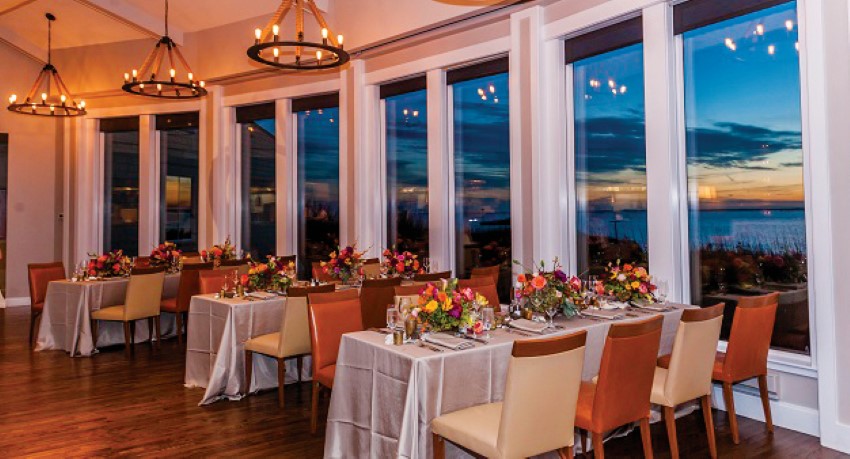 The same Sanderling Resort facilities and amenities that make for great destination meetings and corporate events make for excellent events of all sorts – reunions, retreats, rehearsals, weddings and celebrations included. The Event House, Event Lawn and Soundside Pavilion, in addition to Historic Keepers Loft and Kimball's Kitchen, can hold events of all sizes, and Sanderling is one of the most popular destination wedding sites on the Outer Banks.

Wendy notes that the beautiful and functional Event House is just as good for weddings as it is for meetings. "For a casual wedding, it's perfect," she says. "Couples love beach-casual aspects, like the decks, firepit and access to the lawn. For more elaborate setups or larger groups, couples prefer the blank slate of the pavilion."

Whether you're strategically setting business goals, toasting a newly wedded couple or gathering with like-minded souls for a retreat, Sanderling Resort has the space, amenities and facilities to pull off any event without a hitch.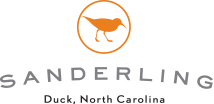 (855) 412-7866 | 1461 Duck Road, Duck
sanderling-resort.com