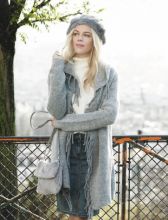 Lady Victorian might be located at the beach, but that doesn't mean you can only shop here for resort wear in the summertime. This treasure trove of contemporary fashion is open year round and is always bringing in new fashions that help customers transition between seasons with style.

The range of women's clothing styles at Lady Victorian extends beyond the beach. Yes, you can find the perfect outfit to wear to an upscale dinner, but you can also find tailored office wear, cocktail attire and unstructured weekend wear that will impress your big city friends and make you feel hip and confident no matter where you are on the planet.

Just listen to what Maureen, a customer from the D.C. area, had to say on social media, "Northern Virginia friends: You won't find a boutique near us that carries this vast a selection of classy casual clothing and accessories combined with personal service. You can find sophisticated and appropriately hip outfits if you're 30 or 60, short or tall, large or small. This isn't your typical beach clothing store in any way – it's a destination!"

Let the staff at Lady Victorian, located at Wee Winks Square Shopping Center in Duck, help you express your personal style no matter what the season or where you live!

(252) 261-1654
1216 Duck Road, Duck
ladyvictorian.com