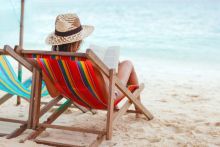 There's little as relaxing as having a good book stuffed with paper pages to sink your mind into while stretched out in a lounge chair or on a beach towel. Four Outer Banks bookstore owners, experts in what's hot in reading, have provided their summer picks that range in genres from historical fiction to real history, enlightenment to humor and mystery to psychology.
---
Bill Rickman of Island Bookstore in Kitty Hawk, Duck and Corolla recommends:
Love and Ruin by Paula McLain, author of the New York Times bestseller The Paris Wife. The historical fiction novel is about Martha Gellhorn's marriage to Ernest Hemingway. After they divorced, she became one of the most famous war correspondents of the 20th century. Both were journalists and, when Hemingway's professional light became the brighter with the publication of For Whom the Bell Tolls, she was faced with a choice: live in his shadow or travel her own road.
Mystery-lovers should reach for The Word is Murder by Anthony Horowitz. The New York Times bestselling author put his own spin on the classic crime novel by inserting himself into the book as a modern-day version of Watson. Diana Cowper's murder draws a hesitant Horowitz into a partnership with eccentric detective Daniel Hawthorne. Who killed the woman who just planned her own funeral isn't the only mystery lurking in the pages that readers won't want to stop turning.
Calypso by David Sedaris is the perfect book for that dash of laughter that makes life tastier. Known for his penchant for looking at life through a foggy lens of humor, Sedaris buys a get-away beach house only to find that you can't get away from yourself. He captures readers by luring them into his seemingly mundane family life only to shock them into laughter – a comedic guerilla warfare of sorts. In Calypso, he opines that if the best is yet to come, it better arrive soon because time is running out.
1177 Duck Rd., Duck | (252) 261-8981
1130 Corolla Village Rd., Corolla | (252) 453-2292
3712 N. Croatan Hwy., Kitty Hawk | (252) 255-5590
islandbooksobx.com
---
Gee Gee Rosell of Buxton Village Books in Buxton recommends:
Warfield Bride by Bronwyn Williams is fiction that combines the historic and cultural aspects of the U.S. Life-Saving Service on Hatteras Island with romance and sense of place. The story revolves around Penn Warfield, Keeper in charge of the Paragon Shoals Life-Saving Station, and off-islander Hannah Ballinger. The couple becomes the focal point for introducing readers to family life and the importance of those ties on the island. Bronwyn Williams is the shared pen name of native Hatteras Island sisters Dixie Burrus Browning and Mary Burrus Williams who have co-written 17 historical novels. 
12 Rules for Life, an Antidote to Chaos by Jordan Peterson is a balanced and considered blend of science and psychology.  The book has been hailed as a "must read" and included on the bestseller lists of the Wall Street Journal, Washington Post, Reuter's and USA Today. The contemplative book offers 12 rules for living life in a manner that entertains, informs and inspires. Notably, it removes happiness as a goal and replaces it with purpose and responsibility.
Forest Bathing by Dr. Quing Li is about the art and science of how trees can improve health, both physical and mental. Qing Li is an expert in forest medicine. A medical doctor at Tokyo's Nippon Medical School, he has been a visiting fellow at the Stanford University School of Medicine. Society has become nature deprived, and Qing Li promotes using nature to regain spiritual and physical health. Studies have shown that shinrin-yoku, or forest bathing, can promote health and happiness by reducing stress levels and blood pressure, strengthen immune and cardiovascular systems, boost energy and even help with weight loss.
47918 Hwy. 12, Buxton
(252) 995-4240
---
Leslie Lanier of Books to Be Red on Ocracoke Island recommends:
For those who seek to have a better understanding of the past, We Were the Lucky Ones by Georgia Hunter tells the individual stories of her large extended family during the Holocaust. Each faced a different set of circumstances as they attempted to survive the atrocities of the Nazis' violence toward Jews. Forced labor, assumed identities, ghettos, death camps and working with the resistance underground were just some of the fates the family members faced. Some survived; others did not. Telling the stories from a wide range of unique perspectives allows readers an opportunity to better understand the important role that luck can play in lives.
Escape From Aleppo by N.H. Senzai offers insight into the complicated situation in Syria that has resulted in thousands of deaths and thousands more attempting to flee the country's violence. The story follows 12-year-old Nadia whose family decides to flee their home in Aleppo, Syria, after the Arab Spring sparks a civil war. The novel explains the international refugee crisis and tells the story of one girl's journey to safety.
Ocracoke (Images of America) by Jeanie Owens is a history-lover's dream come true. Owens has put together a pictorial history of Ocracoke Island which, after more than 400 years since being inhabited by pilots who helped ships navigate the dangerous shoals, remains accessible only by air or sea. The island is now part of the Cape Hatteras National Seashore maintained by the National Park Service, and its village has retained its resilience and independence.
34 School Rd., Ocracoke
(252) 928-3936
---
Jamie Anderson of Downtown Books in Manteo and Duck's Cottage Coffee & Books in Duck recommends:
Lost in the Beehive by Michele Young-Stone, author of Above Us Only Sky and The Handbook for Lightning Strike Survivors, has been chosen as one of Oprah's best warm weather reads. Set in the 1960s, Gloria Ricci has been serenaded by the hum of bees most of her life. They hummed when she was a teen sent to gay conversion therapy, when she joined the artists and migrants in Greenwich Village and when she felt love and loss. It's only when she needs them most that she discovers why they're there.
Secret Token: Myth, Obsession, and the Search for the Lost Colony of Roanoke by Andrew Lawler takes a fresh look at what happened to the lost colonists. The token referred to in the title are the etched letters Cro in the bark of a tree and Croatoan on a post found when John White returned from England with supplies. Lawler tracks down those historians absorbed by the questions that remain unanswered, and he finds fresh leads. 
Bestselling author Mary Kay Andrews' High Tide Club is the perfect book for those hankering for an authentic beach read to pack in the tote bag. This entertaining read has humor, ties of friendship, betrayal and attempts to make amends for past misdeeds. Knowing her life is mostly behind her, 99-year-old Josephine Bettendorf Warrick enlists the help of a young female attorney to ensure that the 20-acre island she owns is not spoiled after her death. And she needs assistance in making amends to her three late friends by bringing together their descendants for a reunion on the island. 
1240 Duck Rd., Duck | (252) 261-5510
105 Sir Walter Raleigh St., Manteo | (252) 473-1056