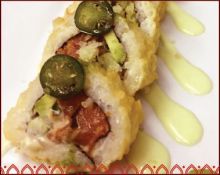 There's an undeniable wow factor to stepping inside BuddhaLicious, one of Corolla's newest restaurants. Decorated tastefully with a variety of Asian art, the hip but also casual interior feels open and inviting, a sanctuary for diners looking to get off the beaten path and experience something truly extraordinary. But while they may be one of the new kids on the block, owner and chef Todd Bryant easily explains how BuddhaLicious's actual conception was a long time in the making. 

Drawn to travel after growing up overseas, Todd was pursuing a degree in International Studies at The University of North Carolina in Chapel Hill when he started working under Ben Barker and Scott Howell at the legendary Durham restaurants, Nana's and Pop's. Not only did he discover a passion for good food that turned him onto a completely different career track, but he was also lucky enough to have some of the best mentors he could have hoped for. "Scott taught me almost everything I know," Todd says. "It's a legacy that I'm really proud of." 





Newly inspired by the culinary arts, Todd went on to build an impressive reputation for working at many of the finest restaurants on the Outer Banks and even spent a year cooking with master Chef Charlie Palmer in Los Angeles. When the time came to open his own place, Todd drew on his love for international cuisine and got cooking…literally. For a full year before he opened his doors in Corolla, Todd spent every spare moment experimenting with recipes and flavor profiles that went outside the box. Noticing that Corolla in particular had many great restaurants but no Asian food, Todd increasingly found himself gravitating toward dishes inspired by the complex flavors found in countries such as Vietnam, Thailand and China.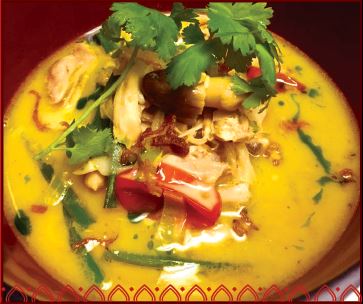 The result? In 2014 BuddhaLicious burst onto the scene with a fresh take on Asian-inspired cuisine that made everyone sit up and take notice. Not content to simply replicate traditional Asian fare, however, Todd focused his efforts on crafting an original menu that fused those more exotic flavors with a comfortable Southern style all his own. For Todd, taking this route also meant taking on the added challenge of not cutting any corners — whether that meant sourcing everything as locally as possible or making everything from soy sauce to kim chi from scratch. "We're a bit at the edge of the world out here," Todd says with a laugh. "I think that last year people weren't exactly sure what to make of us in the beginning."

As the flood of rave reviews BuddhaLicious quickly garnered indicate, however, once people tried it they found it irresistible. Understandable when you can imagine delicious lunch and dinner appetizers such as Bangkok Corn Fritters with housemade pimento cheese, lightly spiced Khmer Crispy Broccoli tossed with white pepper aioli and Korean Pork Buns. Numerous entrees will also have your mouth watering with items that include Sri Lankan Black Curry Duck, Japanese Grilled Miso Salmon and Thai Spicy Drunken Noodles with fresh local basil, plus an astonishing list of sushi, including standouts such as their gluten free California Roll and their pimento cheese drizzled Bacon and Eggs Roll with tender pulled pork and caramel bacon over sunny side egg sauce. Up for something even more decadent? Try their crème brulee like you've never had it before. Served with Asian coconut butter cookies after the cream's been steeped with galangal (a root spice similar to ginger) and makrut limes, this is a dish you won't soon forget!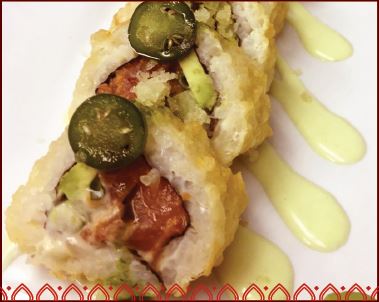 And while the dining is nothing short of spectacular, the drink menus are also in a class all their own. It's the chance to discover an array of wines (yes, even reds!) that pair well with seafood and sushi, specialty cocktails that feature housemade bitters and fresh-squeezed juices such as their Polynesian Mai Tai and the Dragon Rei (with Grey Goose vodka, citrus juices, coconut nigori, lychee and lemon oil) and the most extensive list of sakes found on the Outer Banks. In fact, BuddhaLicious is one of thelargest sake buyers in North Carolina, and they offer a full menu of six different sake classifications plus some sparkling sakes, flavored sakes and plum wine. Making your head spin yet? Don't worry, there's always someone at BuddhaLicious who's happyto walk you through your options and suggest individual recommendations. And if you want some real sake 101, BuddhaLicious also offers sake flights that allow you to sample several different varieties as you learn about their intricate production process.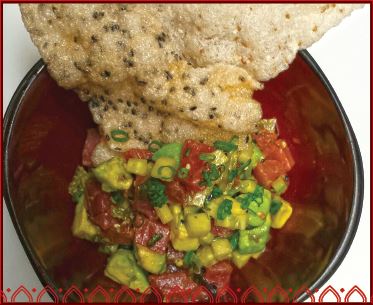 If the scale of what they're doing here seems tremendous (it is, and admirably so), it should come as no surprise that Todd relies on the strength of a dedicated crew who are equally passionate about all the daily operations at BuddhaLicious. Running the front of the house is the incomparable Jeff Miller, with many other luminaries such as head bartender Mike Adams, sushi chef Orlando Gonzalez and sous chef/mixologist Will Minard, who met Todd years ago working in Los Angeles and recently relocated to the Outer Banks for the chance to run BuddhaLicious together. "No one can do this by themselves," insists Todd, who's been affectionately nicknamed "Coach" by his fellow staff members. "One of our biggest strengths is that we all work together like family."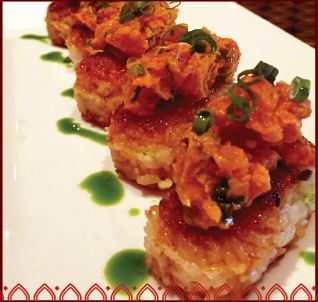 This September marks the start of BuddhaLicious's third year in Corolla, and their meteoric rise in popularity shows no signs of wavering. "We're not trying to be overly fancy here, we just want to do things the right way and put out food we're proud of," Todd says modestly. "We never want to stop learning and getting even better." As a move in this direction, BuddhaLicious will remain open this off-season with limited hours through the first of the year in order to host some special events and to offer diners more hearty and cool weather inspired dishes, such as the Vietnamese noodle based soup, pho (for more details, be sure to check out updates on their Facebook page!). After that, Todd plans to spend several weeks traveling throughout southeast Asia in search of waves and brand new recipes to bring back to the restaurant for their 2016 season. "It's going to be an adventure," says Todd, who could just as easily be talking about BuddhaLicious's future, as he is his upcoming trip. "The possibilities are endless."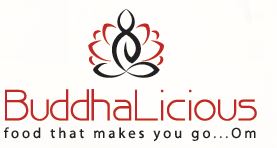 Southeast Asian cuisine with fresh and authentic ingredients!
Monteray Plaza - 887 Albacore Street, Corolla - (252) 453-4503 - buddhaliciousobx.com
 
---