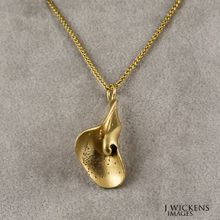 From the stark grandeur of a windswept dune under your feet to the delicate hues and intimate curves of a whelk shell nestled in your palm, the forces of nature on the Outer Banks transcend mere pretty to speak to something closer to the soul. 
Jewelry designer and goldsmith Sara DeSpain is easily counted among these forces of nature, taking inspiration from the island and forging it into one-of-a-kind pieces of wearable art.  "Everything is always moving out here," she says. "The sand. The land that you're on is moving. The sky — the wind is a huge force. We're intimately connected to the water in every way." In this setting of startling wild beauty, Sara enlists the elements of nature, transmuting the spirit of the Outer Banks into her jewelry.
Earth
Sara grew up in Kentucky and moved to the Outer Banks after college, having visited not long before. "It was wild, and beautiful, and the geography, the topography, was so different than anything I was used to," she says. "Once I lived here I did not want to leave." Sara put down roots in the sandy soil of the Outer Banks' artistic community, finding her creative niche in jewelry and opening a shop that changed location up and down the island over the years.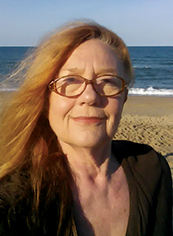 While wind and water strongly influence Sara's work, Earth also plays a role. She talks easily about deer and pear trees, persimmons changing color according to ripeness, the "tree bones" of driftwood she finds along the sound that make their way into her work. It's clear she's steeped in the intricacies of Outer Banks earth. 

A graduate gemologist, Sara uses her knowledge of minerals and gemstones in her art. She explains how the refraction of light can split into different wavelengths so you see different colors in one gemstone. Sara uses stones that speak to the spirit of the sea. "Diamonds and gemstones that grow in the ground can be green and blue and ocean-y colors," she says. "These things connect us to the earth, and they can connect you to a particular part of the planet, in this case the Outer Banks."
Water
In her Ocean Translations collection, Sara uses shells she's found on the beach that have been sculpted by the ocean to create graceful, flowing pieces enhanced by gemstones and pearls. The sea, the waves, the motion inspire her work, and each necklace or ring or bracelet somehow captures that spirit of water. "When I retire I'll become a mermaid," Sara jokes, explaining how she loves swimming. She's taking sculpture classes to begin a mermaid collection and in the meantime includes stones called Mermaid's Tears in her pieces. 
While a love of wild water led Sara to live on the Outer Banks, it's a force of nature that can be as destructive as it is inspiring. "We're out in the ocean," Sara says. "And we're subject to all of the forces that operate on the ocean and on the coast. We suffer terribly from flooding, but people are used to dealing with it. We're fighting all the time to survive on this piece of sand." This spirit of survival is part of the Outer Banks' psyche, and Sara's jewelry as well.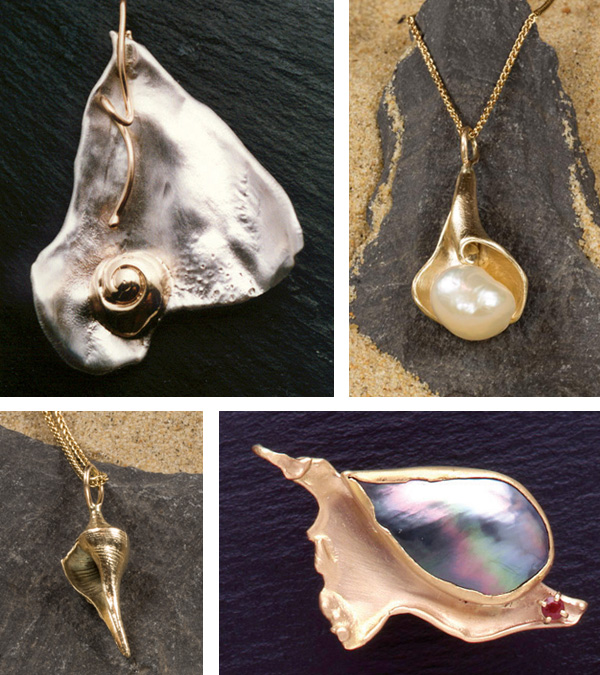 Air
Like the Outer Banks, Sara's pieces are anything but static. She forges metal into shapes and textures that mimic the movement of air on water. "It's like a journey for your eye," Sara says. "You don't get tired of looking at it because it's always different. That's the way it is out here." She mentions the "living sculptures" of Yellow Jessamine, the little flowers that blossom along the bare dune line. "They're delicate looking but they're able to live in that very harsh environment." 
Like Jessamine blossoms, Sara's jewelry is at once delicate and strong, metal and motion, capturing the movement of air in an organic swirl of grace. These aren't static pieces or copies of shells. The force of nature that is air adds an element of visual interest to her work that is characteristic of the essence of the Outer Banks.
Fire
It seems an impossible feat to make metal appear graceful and fluid, yet this is exactly what Sara's jewelry accomplishes. A small whelk shell found on the beach is formed into a rubber then a plaster mold, then Sara forces in molten gold or silver, fire changing the elemental properties of metal in the artists' hands. Fire transforms, and it is a force of nature Sara wields well. Through fire, metals take on the shape of shells while also becoming a changed entity, forged and polished into something new.
Sara's daughter Sophia nicknamed her a force of nature. When Sara asked her why, Sophia responded, "Because you are. You do things out of instinct and from a passion that is indescribable. You have been through many things, but you came through even more successful than before, and the fact that you continue when others quite possibly couldn't is amazing." The fires of difficulties are transformative for this artist.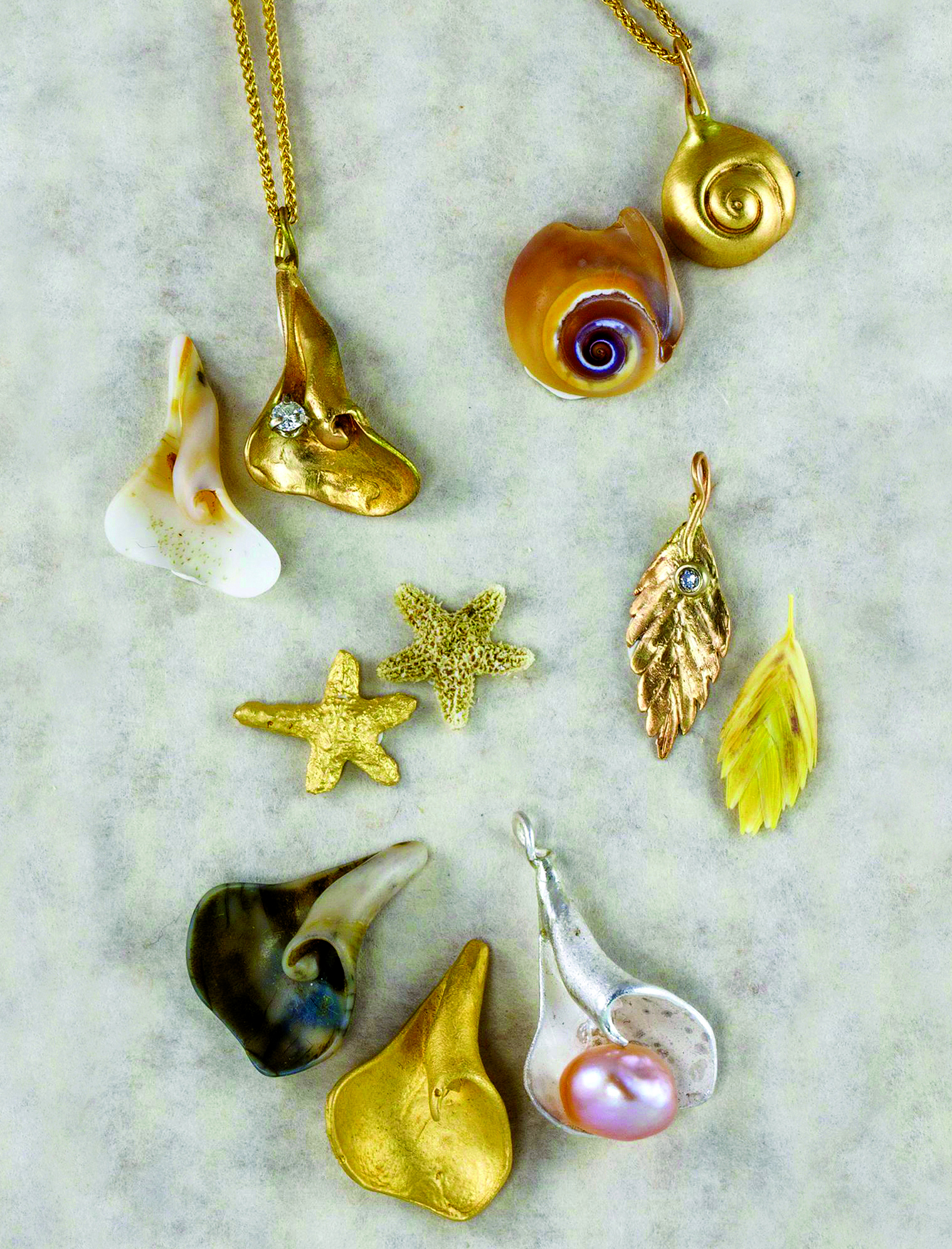 Aether
In Greek mythology, aether is the fifth element, representing the region above the terrestrial sphere, the essence breathed by gods. "We know things there are no words for," Sara says, speaking about the way art touches the spirit. The physical forces of nature inspire Sara's art, but there's also a sense of magic and poetry, an ethereal force infusing it. 
Sara says she thinks about poetry while she's working, "and songs that speak to my soul." She mentions The Love Song of J. Alfred Prufrock, quoting, "I shall wear white flannel trousers, and walk upon the beach/I have heard the mermaids singing, each to each." In a cyclical way, art inspires art, and then the person looking at the piece participates in finding meaning. "The person becomes more part of the art they're looking at if it says something to them but doesn't state it explicitly," Sara says. In this way, Sara's jewelry connects to the Outer Banks without becoming a literal copy. There's space for the magic of interpretation.
Sara De Spain's jewelry is an enchanting mix of alchemy and artistry, a study in paradox. Metal appears fluid. Stones refract different colors. And somehow the nature and spirit of the Outer Banks make their way into gold and silver and stone. "The force of nature keeps things moving and changing," Sara says. "I do reflect that in my work...not necessarily consciously, but it's in there." Moving in synergy with her environment, Sara DeSpain is a force of nature to respect and admire.
---
Designer Goldsmith


(252) 255-0671 • 1194 Duck Road, Osprey Landing • Duck

 • 

www.saradespain.com