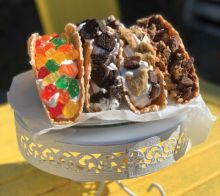 For families that return to the Outer Banks each year, tradition is what makes the summer special. One long-standing Nags Head tradition is heading to Fatboyz Ice Cream & Sweet Treats, the classic walk-up ice cream shop across from Jennette's Pier.
If you've ever been to the pier, then you know Fatboyz. The beach road mainstay is famous for its homemade waffle cones, decadent ice cream sandwiches and made-to-order ice cream cakes. You can grab a cone or frozen treat while you're still in your bathing suit and bare feet under the iconic pink-and-white storefront.
This summer, there will be another reason to head directly from the beach to the deck at Fatboyz: fresh fruit popsicles and Italian sodas.
"We're really focusing on a fresh menu," says owner Stacie Ryan, who has been inspired by the fruit popsicles that are popular in Central America. "Those popsicles were something we didn't have here at the beach … until now!"
The ice cream menu will still have all the classics, just like it has for 26 years. From the order window at Fatboyz, you can get scoops like mint chocolate chip, butter pecan, chocolate chip cookie dough, peanut butter fudge and many more topped with anything from hot fudge to Oreos.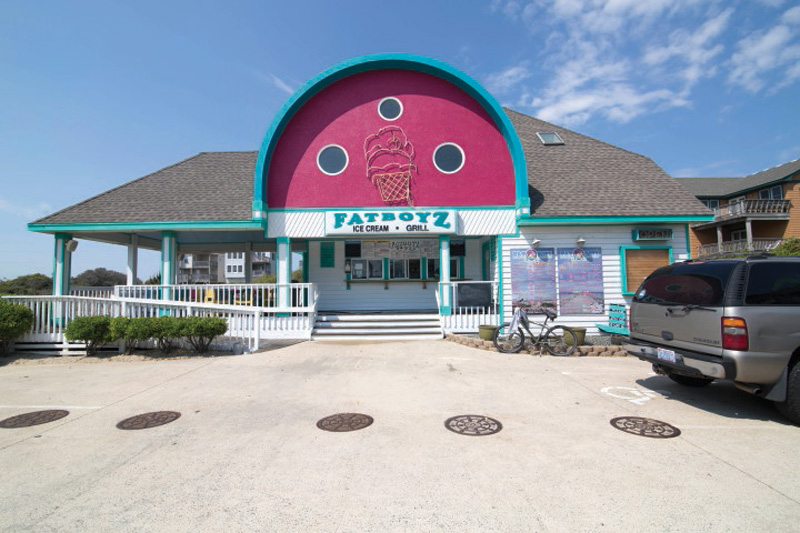 There's a cookie dough flurrie and fresh-baked cookie ice cream sandwiches. You also don't want to miss any of the chocolate-dipped goodies (think strawberries and bacon).
But for those who prefer a healthier choice, popsicles and Italian sodas are joining the menu. During the off-season, Stacie has been experimenting with popsicle flavors, and she's thrilled to introduce fresh fruit popsicles to the Outer Banks.
She says, "The popsicles have just a couple of wholesome ingredients and a lot of flavor. And I'm going to have fun creating a Flavor of the Day all summer."
The new Italian sodas, which can be made with or without bubbles, include bold flavors like raspberry lime topped with fresh raspberries and a lime garnish. You can also build your own Italian soda with up to three different syrups. Both the popsicles and the sodas are part of Stacie's effort to bring more fresh flavors to Fatboyz.
Originally from Gloucester, Virginia, Stacie took over Fatboyz from her family 11 years ago to keep the family legacy on the Outer Banks going. In past summers, the shop in the heart of the Whalebone District has offered grilled lunch and dinner items in addition to ice cream. But in the spirit of the ice cream shop's new direction, the grill has closed to keep the focus on classic ice cream and healthier alternatives.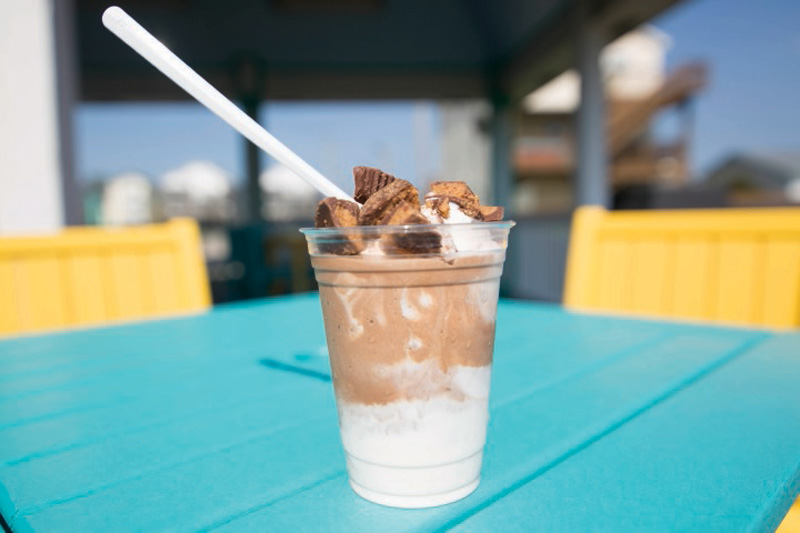 Over the years, there have been a lot of great memories at Fatboyz. Stacie used to make Andy Griffith's ice cream birthday cake, which always read happy birthday with an extra P. There are many visitors who started coming to the ice cream shop 10 or 20 years ago that are now showing up with more family members.
"They grew up coming here, and now they're bringing their kids," says Stacie. "I love to see that family tradition."
Beachgoers, pier goers and anyone else cruising down N.C. Highway 12 will stop for a cone. There are a lot of families that come in the evenings and dogs are always welcome on the deck. Four-legged patrons can enjoy a Pup Cup of vanilla ice cream while soaking up the breeze from the Atlantic.
If you've never been to Fatboyz before, you'll be amazed at how popular it is. There's just as much foot and bike traffic as there are cars in the parking lot.
"There are some people who drop off family at the edge of the parking lot," says Stacie, "and then drive around the block and pick them back up."
There's always a long line at Fatboyz in the summer, but it moves quickly so you can get to the front in no time. Once you do, the hardest part is deciding what to order. A reliable summer favorite is the ice cream sandwich made with chocolate chunk cookies. Although, you may want to grab one of those refreshing fruit popsicles to enjoy as you walk back across the street to the pier or to Gray Eagle beach access.
In any case, make sure to bring the family so you can start your own tradition at Fatboyz Ice Cream & Sweet Treats.
---

(252) 441-6514
fatboyzobx.com
7208 S. Virginia Dare Trail | Nags Head
---