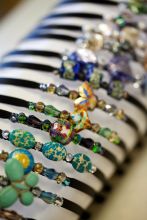 How often can you find a perfect piece of art that is functional too? Is there such a thing? At Alice's Craft Gallery there is!
Her collections range from handcrafted jewelry, fused glass, pottery and collectibles to wind chimes and cutting boards. Imagine your home filled with art that you can use, admire or wear all year long! 

When I asked Alice for words to describe the handcrafted items in her store she said, "Quality, functional and variety. There's a wonderful variety here to choose from." Today people are looking for more than something pretty to sit on a shelf and dust once a month. These days the words multitask and repurpose have a forward-thinking meaning. People want art they can also use. Her shop is proof that art can be functional and beautiful. 

Alice has used her expertise to assemble the best of useable and wearable American artists' collections, with special attention to North Carolina artists. Some of the carefully selected pieces have been juried by other artists and judges across the continent to assure quality handiwork and authenticity. 


(252) 453-0264
815 Ocean Trail, Corolla