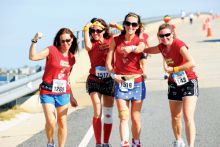 What drives people to run a marathon or do a triathlon or any other fitness event? What's the motivation? Most would probably answer health, competition or simply the joy of moving. When it's personal, when the question is directed toward us as individuals, we would all probably have similar answers.
What about when the question is directed toward an organization? Why create a non-profit group with the mission of organizing sporting events? The answer to that one is more varied, but the main one is Generosity.
Outer Banks Sporting Events (OBSE) exists to organize and manage athletic events so that proceeds from them can benefit this beautiful place we call home. 100% of the net proceeds go to two local non-profits - the Dare Education Foundation (DEF), which helps maximize student potential, and to the Outer Banks Relief Foundation (OBRF), a group created to provide financial assistance to Dare County families in crisis. You don't have to play the Kevin Bacon Six Degrees of Separation game to know of local kids or families who have been touched by OBSE. Throughout Dare County, conversations can quickly turn to grants, programs or scholarships funded by DEF or to people we know who have been helped by OBRF.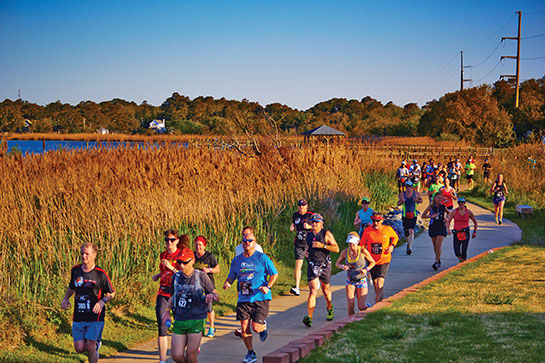 It's easy to see generosity in terms of money, and OBSE generates plenty of it. During 2013, the total economic impact of their events - cottages, hotels/inn/motels where out of town participants stay, restaurants where locals and guests dine during the events, shops that see increased volume - was $6.7 million. That's a lot of increased revenue, and it comes during the spring and fall shoulder seasons when the Outer Banks most needs it. It means that businesses get a boost that helps them through the months here when visitors aren't plentiful. It means that a certain percentage of the estimated 30,000 visitors who come here directly because of an OBSE event come back for other visits, bringing with them even more positive impact for area businesses. It means that each year, because of the excellent stewardship of OBSE staff and volunteers, more and more athletes and their friends and families come to be a part of this Outer Banks community, perhaps not even realizing the significant impact they have on the well-being of local citizens.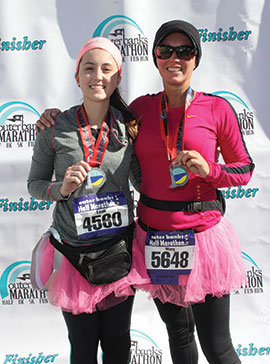 But generosity can also be seen through other lenses. OBSE has four dedicated staff members who understand that they do their jobs for reasons far beyond just a paycheck. But, to put on four major events a year that in 2013 drew 9,700 participants, takes a tremendous volunteer corp.
Volunteers are needed at each event to give hours, days and weeks of their time to make sure the large and small details are attended to. They stuff runner packets, become cheerleaders at milepost stations, clock finishers as they cross the line, cook breakfast for runners, serve beverages to grateful, sweaty athletes, hoist crowd control gates, hand out water and warming blankets, give medical assistance to over-strained athletes, drive busses filled with early morning anxious competitors or afternoon busses containing satisfied runners, help set up and clean up - whatever needs to be done. That's a form of generosity that isn't described in dollars but in smiles, in connections with your neighbors, friends and attendees and in an excitement over a well-run event.
Dare County businesses also show what it is to be generous by giving support to every event. Sponsors add directly to the bottom line profit; companies donate supplies, materials, trucks, marketing; groups of employees from all types of businesses offer their time en masse to help out. These events simply would not happen without the amazing effort of the local community.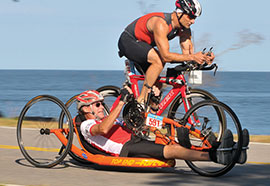 And, there's one final form of generosity that OBSE both represents and encourages, and that's the generosity of health...of getting or staying in good shape...of reveling in the freedom of being able to complete a race well run. Their focus on physical activity includes everyone - old, young, athlete, getting-there athlete, able bodied, challenged, first timer or veteran racer. It's a focus that makes it easy to join in because their events and the attitudes behind them are fun, supportive, and not overly competitive. OBSE invites us to move and, in so doing, become a part of the generosity in motion.
Did You Know
Since its inception of the Outer Banks Marathon in 2006, the four annual Outer Banks Sporting Events races have generated a total of $38.5 million in economic impact for the local Dare County economy.
For 2013 alone, there were 4,146 hotel rooms and 1,565 rental houses booked for OBSE events!
More than 20 countries have been represented at OBSE events! South Africa, Italy, Australia, Japan, Great Britain, Ireland, Kenya, Ethiopia, New Zealand, Iraq, Canada and the United States to name a few. All 50 states have been represented!
Women represent! Of the participants, 58% are woman, and the predominant ages are between 38-43.
Outer Banks Sporting Events