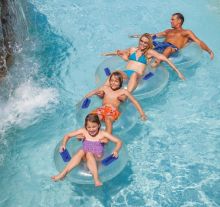 For travelers approaching the Outer Banks from the north on U.S. Route 158, there is no missing H2OBX. Whereas some Outer Banks attractions require planning and navigation skills to locate, this park presents no such challenges, looming above the surrounding woods and flatlands like a multicolored City of Oz.
The message suggested to even the most casual viewer is clear: This is a place for wet fun in the sun.
The park's imposing presence acts as its own billboard, agrees General Manager Damian Dondero, who like the park itself plans to become a fixture in the Outer Banks resort area. Originally from Greensboro, Dondero has just moved here with his family after several years in the Pittsburgh area, having recently closed on a home in Southern Shores.
As vertically oriented as the park is, it's of interest to many observant park goers how narrow the spit of land is that it's built on. Several of the park's high-rise rides provide the perfect viewing platform. To put it all into perspective, passersby on the highway may not be aware that they are moving along a peninsula, but the 90-foot climb to the top of triple-decker water-slide complex that houses Riptide and other rides confirms the fact, offering a view of Currituck Sound to the east and Albemarle Sound to the west that's scarcely 4 miles across. Of course, most people don't go up there for the view, impressive though it may be. Once at the top, an intrepid adventurer enters one of two capsules, which look like they just might be hibernation chambers used for an interstellar space journey.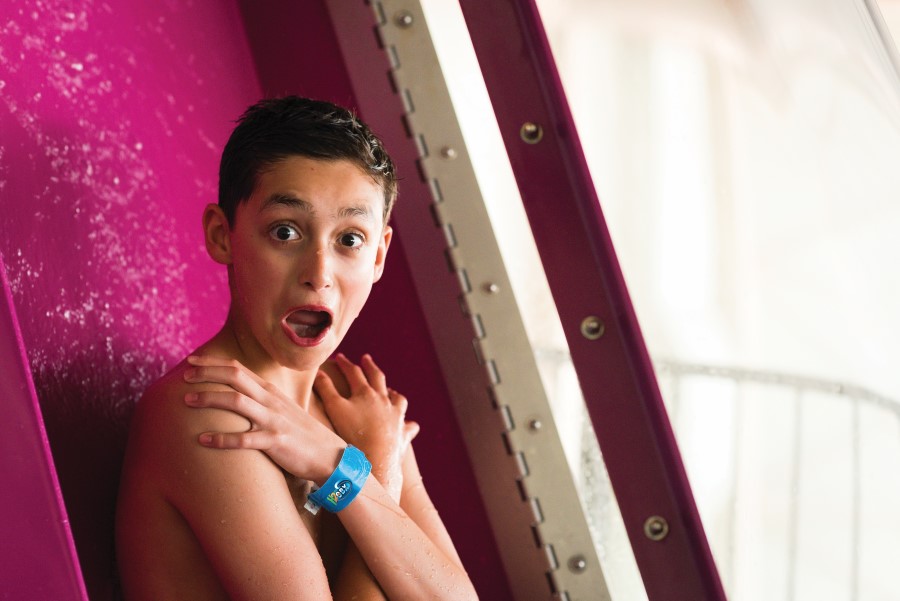 Then, just as if Captain Kirk commanded "Beam me down, Scotty," the bottom drops out and the rider becomes a free-falling captive of gravity en route at a blistering pace through changing light patterns and into a receiving pool somewhat closer to sea level.
Describing the park in general, Dondero said, "It's a world-class waterpark with a unique resort environment that offers different types of attractions from the young children to the teenage thrillseekers and everything in between." He added, "We have a nice lazy river for people who just want to float and relax, we have a great wave pool for people who want to enjoy that type of environment, we have a Flowrider so people can mimic the feel of surfing and we have some great thrill rides where people can have the feeling of free falling and twisting and turning and fun things like that."
In addition to the ultimate free-fall slides, the Riptide structure has four others that launch from a pair of lower platforms. They take one or two raft-borne visitors on a fast trip to the bottom, and they accommodate anybody who has attained the height of at least 42 inches.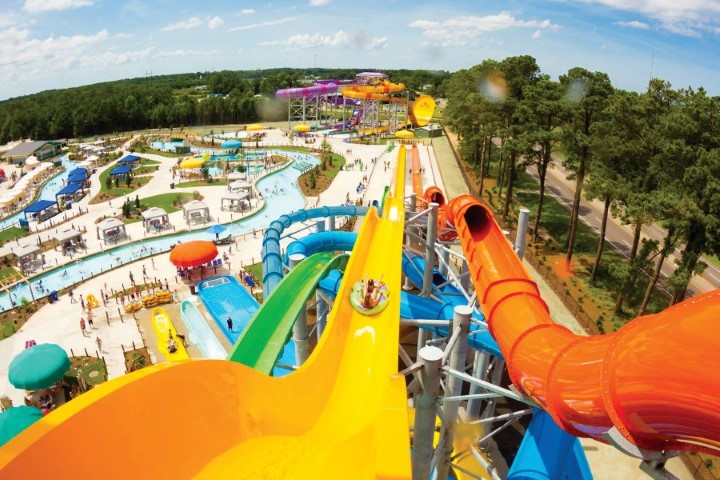 At the northern end of the park, adjacent to the highway, dual rides Queen Anne's Revenge and Rogue Wave allow three to six people to share a raft as they enjoy the drops and twists and, in the latter case, a ride straight up and back down a giant wall of water that is one of the leading eye-catchers to motorists passing by.
Calico Jack's Cove is a special place for the elementary school set. Think fast food playground on steroids . . . and with plumbing! But let it be known that it is a posted pirates-only facility. Judging by its popularity, however, most families who live in or visit the Outer Banks must include a set of pirates, since we are unaware of anybody being turned away from the Cove.
Parents must beware because in addition to a number of waterslides, including one that throws the young buccaneers for several spins inside a circular tube known as the Spin Cycle, access to the slide affords the users a crow's nest view of the entire park. Because of this, an approaching parent wandering too close is then subject to attack by water cannon. However, the pirates themselves are in constant danger from buckets reminiscent of the Nickelodeon green slime delivery system. Although the water is not slimy, the attacks are just as random and the water is just as wet. And there are other surprise inundations in store for users of the facility.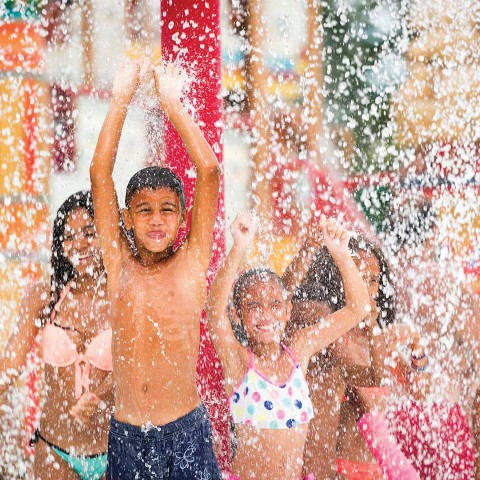 There are also a number of rides and amusements designed for the toddler set with plenty of options to keep the park's youngest visitors amused for hours. And these are just a sampling of the many rides and activities available at H2OBX.
Special mention must be made of the Endless Wave Flowrider, a favorite of teenagers and 20-somethings, and, according to Dondero, to a few daring older individuals who think they are still in their 20s. It simulates a constant ocean wave that users can ride with body boards or, if they're tall enough, while standing as a surfer. Flowrider has the greatest entertainment value for the casual onlooker, so it is perhaps no accident that just across the way from it an adult visitor will find the Flyboy's Bar, which in addition to offering a clear view of the surf action also offers beer, wine, specialty drinks and snacks.
 All in all, H2OBX provides vacationing families and groups an alternative to the beach, and it provides locals with a fun way to spend a day off the island or as a daily part of their summer.
The park opens every day at 10 a.m. and operates until 7 p.m. According to Dondero, many families arrive soon after the gates open and make a day of it, staying right up until closing time.
H2OBX has a number of cabanas, both large and small, that can be rented, providing a headquarters for families and groups spending the day at the park. The small ones accommodate eight to 10 people and are equipped with televisions and refrigerators.
Those spending the whole day will find an assortment of restaurants. Traditional North Carolina BBQ is the mainstay of Heavenly Hawg BBQ, while Outer Banks Eats provides hot dogs, hamburgers, pizza, wraps, salads and other items. Coastal Confections and Dune Devil Desserts are there to satisfy any sweet tooth that is brought through the gates by a visitor to the park.
Admission at the gate is $41.99 for adults and $29.99 for individuals 42 inches or shorter. The $29.99 admission also applies to senior citizens. Children younger than 2 get in for free. There is also a discount for active military members and first responders (fire, EMS, police) who only pay $35.99 for entry.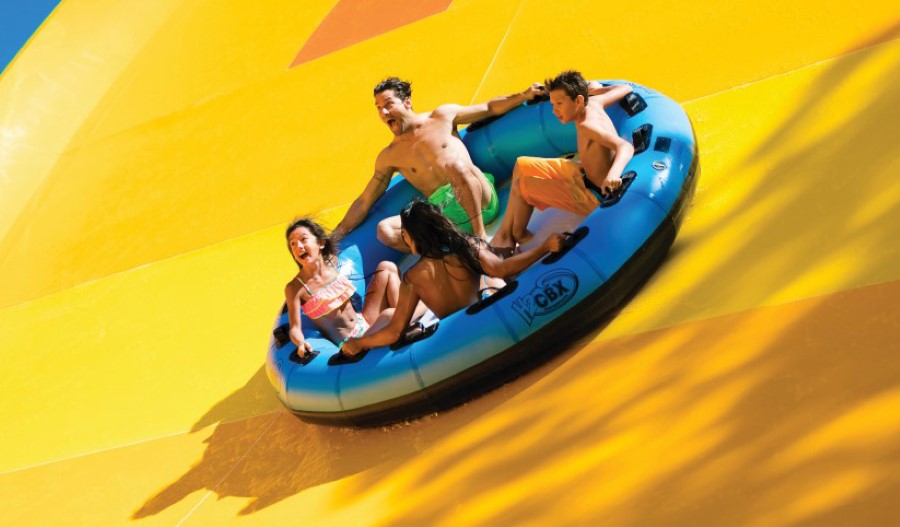 Adults can save $2 apiece by ordering online ahead of their visit. This is important to H2OBX, says Dondero, helping them manage crowd size, which the park limits to keep lines to a reasonable length. There's also what H2OBX calls a Twilight Ticket, which is a flat $28.99 for all comers who arrive at 3 p.m. or later.
According to Dondero, tourists make up the majority of the park's customers, but locals are also frequent visitors. He explained, "We have a great base of season pass holders and other locals who come and use the park." Season pass holders are free to visit the park every day.
H2OBX operates rain or shine, the exception being when lightning is present in the area, in which case it shuts down until any electrical storm danger has passed.
Users are not confined to the park for the duration of the day, said Dondero. It is perfectly fine to get a hand stamp, leave for a while and return at no additional charge.
Add it all up and the sum is a memorable day on the Outer Banks the likes of which can be found nowhere else in the vicinity. Damian Dondero and his staff stand ready to offer a sun- and water-drenched day to anybody who walks through their gate.
---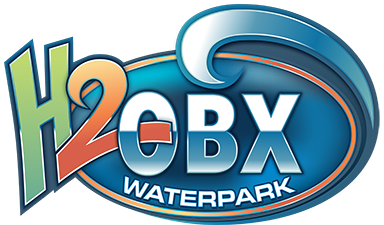 (252) 491-3000 • 8526 Caratoke Highway, Powells Point
h2obxwaterpark.com